What Is the Broken Heart Syndrome? Symptoms & Causes
People get heartbroken in relationships every time. When you think of their feelings, you probably picture someone sad and devastated by a significant loss. Eventually, they get better and move on with their lives.
However, for some people, those heightened emotions and anxiety can turn into physical symptoms that cause concern. This temporary heart condition is called broken heart syndrome.
So, what is broken heart syndrome?
This article will discuss everything about broken heart syndrome, signs of a heartbreak, symptoms of broken heart syndrome, and its causes. Also, you will learn how broken heart syndrome differs from a heart attack so you can get the proper diagnosis and treatment.
What is broken heart syndrome?
Broken heart syndrome is a heart condition with symptoms similar to a heart attack. Unlike a heart attack, broken heart syndrome causes a rapid weakening of the heart muscle when someone experiences physical or emotional stress. This medical condition is also called stress cardiomyopathy or takotsubo cardiomyopathy.
While many people may not know, stress cardiomyopathy is an actual condition with many symptoms mimicking a heart condition. Fortunately, it is temporary and reversible in most people.
As mentioned earlier, broken heart syndrome can be mistaken for a heart attack because they share similar symptoms. Nevertheless, there are differences between the two.
Often, heart attacks are caused by blockages and blood clots in the coronary arteries, which supply the heart with blood. When blood clots form in these arteries, they prevent blood from getting to the heart. Consequently, heart muscle cells will die, leaving scar tissue and long-term or permanent damage.
On the other hand, people experiencing broken heart symptoms usually have functioning coronary arteries without blockages, clots, or scar tissue. You have broken heart syndrome when you experience heart attack symptoms only after a stressful, emotional activity.
What causes broken heart syndrome?
What causes broken heart syndrome? The causes of broken heart syndrome differ from one individual to another, and it's not understood. Nonetheless, one fact is certain – broken heart syndrome occurs when you react to physical or emotional stress.
How?
Suppose you receive a text from your partner asking for a break in your relationship; your body might release bursts of stress hormones in your blood. Some of the hormones include adrenalin, epinephrine, noradrenaline, and norepinephrine. According to experts, these hormones might temporarily interfere with your heart's function.
The common emotional triggers that can cause you to experience heartbreak or broken heart syndrome symptoms are grief and anxiety.
What kinds of emotional and physical stress can cause broken heart syndrome?
A 2020 study by Cleveland Clinic researchers revealed a rise in broken heart syndrome during Covid-19. This is expected as many people find trouble dealing with a new infection ravaging the world.
Other emotional and physical stressors that can cause broken heart syndrome are:
A distressing medical diagnosis

A car accident

A tense or explosive argument

Devastating financial loss

Severe illness

The death of a loved one

Loss of relationship, job, money, home, and pet

Bad news (e.g., car accident, robbery)

Good news (e.g., walking in on a surprise party, news of a good job, winning the lottery)

Health issues, such as breathing difficulty, cancer, asthma attack, stroke, high fever, seizure, surgery, and blood loss

Extreme pain

Extreme exercise
Who is more at risk of broken heart syndrome?
Although anyone can have the condition Takotsubo cardiomyopathy, a 2015 journal on the "Clinical Features and Outcomes of Takotsubo (Stress) Cardiomyopathy" found that 89.8% of broken heart syndrome cases occurred in women between the ages of 58 and 75. The common triggers appeared to be physical (36%) and emotional shock (27.7%).
Furthermore, a recent study found that diagnoses of broken heart syndrome are increasing among women than younger women or men. This may indicate that women middle-aged and older are at increased risk of developing the condition.
Others who are likely to experience the symptoms of broken heart syndrome are:
Most patients with broken heart syndrome are older than 50 years

People who have experienced long-term stressful situations

People suffering from

mental health

disorders

People suffering from

depression

and anxiety disorder
What are the symptoms of broken heart syndrome?
When you experience broken heart syndrome symptoms, you may feel them in minutes or hours. That's because bursting stress hormones weaken your heart muscle, mimicking a typical heart attack.
Before diagnosing yourself with any heart condition, it's best to get familiar with the symptoms of broken heart syndrome or heartbreak. They include:
Shortness of breath, especially after a stressful activity

Weakening of the left ventricle of your heart

Severe and sudden chest pain

Severe heaviness

Heart pressure

Irregular heartbeats

Difficulty breathing

Fluid build-up in the lungs

Low blood pressure (hypotension)

Shock

Congestive heart failure
Related Reading: 

How to Deal With Heartbreak: 15 Ways to Move On
Fortunately, the signs of broken heart syndrome are temporary. Patients can get better quickly if they are under the care of an experienced doctor in the field of heartbreak syndrome or broken heart syndrome.
Suppose your doctor is confident that the symptoms you experience are similar to the signs of broken heart syndrome. In that case, he may order a coronary angiography test. This test uses dye and X-rays to view the interior of your coronary arteries.
When healing broken heart syndrome, your doctor may order other tests, including an EKG to record the impulses of your heart, complete blood tests, and cardiac MRI. Also, you may do echocardiography – a non-invasive test that uses sound waves to create how your heart moves.
After these tests, your doctor will mostly like to keep a tab on your heart condition. They may recommend coming in for an echo monthly and other follow-up visits.
Watch this video to learn why broken heart syndrome should not be ignored:
Can you prevent broken heart syndrome?
Now that we know what broken heart syndrome is, one of the vital questions to ask is if there is a way to prevent it. The answer is no. There are no verified ways to prevent broken heart syndrome. However, you can manage your stress by engaging in exercise and getting active.
In addition, using some problem-solving techniques can help improve physical and emotional stress. Instead of stressing over any traumatic events, you may redirect your attention to solving the problem.
Some relaxation techniques can also help. Common ones include meditation, yoga, mindfulness, and constant journaling. Also, after experiencing a traumatic event, it may help if you have a warm bath.
Other ways to manage physical or emotional stress include:
Eating healthy meals

Sleeping well

Spending time

with others

Engaging in regular exercise

Treating any illness on time

Avoiding unhealthy habits like smoking, heavy drinking, drug use, and overeating
Finally, you may join a support group, depending on the source of your stress.
Support groups help victims of one incident or the other talk about their problems. People with similar experiences share tips and coping mechanisms. If all of these don't appeal to you, it may be time to seek the help of a professional counselor.
Is broken heart syndrome dangerous?
The broken heart syndrome condition is reversible and doesn't last long. You will likely recover without permanent heart problems within a few days to a few weeks.
Although it's rare, the symptoms of broken heart syndrome can get worse and become life-threatening for patients in some cases. Some of the complications are:
Life-threatening heart rhythm abnormalities

Heart failure

Blockage of blood flow from the left ventricle

Blood clot in the left ventricle

Left ventricle tract obstruction

Rupture of the left ventricle of the heart

Carcinogenic shock

Death
What is the treatment for broken heart syndrome?
Healing broken heart syndrome is relatively more straightforward than you thought. The broken heart syndrome treatment option will depend on the particular symptoms the patient is experiencing.
Also, the severity of the signs of broken heart syndrome is something your doctor will consider. Nonetheless, health professionals use medicines to treat takotsubo cardiomyopathy until recovery. Some of the medications include:
Beta-blockers reduce the heart rate (short term).

ACE inhibitors to lower blood pressure

Anti-anxiety medicines to manage stress.

Antidepressants drugs

Diuretics to decrease fluid build-up in the heart for a short term

Exercise to help manage stress

Meditation

Yoga
In addition, your healthcare provider may suggest cardiac rehabilitation. Notably, you should consult your healthcare provider before using any treatment method.
Related Reading:  

The 7 Stages of a Breakup and Tips to Heal Faster
In a nutshell
It's common to hear people experience heartbreak from relationships and specific events. You may feel sad and depressed for a few days before getting better.
When the feeling of sadness causes physical symptoms such as rapid heartbeat, chest pain, and weakening of the heart muscle, it's referred to as broken heart syndrome.
The broken heart symptoms are similar to that of a heart attack. Thus, people might misdiagnose the condition. If you suspect that the signs of heartbreak you experience mimic that of broken heart syndrome, consult your doctor. Thankfully, the medical condition is temporary and can be managed effectively.
Share this article on
Want to have a happier, healthier marriage?
If you feel disconnected or frustrated about the state of your marriage but want to avoid separation and/or divorce, the marriage.com course meant for married couples is an excellent resource to help you overcome the most challenging aspects of being married.
More On This Topic
You May Also Like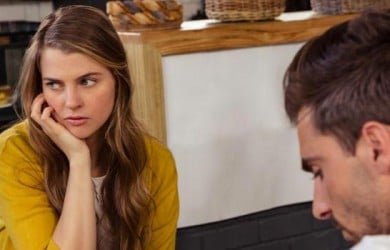 Popular Topics On Married Life