15 Crucial Characteristics of a Successful Marriage
We're surrounded by magical representations of fairytale love and weddings. Sometimes these fantasies can get to our heads and distort realistic views of how to live a life with your spouse.
Living and sharing your life with someone you love requires consistent effort and commitment. There are certain characteristics of a successful marriage that these couples must try to adopt.
As divorce rates surge, it's important to know that although some marriages aren't meant to last, you should at least try.
Read this article further to find out, "What are the most important things in a marriage?"
15 crucial characteristics of a successful marriage
For a marriage to be healthy and long-lasting, it needs commitment and love. These can make sure that their bond becomes deeper over time and that they can easily combat unpredictable situations.
Furthermore, here are some characteristics of a successful marriage that can set any marriage on a positive path filled with understanding, love and mutual care.
1. Love
The question we ask today is what makes a good marriage. Most people confuse infatuation with love. Love is not a short-lived feeling, unlike what every TV show tells us and every other romance novel.
Emotions don't last long, but the real decision is whether you stay devoted to your love forever or not. When things are fine, commitment is easy, but people tend to leave as soon as things get hard.
Instead, they should stay through the hard times as well. Love becomes a conscious decision to support your loved one when you choose to stay through thick and thin.
2. Forgiveness
One of the most important characteristics of marriages that last is the ability to forgive. Fights are inevitable and sometimes healthy. The hard part is when hurtful things are said, but your partner refuses to apologize.
One must be quick to ask for forgiveness and grant it. Forgiveness is essential as all humans make mistakes, but owning up to them is what makes being with a person forever all worth it.
3. Kindness
Kindness is one of the most important characteristics of a good relationship, not just marriage. Compliments are always appreciated.
Saying soft and kind words is one of the many ways to express your feelings for your partner. Even during fights, one must remember never to use harsh words.
Being kind and understanding of your partner is a great habit because it honestly does not hurt anyone too much.
These characteristics of a successful marriage may seem insignificant, but when practiced daily, they can save your marriage.
4. Commitment
The essential trait of successful marriages is being committed. And commitment involves avoiding infidelity in all its forms.
If you are with someone in a strictly monogamous relationship, infidelity is the worst thing a person can do. Not only does this break trust, but it gives the other person trust issues.
Infidelity makes the whole relationship void and empty. It makes all the "I love you's" meaningless. One of the most unfortunate things is that this is one of the most common marriage problems.
5. Time
Now onto the next characteristic of a successful marriage: quality time.
A successful marriage doesn't happen in a day. It takes time to grow and understand each other.
We live in a world that runs on instantaneous results. We don't want to invest in something if the result isn't yielded in little to no time. This isn't the same with relationships, and this is not how to have a successful marriage life.
Understanding the deepest folds of another human is complex and can only be done over an extended period.
Spending quality time and making each other feel special by dedicating a set amount of time just talking is one of the best things a person can do for their partner. Not only is that a good habit but also one of the most appreciated qualities of a healthy marriage.
6. Acceptance
One of the best tips for a healthy marriage is to let your partner be who they are. Once you pinpoint their quirks and behavioral traits, you start diverting away from what makes a successful marriage.
Marriage is difficult on its own; one does not need to nitpick at what their partner wears, does, goes, and behaves.
You are not together to remake them from their core; you are together because you accept them the way they are.
The fact that you will find the perfect person is a total illusion. Everyone has a different outlook on the world and their reaction toward it, and as someone looking to make a long-lasting marriage, you have to accept their views.
Adding these little qualities of a successful marriage to your marriage will take you a long way, a long and happy way.
7. Appreciation
Among many traits of a good marriage comes appreciation as well. We often take our partners and how much they do for us for granted.
If your partner makes breakfast in bed for you a few times, you'll be very grateful, but as soon as you get used to breakfast in bed, you also forget to be grateful.
Appreciating these little acts of love, especially vocally, is one of the biggest characteristics of a healthy marriage.
8. Healthy conflict resolution
It is inevitable for couples to get into fights or disagreements as it is a part of sharing your life with someone else. But the characteristics of a successful marriage include the ability to handle these conflicts healthily.
If a couple openly discusses and respectfully resolves conflicts, they have a better chance of letting their love grow deeper. It will improve their interpersonal understanding and ensure they can handle crises together.
9. Aligned future plans
If you are wondering, "What makes a marriage successful," look in the direction of the couple's plans.
Do their personal goals align with each other? Or do the plans of one partner go against what the other partner envisions for their future?
Aligned future plans are one of the important characteristics of a successful marriage, as it showcases the couple's potential for togetherness in the future.
Even if two people have different goals, they must discuss and figure out a compromise that works for both of them.
10. Trust
Any discussion about the key characteristics of a successful marriage would be incomplete without mentioning the mutual trust between two people.
Without trust, a marriage would be full of doubts, insecurities, jealousy and uncertainties. Trust is the foundation that allows you to depend on someone and their words.
11. Compromise
Compromise is one of the keys to a successful marriage as it enhances a couple's ability to live happily with each other.
Disagreements in a relationship can be handled with both partners being open to making concessions on their stance for the betterment of the relationship.
Research published in the Journal of Happiness Studies shows that the relationship is healthier when couples prioritize "we" over "me," i.e., the collective desire over their desires.
12. Respect
Respect is the bedrock of any relationship, especially a marriage. Therefore, it is one of the important characteristics of a successful marriage that we can't ignore.
In a marriage, two people come together as they wish to share their life. If the marriage lacks respect, the couple can underappreciated and undervalued by their partner.
Disrespect in a marriage can make the fights hostile and hurtful. And it hampers the longevity of the marriage as no one wants to be treated badly by their partner.
13. Companionship
Doesn't a marriage seem easier when you are friends with your spouse?
Two people who can have fun together and enjoy each other's company have a higher probability of staying happily married to each other
14. Intimacy
Sex and intimacy are important aspects of most marriages. However, some couples might undervalue the importance of the relationship's physical aspects, which can become harmful in the long run.
The couple should prioritize sexual satisfaction to ensure relationship satisfaction, as these are intricately linked.
15. Evolve together
Key characteristics of a successful marriage include ensuring that you grow together instead of growing apart.
Don't ignore that one of the most important things in a marriage is that the couple stays on the same page. They must be able to retain their bond and understanding during the different phases of life.
Summing up
Marriage requires the partners to develop healthy interpersonal habits that create a positive environment for love to prosper.
At times of conflict, the couple may wonder about the characteristics of a successful marriage to ensure they can get past any hurdle that comes their way.
Partners who communicate their feelings with each other will surely be able to resolve any problem that may come their way.
We have given you all sorts of characteristics of a good marriage and now it's up to you to stick to these and make the best out of what you have.
Every relationship is unique, but these aren't just the characteristics of a successful marriage; they're important for every relationship you cherish.
Share this article on
Want to have a happier, healthier marriage?
If you feel disconnected or frustrated about the state of your marriage but want to avoid separation and/or divorce, the marriage.com course meant for married couples is an excellent resource to help you overcome the most challenging aspects of being married.
More On This Topic
You May Also Like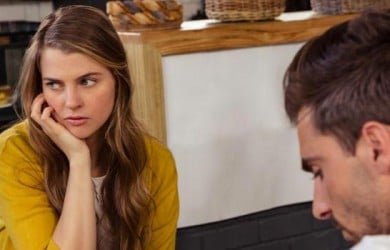 Popular Topics On Married Life