8 Types of Men You Should Avoid Lifelong Commitment With
If you do not want to be a runaway bride, let us help you through the traits you do not want in your partner.
1. The selfish man
Compromise is the core moral between any two people to coexist in harmony.
When you tie a knot in marriage, each partner should embrace selflessness to accommodate the other and adjust in their life.
If your partner is not willing to prioritize your needs or sacrifice his precious time for the sake of love, then he surely is the selfish one in the relationship, and you'll soon find yourself exhausted by putting in a one-way effort.
In a relationship, both individuals need to meet halfway, and if your man is unable to do so, then you might do a favor upon both and leave him.
2. The oblivious man
Do you find your man zoning out or sticking his nose in the phone while you talk? Or does he always forget what you said and often says, "Oh I have a bad memory"?
Well, then your man is the oblivious kind.
If he does not pay attention to your interests, or what's happening at your professional life, or how your family is like, then he is not worth your time. You should feel mutual interest during a conversation if you appreciate his conversation, so should he.
If you ever feel like you have to chase after him to make him listen to you, then you might be better off without him.
3. The misogynist
There is a fine line between healthy admiring and objectifying.
Your man may love your outer appearance, but that shouldn't be the only reason he stays in the relationship. Such guys treat you like a trophy-wife and keep you around to make them look good, they comment on everything you do with your body, yes, a few advise here, and there is appreciated, but womanizers like them tend to control how you look, and they think you are there just to fulfil their sexual desires.
You will never have a comfortable relationship with them and will probably spend your entire life pleasing them.
4. The attention-seeking man
This man wants you to idolize them at unhealthy levels.
This man wants you to prioritize them over everything and everyone; they will make you choose something they want over something you want. They'd want you to spend your majority of time with them, and this might be already disturbing your relationship with your friends and family, they might even drag you to the position where you cut off your meaningful relations for them.
If you find such unhealthy obsessions in your man, then it's surely the time you open your eyes.
5. The men who cannot commit
Do you usually find yourself making plans or do they seem least bothered when you're planning something or even if they agree upon a plan they usually can't keep to them?
Well, these signs are of a very bad partner, if they can't really be bothered to make simple plans or commit to them, they might as well not be ready to marry either. Marriage is a lifelong commitment, and if they do not take small commitments with any seriousness, you might have to re-think.
Taking such a big step with a man so irresponsible is a mere absurdity.
6. The jealous man
Their overprotectiveness or jealousy with other guys may sound cute for now, but their deep-seated insecurities do not end well in a long-run.
A man who himself is insecure will always have doubts regarding you, such a man probably doesn't get along with your friends or male- coworkers.
Your man may need constant validation of your love towards them. If they stalk you on social media, check your phone, keep a tab on you when you are out without them then it's probably time you cut them loose.
7. The controlling man
Do you feel suffocated or enslaved within their presence? Nobody ever wants their life led by somebody else neither should you.
A dominating man basically controls your entire life; If this man does not respect the space that you need or the choices that you make in your life, or if they do not trust you and your love towards them, they are not worth your time or efforts.
You should leave them behind and live your life with the freedom you deserve.
8. The toxic man
This kind of man is the worst of all because dealing with a toxic guy can be very frustrating and mentally draining.
If they manipulate you into doing what they want, do not take responsibility of their feelings or actions, make you always think about and fix their problems and make you feel sorry, then they are definitely the kind we advise you to stay away from.
Share this article on
Want to have a happier, healthier marriage?
If you feel disconnected or frustrated about the state of your marriage but want to avoid separation and/or divorce, the marriage.com course meant for married couples is an excellent resource to help you overcome the most challenging aspects of being married.
More On This Topic
You May Also Like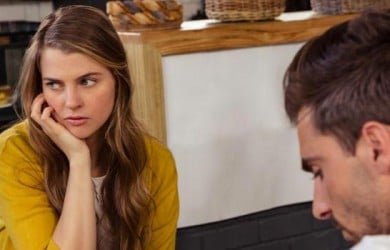 Popular Topics On Married Life