Commitment to Christ – Key to a Successful Marriage
Each marriage will encounter hardships throughout its duration. It is a couple's faith in Christ that enables them to stay committed to each other in a successful marriage. Unfortunately, empirical evidence reveals that Christian divorce rates are at par or higher than couples who do not identify with a specific religion.
Marriage is a sacred covenant between two individuals and God, marital success is often contingent upon each individual's intimate relationship with Christ. Often our relationship with God is pictured as a marriage, the church is referred to as the bride of Christ.
One of the most important characteristics of a successful marriage is building a strong bond. In order to develop an unbreakable bond with your spouse you must first do so with Christ. That individual's relationship with Christ and the word of God will guide and instruct couples on how to handle conflict and other difficult situations that will inevitably arise. The keys to successful relationships is to view issues through the lens of the Bible, and address problems in a manner that is undeviating from your faith.
Your spouse is an imperfect being who may do things unintentionally that will irritate and disappoint you. You may ask why your commitment to Christ is the key element of a successful marriage. It is because your commitment to Christ helps you to conform to His character. Conforming to his character helps you to show more mercy and love to your spouse.
Additionally, it helps you become more forgiving, kinder, and wiser. People that are committed to Christ work diligently to embody the characteristics of the Holy Spirit.
Galatians 5: 22-23 states "22 But the fruit of the Spirit is love, joy, peace, forbearance, kindness, goodness, faithfulness, 23 gentleness and self-control. Against such things there is no law."
It is important to display these characteristics on a daily basis. They especially need to be exhibited when you experience your relationship becoming more difficult. Most times when you argue with a partner that is already combative it only escalates the situation.
Biblically, kindness has been shown to disarm anger, Proverbs 15:1 states "A gentle answer turns away wrath, but a harsh word stirs up anger".
Marriage is an opportunity for character building. Character building is important to God and it will be important to your spouse. Constantly renewing your mind each day with his word will ensure that your character will continue to build. It will be another step towards a successful marriage
Commitment to Christ and commitment to your spouse requires practicing similar activities on a daily basis.
There are three biblical marriage principles for a successful marriage that a married couple needs to follow in their relationship for growth to take place in their relationship with God and each other.
1. Cast aside pride and to practice humility
Pride destroys the fabric of a marriage by ripping away at intimacy. Furthermore, pride clouds our mind by giving us a deceptive view of ourselves. Having a deceptive view of ourselves can negatively change how we treat our spouse or make decisions.
Healthy marriages function in a climate of humility. Admitting when you are wrong allows to not only practice humility, it also allows you to become vulnerable with your partner. Vulnerability can increase emotional intimacy within a marriage which further strengthens it. Vulnerability and humility are important for a successful marriage.
2. Work on receiving forgiveness and forgiving your spouse
While it may be difficult it is important to forgive your spouse, Ephesians 4:32 states "Be kind to one another, tenderhearted, forgiving one another, as God in Christ forgave you".
The same forgiveness that God has shown us we must show to our partner for a successful marriage. By letting go of past hurts relationships are able to function at their optimal level. Holding onto past hurts can cause us to harbor resentment that can manifest itself in maladaptive behaviors. These behaviors can have a deleterious effect on our marriage.
3. Serve each other in love
Marriage is at its best when individuals have an attitude of service, servicing your partner strengthens the marriage by allowing your partner to feel loved and appreciated. As a married couple grows in their relationship with God the more they discover that their faith is the bonding agent needed in developing an unshakable successful marriage.
Share this article on
Want to have a happier, healthier marriage?
If you feel disconnected or frustrated about the state of your marriage but want to avoid separation and/or divorce, the marriage.com course meant for married couples is an excellent resource to help you overcome the most challenging aspects of being married.
More On This Topic
You May Also Like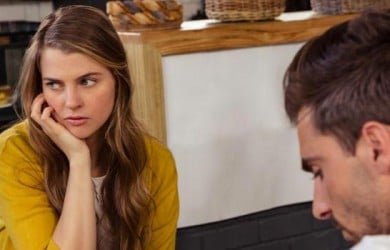 Popular Topics On Married Life