10 Signs of Ambivalence in a Relationship
There are many relationship types, such as healthy, toxic, and ambivalent. Ambivalence in a relationship is seen when a partner does not know where you stand with them. Even though you do things together, they can still be unsure of their feelings.
If your partner has a blast with their friends, they may feel drained with you. Continue reading to know the ten signs of ambivalence in a relationship and what you can do about it.
Ambivalent relationship: What is it?
What is an ambivalent relationship? It means a partner cannot decide if they want to be in a relationship with someone or not. They can feel connected emotionally to this person, but they sometimes think they can have a better partner.
They also feel frustration and anxiety because they cannot leave this relationship.
To illustrate, they feel happy about how their partner treats them. Nevertheless, they also feel the desire to leave this person because of the other aspects of the relationship that they do not like.
They suddenly realize that they like their partner's caring and generous nature when they decide to leave.
However, implicit ambivalence may have benefits when it comes to relationships. Read this research to know more.
Also Try: 

Quiz: Do You Have An Ambivalent Marriage?
What are the causes of an ambivalent relationship?
A sign of being in an ambivalent relationship is seeking validation of love and affection. One might not be trusting of others, so they need to validate the relationship. These can result in extreme behaviors since there is a fear of getting separated.
However, there is a feeling of dissatisfaction that does not resolve. Even though they feel connected and happy with their partner, it is only for a short period. Feeling deprived and anxious in their relationship is a possible sign of an ambivalent relationship.
What causes ambivalence in relationships?
Here are the most common cause of ambivalence in a relationship:
1. Feeling torn
Nothing is constant in relationships. Values and beliefs change. Some couples compromise, but some do not. When there is a difference, it can cause ambivalence in a relationship. That is because one partner struggles to convince the other to have the same value or belief.
2. Feeling scared of consequences
It is natural to feel worried about what can happen if you express your concerns to your partner. That is because it can cause conflicts or arguments. However, ambivalent attachment in relationships is when one fears expressing their concerns. Even though they are unhappy, they keep silent because they do not want to disrupt the relationship.
To understand the ambivalence attachment style even better, watch this video.
How to determine ambivalent relationship
Do you feel like you have an ambivalent attachment pattern but are unsure whether that is the case? You can confirm your gut feeling with the following signs:
1. You only had casual relationships
One huge sign of being ambivalent with your relationship is that your dating history was mostly composed of casual hookups. When you get into serious relationships, they tend to be easily frustrated most of the time.
2. You are very critical of your partner
At the beginning of your relationship, you may have felt like your partner was the best person on earth. However, as time passes by, you eventually get critical about them to the point where you see no redeeming qualities at all.
3. Your relationship is on and off
Another big sign of feeling ambivalent about a relationship is when every fight results in a break-up. Then, you will eventually patch up and get back together.
10 signs of an ambivalent relationship
Are you feeling ambivalent about a relationship but not sure whether that is the case? These are the top signs that will confirm your suspicion.

1. Not investing themselves a lot in the relationship
If someone did not get enough attention during their childhood, they keep themselves guarded to avoid getting hurt. Therefore, this can result in being very selfish in relationships. Your partner does not invest a lot in your or any relationship since they care more about themselves.
2. Enjoying being on your own
If your partner prefers to be alone, that's a sign of ambivalent behavior. You might say they are introverts, but this kind of partner is difficult to bond with and open up to. They do not want to spend time and prioritize their me-time.
Put simply, your partner can be a loner who does not want to reach out to you or their friends.
3. Engaging in shallow talks
Ambivalent people are great at starting short conversations and easily breaking the ice. Nevertheless, you can notice that talking to them lacks depth after a certain period.
If your partner is like this, this can be their method to avoid deep conversations and protect their emotions. Asking them a profound question about your relationship can either change the topic or do not answer.
4. Being insecure and clingy
Many ambivalent relationships go through difficulties due to insecurities, imbalance, and confusion. If you have a partner like this, they want to feel reassured about your relationship all the time, even though they are not completely committed to it.
You can notice that they send you messages or call you all the time. When you do not reply right away, they can feel nervous. Being possessive is an indicator that you are in an ambivalent relationship.
Related Reading: 

8 Signs Indicating Insecurity in Relationships
5. Not asking or giving help
Dealing with challenges in their childhood on their own can cause partners to become ambivalent. Therefore, you cannot ask them to help you or expect them to ask for help from you. If you expect help, your partner can get very irritated.
6. Feeling irritated when you want to be near
Ambivalent partners give more importance to their needs and do not regard their partner's needs or desires in the relationship. If you ask for company, they can feel annoyed. They are indifferent when they emotionally react to it. Not only do they make themselves unavailable, but they also lack empathy.
7. Being called emotional
You are likely in an ambivalent relationship if your partner makes fun of you as being emotional. They have learned to control emotions, so they believe that being emotional is not needed in life.
They might even tell you that you are just seeking attention when you become emotional. They can also say they do not feel emotions. Even when they deny it, they can feel possessive and jealous.
8. Having an on-and-off relationship
An on-and-off relationship often means going through a cycle of breaking up after fighting and getting back together. Therefore, a sign of ambivalence in a relationship has gone through many breakups and reconciliations.
For instance, your partner seems happy for a short time whenever you break up. Then, they want to get back together when they feel sad.
Related Reading: 

On-and-off Relationship: What Is It, Causes & How to Fix It
9. Becoming critical
Before, your partner thought of you as the best person in the world, and you are the ideal match for them. However, you noticed that they had become more critical of you as time went by. You feel like your partner does not see anything good in you.
They do not directly point out these flaws since they do not want to hurt you.
10. Not including you in their plans
There are moments when you feel like your partner is happy to share their plans. However, there are times that they seem to avoid including you in their plans. For instance, you might notice your partner not wanting to be with you when they have plans with their family or friends.
How do you fix a relationship ambivalence?
Suppose you are in an ambivalent relationship style. In that case, the following tips can help you fix it:
1. Do not attempt to change them
Because most people with ambivalent personalities continuously deal with their insecurities and anxieties from their childhood. They are looking for ways to escape these feelings.
Therefore, if you pressure them to change, this might affect them and make them feel more shameful and guilty. It is best to support them in their relationship as they heal and recover.
2. Open up on how the relationship is affecting you
Your partner likely has a lot of relationship baggage. This makes it more suitable to open up to them about how their actions and behaviors affect you. You can explain how these have made you feel worse, unloved, and ignored.
This can be risky, but it is a possible solution to relationship ambivalence. You can consult a professional to support your relationship further.
3. End the relationship if you feel trapped
You have also gone through a lot in this toxic relationship. If you feel like it is too much, you can decide to end it. Rather than going through emotional ambivalence in relationships and feeling captive, you can break the hardships and challenges in your relationship.
You can seek help from your family, friends, or a professional if you feel very hurt inside. You can take the time to heal by going on a holiday detox.
You might need to accept that there is nothing to do to save the relationship. Some relationships are bound to end even though you tried your very best. If you continue, the relationship will be more toxic and worse eventually.
All people have the right to have a dignified and peaceful relationship. This can only be achieved if both partners are satisfied in their lives.
Conclusion
Finally, you understand what ambivalence in a relationship is and its signs. Even though time was lost in trying to understand and deal with a toxic relationship like this, you can save yourself from suffering in the future.
Feeling satisfied is the most important recipe in a relationship. Considering counseling can help you and your partner mutual satisfaction. If it is not possible, you should not drain your energy in trying to save the relationship.
Share this article on
Want to have a happier, healthier marriage?
If you feel disconnected or frustrated about the state of your marriage but want to avoid separation and/or divorce, the marriage.com course meant for married couples is an excellent resource to help you overcome the most challenging aspects of being married.
More On This Topic
You May Also Like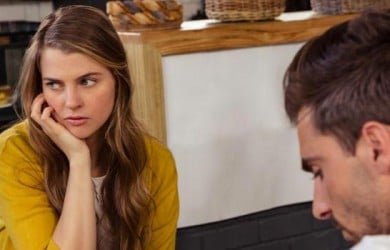 Popular Topics On Married Life