Relationship Bullying: Meaning, Signs and What to Do
Relationships come in many forms, but they all share a standard benchmark; you should feel safe, secure, and confident in your relationship.
So if you've ever found yourself walking on eggshells in your own relationship, or if your partner constantly criticizes, belittles, or controls you, something isn't right.
Relationship bullying is a pervasive and damaging form of abuse, taking many different shapes and forms. From passive-aggressive comments to outright controlling behavior, relationship bullying can have devastating consequences for the victim's mental health and well-being.
Unfortunately, relationship bullying isn't acknowledged as frequently or appropriately as it should be. If you or someone you know is a victim of relationship bullying, this resourceful article will help you protect yourself or your loved one. It will help you identify the signs of relationship bullying and how to break free from this cycle of abuse.
Keep reading to start the journey toward recovery.
What is relationship bullying?
Relationship bullying, also known as intimate partner violence or emotional abuse, is a form of power-based violence that one partner inflicts on another in an intimate relationship. It involves one partner physically or emotionally intimidating the other, from overt physical violence to more subtle forms of emotional abuse and psychological bullying.
Unfortunately, relationship bullying can occur in any type of relationship, regardless of gender, age, sexual orientation, or socioeconomic status.
You have to remember that relationship bullying is not the victim's fault. It is an act of violence that the bully perpetrates upon their victim — their partner — who is constantly enduring in silence.
Most of the time, the victim doesn't realize their partner is a bully. This is because the bully in a relationship typically has complete emotional control and dominance over their partner. Through manipulative tactics and subtle threats, the bully can keep their victim in a state of fear and confusion. This makes it difficult for the victim to recognize or speak out against the abuse.
Understanding 5 forms of relationship bullying
Another tricky thing about relationship bullying is the many complex and subtle forms it takes. The specific behaviors may vary depending on the relationship, and pinpointing the signs can be challenging. Moreover, two or more of these types of relationship bullying can co-occur.
If you suspect bullying in your or your loved one's relationship, learn about the following types of bullying in relationships to take appropriate action.
1. Psychological bullying
Psychological or emotional bullying is a type of relationship bullying that involves the use of manipulation, threats, and intimidation tactics.
Examples of psychological bullying may include name-calling, insults, and put-downs. The perpetrator may also frequently gaslight their partner, causing the victim to doubt their reality, emotions, and sanity. This creates a constant cloud of confusion, anxiety, and self-doubt hanging over the victim.
Watch this video to understand the subtle signs of gaslighting.
2. Physical bullying
Physical bullying involves inflicting an act of physical violence on the victim, compromising their safety, health, and well-being. Acts of physical abuse in relationships can involve hitting, slapping, and throwing objects at the victim. It can also include indirect violations of your physical well-being, such as depriving you of medical care, proper nutrition, or safe residence.
Physical abuse is often accompanied by emotional abuse and can have grave and long-lasting consequences for the victim.
Related Reading: 

15 Signs Your Wife Is an Emotional Bully
3. Coercive bullying
In relationships, coercive bullying involves using threats, intimidation, and manipulation to control the victim's behavior. This insidious type of bullying is often difficult for the victim to recognize.
Some of the bully's tactics include threatening to harm their partner, partner's family, or partner's property. Often, the bully uses these intimidation tactics to convince the victim to do what they want.
4. Cyberbullying
Digital and online abuse is a form of relationship bullying that has emerged alongside the rise of technology. Forms of cyberbullying in relationships include cybers-talking, harassment, or the non-consensual sharing of explicit content via digital mediums.
5. Financial bullying
Financial abuse involves the perpetrator controlling the victim's finances and assets or limiting their access to money. Financial abuse can leave the victim financially vulnerable and unable to stand up to their partner or leave the abusive relationship.
5 Examples of bullying in relationships
Relationship bullying can take on many forms, making it difficult to recognize when it's happening. Here are some examples of how bullying in relationships can manifest:
1. Intimidation and threats
Intimidation and threats are go-to weapons for bullies, who use physical force or the threat of it to control the victim. This can include things like:
Physically blocking the victim's path,

Cornering the victim into a room

Breaking objects or punching walls to scare the victim.

Threatening the victim's family, friends, pets, or children.
2. Verbal abuse
Words can be a lethal weapon in the hands of another person. Verbal abuse and bullying involve the use of words to control and dominate the victim. This includes:
Calling the victim names

Assaulting them with insults

Criticizing the victim's appearance, intelligence, or abilities

Yelling, screaming, or using a hostile tone of voice
3. Financial control
Financial bullying involves controlling the victim's access to money and other financial resources. This leaves the victim in a position where it's hard to break free from the constraints of the abuser. Financial bullying in a relationship can look like this:
Preventing the victim from earning their own money

Taking control of the victim's bank accounts or credit cards

Keeping track of every penny spent

Refusing to contribute

to household expenses or bills
4. Isolation
In a relationship, one partner may actively isolate their partner from their social circles, including friends and family. This makes it extremely difficult for the partner to seek help. Isolation in relationships can look like this:
Limiting contact with friends and family

Moving to a new city or state

Forbidding the victim to participate in social activities
5. Coercive control
Coercive control is when the perpetrator uses intimidation or manipulation tactics to control the victim's behavior. Some examples of coercive control include the following:
Threatening the victim with harm and violence

Using emotional

manipulation

Restricting the victim's access to basic needs
5 warning signs of relationship bullying
It's not always easy to recognize bullying in a relationship, especially when the behavior is disguised as love or concern. However, what may appear as love is actually a huge red flag. Here are five common warning signs of bullying in relationships:
1. Constant criticism
If your partner criticizes you, puts you down, or makes you feel like you can't do anything right, it's a tell-tale sign of relationship bullying. Remember that your significant other is supposed to uplift, encourage, and celebrate you.
2. Isolation
If your partner discourages you from seeing your friends or family, this could be a huge warning sign. They may pick fights with you when you go out or stalk your whereabouts while disguising it as a concern.
3. Controlling behavior
If your partner makes all the decisions for you, no matter how big or small, this could be a clear sign that they're bullying you. This includes decisions about what you wear, where you go, or how you spend your time.
4. Threats or intimidation
Your partner may threaten to harm you, your family, or your pets, or they may use physical force to dominate you.
5. Extreme mood swings
The bully in the relationship may have dramatic and unpredictable mood swings, and they may blame you for their emotions or behavior.
Related Reading: 

How to Deal With Mood Swings in a Relationship
How to confront and handle relationship bullying
Confronting relationship bullying can be a difficult and scary task. As a victim, you may find yourself in a never-ending cycle of second chances and justifying your bully's behavior. Though you come from a place of love and commitment, you need to take action to protect yourself.
Here are some steps to confront and handle relationship bullying:
1. Acknowledge the behavior
Recognize and accept that what your partner is putting you through is unacceptable. It is equally important to remember that your partner's behavior is not your fault.
2. Don't be afraid to ask for help
Talk to a trusted friend, family member, or a professional counselor who can help you understand what is happening and support you.
3. Set boundaries
Be clear about what you will and will not tolerate, and stick to those boundaries.
Related Reading: 

15 Ways of Setting Boundaries in a New Relationship
4. Communicate assertively
When confronting your partner about their bullying, be assertive and clear about how their behavior affects you.
5. Seek professional help
Utilize couples therapy, which can help you develop coping strategies and provide support as you work to overcome the bullying.
Frequently asked questions
Here are some of the most frequently asked questions about relationship bullying.
What are the emotional effects of cyberbullying?
Some of the emotional effects of cyberbullying include anxiety and depression, low self-esteem, isolation, fear, anger, and resentment.
Is relationship bullying always physical?
No, relationship bullying is not always physical. It can take many forms, including psychological, emotional, and verbal abuse.
Can relationship bullying occur in same-sex relationships?
Yes, relationship bullying can occur in any type of intimate relationship, regardless of gender or sexual orientation.
Final thought
Relationship bullying can be extremely taxing on not only the victim but also their children, pets, and family. Whether you're a victim of bullying by your partner or know someone who is, it's crucial to recognize the signs and take action.
Remember that help is available, and you don't have to suffer in silence. Your friends, family, and professional help are always available to help you break out of the cycle of abuse.
If your partner is endangering your or your family's safety, don't hesitate to contact the authorities.
Share this article on
Want to have a happier, healthier marriage?
If you feel disconnected or frustrated about the state of your marriage but want to avoid separation and/or divorce, the marriage.com course meant for married couples is an excellent resource to help you overcome the most challenging aspects of being married.
More On This Topic
You May Also Like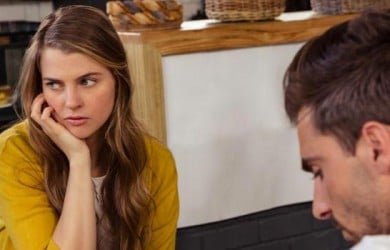 Popular Topics On Married Life