7 Common Myths About Prenups Debunked by Divorce Lawyer
Prenup's meaning is often clouded by the negative myths about prenups that are extremely common. But no matter how you slice it, prenups aren't romantic.
But here's a spoiler alert from someone who has been married 20+ years: marriage isn't always romantic either.
Bills accumulate, kids enter the picture, and life happens. A prenup enables a couple to start their marriage on the same page, prepared for the practicalities of life.
So why doesn't everyone sign a prenup? It is usually because they misunderstand them. Below, the top 7 myths about prenups are busted and why you should be considering a prenup for your marriage.
Related Reading: Do's and Don'ts of Prenuptial Agreements
7 Common Myths About Prenuptial Agreements
The perception of prenups is often clouded by perceptions that often ignore the reality of these agreements between couples.
Here are seven misconceptions and myths about prenups that people often believe. Let's look at them in detail:
1. A prenup dooms your marriage
Why do you get life insurance? It isn't because you anticipate or want to die earlier than expected. Having life insurance provides peace of mind in the present, knowing that you have a safety net for your loved ones if divorce occurs.
Prenups are no different. No one signs a prenup because they anticipate or want their marriage to fail. And it is one of the myths about prenups that signing one dooms a marriage to failure.
Signing a prenup provides peace of mind in the present, knowing that your affairs are in order if the worst-case scenario were to occur. It can actually give you a better understanding of relationships. Why?
Prenups force couples to have critical (and difficult) conversations before marriage about how they will handle their money and what they expect from each other. They can actually create intimacy.
Prenups help couples to start a marriage on the same page. When the couple takes care of the "what ifs," they can focus on what is most important, their relationship.
2. Prenups are for rich people only
Prenups are not just for the rich and famous. You may want to think about getting a prenup if
You want to go into the marriage with clear financial expectations

One or both of you have student loans and credit card debt

You stand to inherit some money

You own a business or have a stake in a family business

You and your fiance are both on the path to a secure financial future

You want a safety net due to your partner's past unhealthy behaviors (e.g., a gambling addiction, etc.)
One of the myths about prenups is that only rich and famous people sign them. It is actually becoming increasingly common for millennial couples of all income levels to sign prenups.
Why?
Many millennials are children of divorce and are intimately aware of how divorce can cause financial chaos. Research shows that they've been affected by their parent's divorce. They want to go into their marriage with a safety net in place.
Millennials also are more likely to shoulder significant student and credit card debt. A prenup can help ensure that debts incurred before and after the marriage stick with the individual and are not taken up as community property.
In this day and age, millennials are acutely aware of how the world can flip upside down in a moment. A prenuptial agreement often gives a sense of comfort and peace of mind about the uncertain future in an increasingly unpredictable world.
Related Reading: Notarizing a Prenuptial Agreement – Mandatory or Not?
3. Prenups are usually unfair
When people think of prenups, they think that one side typically wins out. The wealthy individual is protected, the poor one screwed over if they divorce. This is one of the myths about prenups.
But the fact is that most prenups benefit both the spouse who earns (or has) more and the spouse who earns less.
The best prenups attempt to address issues that might not come up for years or even decades. Do you want kids? If one spouse pauses their career to shoulder the bulk of childcare, how will they be protected?
What about alimony/spousal support and various types of spousal support? Should there be reasonable limits on what is considered income if that comes from a separate property? Should there be a total waiver of spousal support or no mention of it at all, allowing the parties to reach an agreement later?
Do we really want to leave all these decisions to a judge?
The first step in drafting a prenup is for each individual to disclose all assets and debts. This allows both partners to get a complete picture of their partner's financial status.
Suppose there is a significant difference in financial status. In that case, it is best to have these conversations before marriage so that the marriage can be rooted in reality and so that both parties can have a clear understanding of expectations.
The vast majority of couples seeking prenups both want the agreement to be fair and equitable. If your partner wants you to sign an outrageously unfair prenup, you may want to reevaluate your relationship.
4. Prenups cost a fortune
If you go to one of the top 5 entertainment-based attorneys in Los Angeles, they may charge you upwards of 10,000 dollars for a prenup. Most prenups, however, fall in the range of 2,500- 5,000 dollars, depending on your location.
One of the main aims of a prenup is to avoid the emotional and financial cost of the uncertainty of litigation. It is one of the myths about prenup that they are costly.
If the contract spells out clearly what is to happen in the event of divorce, there's a lot less uncertainty and things to fight about. Hopefully, you then are not burdened by the immense financial and emotional cost of drawn-out litigation.
If you want to save a little bit of money, you can go ahead and draft your own prenup. Just make sure that you have a family law attorney review it to ensure that it is legally sound and that you have covered all of your bases.
That $3,000 you spend on a prenup might seem like a lot now, but it will save you mountains of money in the event of a divorce. And you can't put a price tag on peace of mind.
5. Few people actually sign prenups
Here's something that may surprise you: everyone has a prenup. It's called state law. If you don't sign a prenup, the state you reside in will determine how you divide up your assets in a divorce.
In California, many people are not happy with the state's approach. For example, spousal support (AKA alimony) in California can be incredibly complicated and relies heavily on court discretion on almost every nuance. It can be a huge gray area and is often hard to settle.
Get over the myths about prenups and don't leave your financial well-being in the hands of the state.
Related Reading: Prenuptial Agreement vs. Cohabitation Agreement
6. A prenup is only good for a divorce
Many couples think that a prenuptial agreement will only be applicable in the event of a divorce. Not so!
A prenup can help establish financial expectations in the marriage (e.g., monthly support, income from inherited property, trust funds for living expenses, etc.) and serve as the groundwork for an estate plan.
Yes, death and divorce are probably the least romantic topics to talk about, but at least with a prenup, you have your draft estate plan that you can take to your trust attorney to make sure your affairs are put in order.
7. The courts often don't enforce prenups
If you have a well-written, legally sound prenuptial agreement, the odds are incredibly high that the court will enforce it. And if there's a fight down the road, hopefully the enforceability of the prenup is the only thing you fight about.
Courts usually throw out part (or all of) an agreement if the opposing party can prove that the spouse was under duress or coerced to sign the agreement, if it did not meet the formal legal requirements, or if the agreement is unconscionable (i.e., gross or severe unfairness).
Some people think that this means creating whatever stipulations they want in their prenup agreement. Like some may want to assign all assets to the other spouse to avoid personal or business debts or losses but there are laws against that!
Courts don't enforce bad prenups, so don't create more problems by doing your own without talking to an attorney.
How to talk about a prenup?
A common reason why many do not get a prenup is that talking about one would be awkward. I can't dispel this as a myth because it's often true. It is awkward (at first) to talk about getting a prenup.
However, avoiding hard conversations can leave you and your family financially vulnerable. Cracks in the relationship can start showing when the word "prenup" is put out there, but almost all couples come out of it stronger and better understand themselves and their relationship.
Research shows that couples utilize different techniques to talk about prenups, including using metaphors.
So how should you talk to your partner about getting a prenup?
Frankly, mention your needs to your partner. Don't be afraid to mention your fears and concerns about the future if these are keeping you up at night. These frank conversations can strengthen your marriage in ways that will give you an advantage as you move forward in your life together.
Related Reading: How To Talk To My Partner About Getting A Prenup?
Watch this video to learn more about how to have difficult conversations in relationships:
Conclusion
Yes, prenups aren't exactly "romantic." But marriage is more than romance; it's about building a life together as partners. A prenup allows couples to start their marriage unified and with clear expectations. In my mind, there is nothing more romantic than that.
Let the details mentioned here dispel the unfounded notions and myths about prenups that you may have had. All you need to do is approach the right professional to get further details and present your preferences to get the guidance you need.
Share this article on
Planning to get married?
Just engaged or contemplating marriage? Discover how to transition smoothly into the next phase of your relationship with Marriage.com's Pre-Marriage Course. Begin your incredible journey with this guide designed by experts and lay a strong foundation for your path of togetherness - forever!
More On This Topic
You May Also Like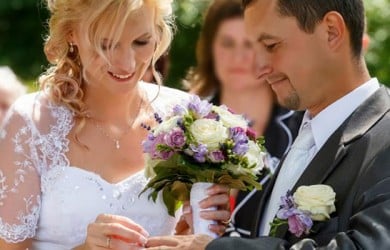 Popular Topics On Getting Married