What Is the Orgasm Gap & How Do Couples Close It?
No matter how long you have been with your current partner, the chances are that there are a few things you have noticed that are distinctive about your relationship. If you aren't having the same number of orgasms as your partner, you aren't alone.
This is what is known as the orgasm gap.
Keep reading this article to learn more about what this term means and what you can do about it. It may include information that will change your life.
What is an orgasm?
An orgasm happens whenever a person reaches complete sexual excitement. The function of the orgasm is thought to help you relieve stress and relax, although there may also be other reasons why we experience them.
Why do we orgasm?
No one knows the exact reason why we orgasm, but we do know that both men and women can reach orgasm, although this may be achieved in different ways depending on if you are a man or a woman.
What is the orgasm gap?
The orgasm gap refers to the idea that in heterosexual relationships, men have more orgasms than women. In many instances, this theory has been studied through multiple surveys and is thought to be the case. This gap is generally thought to occur when it comes to heterosexual sex.
There is less of an orgasm gap in homosexual relationships, especially those that feature female-female relationships.
Why does the orgasm gap exist?
While no one knows for sure, there are a few reasons why experts think that an orgasm gap exists.
Not enough is known about the female body
It is thought that the female anatomy is more complex than the male anatomy, especially in the genital area.
While this may be the case, when it comes to male vs. female orgasm, it might be necessary for everyone to learn more about female anatomy so that the female orgasm can be understood better.
It is worth a little research for many people to make sure that your partner is enjoying herself when it comes to sex with orgasm.
Even some females might need to learn how to orgasm or don't know what turns them on. It may be necessary for them to research this subject as well.
More foreplay may be needed
Again, you may be under the impression that it is difficult for a woman to have an orgasm and that it might not be worth the effort. This is not true. A woman may simply need just a bit more foreplay before sex to achieve orgasm.
Consider talking to your partner about this and hear what she has to say on the subject. If you are the female in the relationship, tell your partner anything that may increase your orgasm frequency.
This might be something they haven't thought about but are interested in attempting. If you aren't sure what you want yourself, think about this.
Related Readin

g: 

6 Foreplay Ideas That Will Surely Spice up Your Sex Life
It is considered more critical for a man to have an orgasm
It may seem more important for a man to have an orgasm in certain cultures or relationships instead of a woman. This is not the wrong attitude to have, but instead, you should think of it as a partnership and not a competition.
Why should one gender be able to orgasm and the other one can't? This is something to think about when it comes to your relationship and see what you can do to change things if it seems one-sided.
Related Reading: 

How Important is Sex for A Man 
How can we fix the orgasm gap?
There are also thought to be a few ways that can help lessen the orgasm gap. Here's a look at possible solutions.
Women taking control of their body
When you think about sex and orgasm, you likely think about penetration. In heterosexual relationships, there may need to be some changes made to how sex is handled.
If your female partner is not reaching orgasm from sex alone, they may need to start to self-pleasure before or during penetration. This is something that a woman should not be ashamed of, especially when she is taking part in it with her partner.
Of course, a woman should not feel ashamed when she masturbates any other time either, since this can help a woman understand her body and know what she likes.
The average female orgasm may take a few more minutes to achieve than a male orgasm, but it will take a bit of trial and error to know for sure.
Asking her what she wants
Something else that may help a woman reach orgasm during sex is asking her what she wants. When you are doing things she likes, this gives you a better chance of both parties reaching orgasm when you have sex.
Moreover, your partner will likely appreciate that you care enough to make sure that she is enjoying herself too.
Related Reading: 

5 Ways to Please a Woman in and out of Bed
Taking your time
It may not take a male a long time to have an orgasm when it comes to penetration. As previously discussed, there is sometimes a different story regarding the female in the relationship.
If you find that this is true in yours, do what you can to slow down and see if this can help your partner reach climax. In some cases, she may be close to climax but can't orgasm, but this can be investigated further and hopefully addressed better in the future.
It is important to continue talking about what is working and what isn't working and making sure you don't become frustrated with each other.
Tips to help her orgasm
It is estimated that the average time for a female orgasm may be three times as long as it takes for a male to reach orgasm.
This is not the case for all females, but it can be problematic if intercourse only lasts one-third of a female needs to reach orgasm. Think of this when you are trying to lessen the orgasm gap in your relationship.
Let her be in charge
When you wish to have an orgasm along with your partner, you may want to let her take charge from time to time. This might give her the push she needs to remain aroused throughout the whole process.
Ask her what she would like to do and see what the two of you can come up with.
Talk along the way
Make sure your Sexual communication with each other along the way. You should both indicate what you like and don't like whenever you are in the bedroom so that the other person knows what to do and what to change. Engaging in this behavior may strengthen your sexual relationship.
Pleasure her
In some cases, you may need to pleasure your partner for her to reach orgasm. You might want to do this before or after penetration or at different times when you are just trying to spend time with each other.
Pleasuring her with your fingers, your mouth, or by using marital aids may be able to show her that you desire her and help her feel better about herself. Moreover, it may help her feel more confident during sex.
Have fun
Whatever you decide to do as a couple, be sure to have fun with it. Make certain that both parties are into what you have decided on and see how it works out. The goal is for both of you to enjoy yourselves and reach orgasm, even if it isn't each and every time.
Conclusion
When it comes to closing the orgasm gap, you can do things when approaching your relationship. These things may take some time to get right, but they aren't challenging to do, especially when you approach them as a team.
If both parties in the relationship are doing what they can and putting in the effort, you may improve the number of up-close orgasms that the female in your duo is achieving, which can help close the gap overall.
Besides that, when both of you are reaching climax, this may bode well for the overall relationship and its longevity. Think about this and keep communicating with each other.
If you feel like your partner is worth it, don't hesitate to take the time to work harder at helping her achieve orgasm or helping yourself reach orgasm.
You should also keep in mind that you should always be having fun with it. Sex shouldn't feel like a chore for either of you; it is a chance to burn calories and relax. This is possible and can be advantageous to work on together too.
You can read more about how to close orgasm gaps in this video:

Share this article on
Want to have a happier, healthier marriage?
If you feel disconnected or frustrated about the state of your marriage but want to avoid separation and/or divorce, the marriage.com course meant for married couples is an excellent resource to help you overcome the most challenging aspects of being married.
Learn More On This Topic
You May Also Like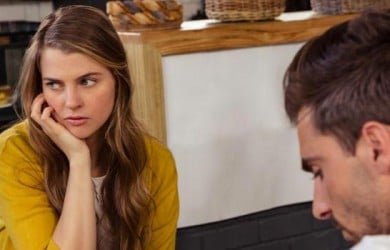 Popular Topics On Married Life