How to Be Nice to Your Husband: 15 Effective Ways
Being married to the person you love is beautiful, but as time passes, the spark and excitement can fade away.
Often, in the daily grind of life, we forget to appreciate our partners and take them for granted. We may get so caught up in our own lives that we neglect to show our love and affection to them.
As a result, the relationship suffers, and the emotional distance between partners widens.
It is essential to remember that small acts of kindness and love can go a long way in nurturing a healthy and fulfilling relationship.
This article will discuss how to be nice to your husband and show him how much you appreciate and love him.
From simple gestures like cooking his favorite meal to expressing gratitude for his efforts, these small but meaningful actions can bring you closer to your husband and reignite the passion in your marriage.
Let's explore how to do something special for your husband and bring more love, kindness, and happiness into your relationship.
How can you improve your relationship with your husband?
Improving a relationship with a husband requires effort and communication. Couples can strengthen their bond by showing appreciation, expressing their feelings, and actively listening to each other.
Additionally, spending quality time together, engaging in shared interests, and creating new memories can help rekindle the romance. It's also important to work through conflicts and address issues as they arise rather than letting them fester.
A strong relationship requires both partners to prioritize each other's needs and feelings and continuously work towards building a happy and fulfilling partnership.
How to be nice to your husband: 15 best ways
As a wife, you want to create a loving and harmonious relationship with your husband. It's not always easy to be kind and considerate when busy and stressed, but a little effort goes a long way.
Here are 15 ways of how to be nice to your husband:
1. Listen attentively
One of the most important ways of how to be nicer to your husband is to listen to him attentively.
When he speaks to you, give him your full attention and try understanding his perspective. Avoid interrupting or dismissing his feelings, and show empathy for what he's going through and speak kindly to your spouse.
2. Compliment him
Everyone likes to receive compliments, and your husband is no exception. Take the time to tell him how much you appreciate him, how proud you are of his accomplishments, or how handsome he looks. Ensure your compliments are sincere and specific and avoid generic or superficial compliments.
Related Reading: 

30 Compliments for Men That They Love to Hear More Often
3. Show affection
Physical affection is an important aspect of any relationship. One of the nice things to do for your husband is to show him that you love him by hugging him, holding his hand, or kissing him.
Make sure your physical affection is appropriate for the situation and is something he enjoys.
Related Reading: 

15 Reasons for Lack of Affection in a Relationship and How to Deal
4. Make his favorite meal
Cooking your husband's favorite meal is a great way to show him how much you care. It's a simple gesture, but it can mean a lot to him. Take the time to plan a special meal and ensure he truly enjoys it.
5. Support his hobbies
Your husband likely has interests and hobbies, whether playing sports, listening to music, or working on cars.
Take an interest in his hobbies and try to support him in any way you can. Attend his games or concerts, listen to his favorite music with him, or help him with his car projects.
6. Give him space
Sometimes, your husband may need some space to do his own thing. So, how to make your husband want you?
If you want something nice to do for your husband, learn to respect his need for independence and don't take it personally if he wants to spend time alone or with friends. Give him the space he needs, and he'll appreciate your understanding.
7. Plan a date night
One of the ways to please your husband is to take the initiative to plan a special date night for you and your husband.
If you are seeking special things to do for your husband, it could be a night out at a fancy restaurant, a movie night at home, or a day trip to a nearby city. Make sure the activity is something he enjoys and that you both have a great time.
Related Reading: 

40 Date Night Ideas for Married Couples
8. Show interest in his day
When your husband comes home from work, ask him about his day and show genuine interest in what he has to say. Listen to his stories and support him if he's had a tough day.
This simple act of kindness can go a long way in making him feel loved and appreciated.
9. Offer to help
If your husband is going through a stressful time or has a lot on his plate, offer to help him in any way you can. Whether running errands, cooking dinner, or doing the laundry, your willingness to help will be greatly appreciated.
10. Give him compliments in front of others
If you seek nice gestures for your husband, complimenting can never go out of style! Don't be afraid to compliment your husband in front of others. A research suggests that men like to be complimented more than women.
Let your friends and family know how great he is, and show him that you're proud to be his wife. This will make him feel valued and loved.
11. Support his career goals
Your husband likely has career goals and aspirations that he's working towards. Show your support by offering encouragement, helping him network, or providing emotional support when things get tough. Let him know that you're in his corner and that you believe in him.
12. Be forgiving
No one is perfect, and your husband is no exception. If he makes a mistake or hurts your feelings, try to be forgiving and understanding. Work together to find a solution and move past the issue rather than holding onto resentment.
Watch this video to learn how to forgive others:
13. Surprise him
Surprise your husband with a small gesture of kindness, such as a thoughtful note, a small gift, or a special treat. It doesn't have to be extravagant or expensive, but it should show you care and are thinking of him.
14. Show gratitude
Take the time to express gratitude for what your husband does for you and your family.
Even a study suggests that gratitude is a powerful tool in keeping the marriage healthy and happy.
So, whether it's taking out the trash or working long hours to provide for your family, let him know that you appreciate his efforts and everything he does.
Related Reading: 

10 Ways to Show Gratitude to Your Spouse
15. Be patient
Relationships are not always easy, and there may be times when your husband is difficult to deal with. Be patient and understanding, and don't let small annoyances become big arguments. Take a deep breath, count to ten, and try to communicate calmly and respectfully.
You can even consider couples therapy if you feel your relationship needs some help and your husband is in a situation that's too stressful for you to handle.
Some commonly asked questions
You don't need to move mountains to be nicer to your husband. Check out these questions to learn the simple ways of how to be nice to your husband.
What are the duties of a good wife?
Here are 10 duties that a good wife may strive to fulfill to maintain a healthy and happy marriage:
– Support her husband emotionally, mentally, and physically.
– Respect her husband and his decisions.
– Create a loving and comfortable home environment.
– Cook nutritious and delicious meals for her family.
– Manage household finances and budget effectively.
– Be faithful and committed to her husband.
– Maintain good communication and resolve conflicts peacefully.
– Show affection and intimacy towards her husband.
– Keep the home clean and organized.
– Work together with her husband to raise happy and well-adjusted children.
What do husbands need from their wives?
Here is a list of things that husbands may need from their wives to feel loved and valued in the relationship:
– Husbands need their wives to be their emotional support system, listening to their concerns and providing reassurance and comfort.
– Husbands need to feel respected by their wives, both in private and public. This includes respecting their decisions, opinions, and feelings.
– Husbands need physical affection from their wives, such as hugs, kisses, and hand-holding.
– Husbands need intimacy with their wives, both physically and emotionally, to feel connected and fulfilled in the relationship.
– Husbands need their wives to trust them and believe in their abilities in the relationship and other areas of their lives.
– Husbands need honest and open communication with their wives, sharing their thoughts and feelings and listening to their partner's perspective.
– Husbands need their wives to support them in their goals and dreams, whether in their career or personal endeavors.
– Husbands need to feel appreciated by their wives, with recognition for their efforts and contributions to the relationship and the family.
– Husbands need space and time to pursue their interests and hobbies and time alone to recharge and reflect.
– Husbands need their wives to be forgiving and understanding when mistakes are made, allowing for growth and improvement in the relationship.
Final takeaway
Being nicer to your husband is all about doing simple and thoughtful things to do for your husband, like showing him love, kindness, and respect.
By listening attentively, complimenting him, showing affection, supporting his hobbies and career goals, and being forgiving and patient, you can strengthen your relationship and build a loving, harmonious partnership that lasts a lifetime.
Remember, small acts of kindness can make the biggest difference in your marriage, so take the time to show your husband how much you care every day.
Share this article on
Want to have a happier, healthier marriage?
If you feel disconnected or frustrated about the state of your marriage but want to avoid separation and/or divorce, the marriage.com course meant for married couples is an excellent resource to help you overcome the most challenging aspects of being married.
You May Also Like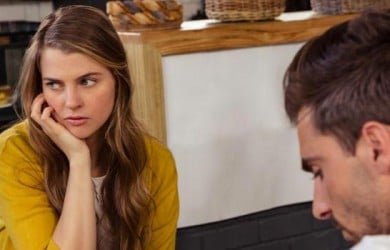 Popular Topics On Married Life