What to Do When Love Has Left the Marriage
The day we say "I do" to one another, love is present. When the first anniversary arrives, when the first home is purchased, when the first child is born, love is present.
And because love is ever-present, we take it for granted a bit, assuming it will always be there for us. We let the fire go out but like anything that isn't tended to regularly, it dissipates and then takes a much greater effort to re-ignite.
My husband was tending the fire on that crisp fall day at the lake house with friends. As a firefighter himself, he could have either kept the embers warm all afternoon or let them die out and then make the effort to re-ignite them later so that we could have a roaring fire that evening. One takes continuous care and tending; the other requires more effort.
The Normal Bar is one of the most extensive relationship studies ever completed with insights from over 70,000 people around the world and 1.7 million data points at the time of publication. As the study looked at the differences between happy couples and unhappy couples, there was a recurring theme in the findings: the 10-year mark in the relationship is where many of the relationship warning flags appear: partners stop showing affection, are criticized more frequently, less likely to go on dates and find their partners less attractive.
After more than a decade together without tending, the coals on the fire may be completely cool by now, so don't be surprised that it will take some effort to get that fire roaring again. Here are three ways you can begin to bring love back into the relationship:
Forgive
The hurts you've inflicted on one other were not intentional. It was simply your own wounds playing out inside the relationship. Only people who are hurting themselves hurt other people. When we can see the wound behind the action that caused the hurt, it's easier to find forgiveness. Forgive your partner and then, forgive yourself for how your own wounds have shown up inside your marriage.
Focus intentionally
There are literally hundreds of traits that comprise your spouse. Of course, there are some qualities about him or her that frustrate you, but there are also qualities about him or her that you genuinely love and appreciate. Maybe he's an amazing cook, a great father, or he makes you laugh. Maybe she's patient, selfless, or smart as hell. When you focus on the attributes of your spouse that you appreciate, it leaves less mental space for noticing the things that frustrate you. And since whatever you focus on expands, when you focus on the parts of your partner that you love, you will actually see and experience more and more of that from him or her.
Be willing to examine the stories
We cannot heal what we're not willing to look at, so it's important to be open and willing to see the stories we've created about our spouses or about the marriage.
For instance, maybe you have a story that you do everything in the relationship. Maybe you have created a story that if he or she loved you more, he would behave differently or make different choices. Maybe you have a story that this is all the relationship will ever be.
Most of the stories we create in our minds carry some version of us as the martyr and our partners as the one at fault; after all, every good story needs a villain. Be willing to examine those stories to see what is really true, to understand whether or not the story serves you and your relationship in a positive way, and intentionally decide whether or not you want to keep that story. If it doesn't help bring love back into the relationship, give yourself permission to leave that story in your past.
Like anything important in our lives, our marriages need nurturing and tending to keep the love alive. If love has left the marriage, we can bring it back again by gently stroking the fire and keeping the embers burning through repeated forgiveness, focusing on the qualities we appreciate and challenging our own stories.
If you are in a difficult place in your married life and are contemplating about staying or leaving I have something that you would like to read.
Share this article on
Want to have a happier, healthier marriage?
If you feel disconnected or frustrated about the state of your marriage but want to avoid separation and/or divorce, the marriage.com course meant for married couples is an excellent resource to help you overcome the most challenging aspects of being married.
Learn More On This Topic
You May Also Like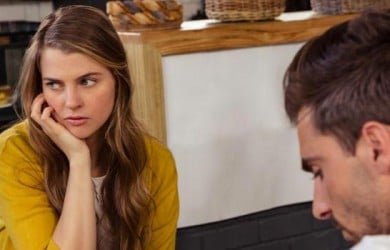 Popular Topics On Married Life