5 Pros and Cons of Recreational Companionship in Marriage
When people think of factors that make a marriage work, they probably imagine love, bonding, sexual intimacy, strong communication, and shared values. While these things are certainly important, another factor to consider is companionship in marriage.
For some people, companionship is just one feature of their marriage. Others have a companionate marriage, in which their partnership is centered around the companionship they offer each other.
Learn more about companionship in a relationship, including what it means and its pros and cons, below. You'll also find the answer to, "Why is companionship important in a relationship?"
What is recreational companionship in marriage?
It's helpful to understand the companionship meaning before digging into its importance in marriage. Companionship in marriage, and more importantly recreational companionship, occurs when a married couple enjoys spending time together and engaging in shared recreational activities.
So, what does recreation mean? This can include going to movies together, taking walks, camping out, going to the beach, or playing games together. The specific activity is less important than the fact that recreational companionship requires you to spend time together doing activities you enjoy.
Achieving a state of recreational companionship is important in marriages. It allows you to have fun together, strengthen your bond, and share an intimate connection as you try new activities.
Without a sense of companionship in marriage, one or both partners may feel that their emotional needs are neglected. Lacking companionship can lead to feelings of loneliness and isolation, which does not make for a great marriage.
Related Reading: 

How Is Companionate Marriage Different From the Traditional One?
Recreational companionship examples
For more insights into companionship in marriage, consider the examples below:
Taking regular weekend getaways together

Sharing an evening walk after dinner each night

Training together for races like a marathon

Having a weekly movie date at the theater

Taking a class together to learn new skills like cooking

Going to the gym together several times a week

Hiking or backpacking together

Listening to music together or sharing favorite songs

Having intimate conversations in the park

Visiting beaches or public parks together
The activities noted above are just examples, and companionship in marriage can be anything you make it, as long as it's enjoyable for you and your spouse.
Traditional vs. companionate marriage
While the concept of companionship in marriage can be applied to any union, sometimes, the entire marriage centers on companionate love.
In this type of marriage, a couple stays together because they have established a strong degree of intimacy, meaning they are close to each other and like one another. They have a high level of commitment, meaning they choose to stay together over the long term.
A companionate marriage differs from a traditional marriage in the sense that companionate marriage does not contain the third component of love, which is passion. Passionate love is associated with romance, physical attraction, and sexual drive.
People may refer to marriage that offers companionship and passion as a "traditional marriage." In contrast, companionate marriage centers on a couple's intimacy and enjoyment in sharing activities.
A companionate marriage does not require a high degree of passion and may represent the pattern many couples fall into after years together when the honeymoon phase has passed.
Another way to look at companionate marriage vs. traditional marriage is that it is defined by sharing mutual interests and activities and being married to enjoy recreation. This opposes traditional marriages in which child-rearing and shared finances are the foundation of marriage.
In a companionate marriage, spouses are seen more as equals and have shared interests. In traditional, old-fashioned marriage, the husband is often the breadwinner, while the wife stays home to raise children and keep the house. This is a marriage based on practicality rather than companionship or romance.
5 pros and cons of companionate marriage
When people consider a lifelong partner, they may find that someone interested in companionate marriage is a good fit. A companionship marriage comes with both pros and cons, which are discussed in more detail below.
Pros of companionate marriage
The top 5 benefits of companionate marriage include:
1. A high degree of intimacy
Companionate marriages are characterized by a high level of intimacy. This means that spouses are highly bonded and have a strong sense of liking for one another.
Related Reading: 

How to Strengthen Emotional Intimacy in Your Marriage?
2. Shared activities
Couples who have companionate love enjoy engaging in activities together. This can include going on trips, participating in shared hobbies, and simply enjoying evening walks and movies.
3. Commitment
People in a companionate marriage are in it for the long haul. When you establish a healthy level of companionate love, you can be sure you have a lifelong partner.
Related Reading: 

How Can a Lack of Commitment in Marriage Lead to a Divorce?
4. Plain old fun
A companionship relationship is also full of fun. You'll enjoy taking trips and participating in activities together, so life will always be exciting.
5. Being married to your best friend
You can think of recreational companionship in marriage as the equivalent of being married to your best friend. The strong foundation of friendship can help you get through the tough times that life throws you.
Cons of companionate marriage
While many enjoy the benefits of companionate love, this type of marriage isn't right for everyone. Five potential cons include:
1. It may not be realistic
Sharing recreational companionship can be fun and fulfilling, but some couples may not have the time to make their marriage center around shared activities. With jobs, parenting duties, and financial responsibilities, it can be difficult to prioritize recreational activities.
2. The passion is lacking
Commitment and intimacy take center stage in a truly companionate marriage, but passion either needs to be improved or has faded over time. If you're looking for a marriage that includes plenty of romance, only having companionship in marriage may not be the best fit.
Related Reading: 

Intimacy Tips to Ignite the Passion in Your Marriage
3. You may not always agree on activities
The joy of recreational companionship is that it allows you to participate in activities you and your spouse enjoy. If you have few shared interests and hobbies, centering your marriage on shared activities can frustrate one or both of you.
Related Reading: 

Ten Romantic Activities to Inspire Couples
4. You may feel that something is missing
If your marriage is just based on companionship, you may feel something is missing because of the lack of passion. It may seem as if there isn't enough chemistry or sexual intimacy between you and your spouse, or you may lack physical attraction to each other.
Watch this video to learn which long-term relationships will survive and which won't:
5. It can feel like just a friendship
Having a solid foundation of friendship in marriage is helpful, and for some couples, friendship is all that is needed to sustain a lasting marriage. However, for those who crave something more, a companionate marriage can feel like a friendship and may not be fulfilling.
Is companionship a reason to get married?
Whether or not companionship alone is reason enough to get married depends upon the needs and preferences of the two people in the marriage.
Companionate love comprises intimacy and commitment, which means two people agree to stay together for life and have a close bond based on emotional intimacy and shared experiences.
What is missing from relationships based solely on companionship is the degree of passion that drives some couples to stay together. Without passion, the level of romance and sexual consummation may be lacking.
Based upon research in the area of love and marriage, companionate love can be satisfying for many people, as the level of commitment and intimacy associated with this type of love increases relationship satisfaction.
However, passion is also linked to relationship satisfaction, so with this component, some people may be satisfied. In the end, companionate love can be enough for some couples, but others may find it too dull based on the lack of compassion.
If you choose to get married for recreational companionship, it is possible to have a healthy and fulfilling marriage. At the same time, if passion is lacking in your relationship, you can take steps to build it.
Final takeaway
The importance of companionship in marriage cannot be denied. Companionship allows partners to grow closer and maintain their commitment as they enjoy shared activities. Spending time together through recreational companionship creates a high degree of intimacy within a marriage.
For couples lacking companionship or intimacy, it can be helpful to undergo marriage therapy. In sessions with a therapist, you can work on strengthening your bond, improving your communication, and finding activities you enjoy.
Similarly, if you have achieved a high degree of companionship but you're looking for more passion, your therapist can help you to find ways to reignite the spark and bring more romance into the marriage.
Share this article on
Want to have a happier, healthier marriage?
If you feel disconnected or frustrated about the state of your marriage but want to avoid separation and/or divorce, the marriage.com course meant for married couples is an excellent resource to help you overcome the most challenging aspects of being married.
More On This Topic
You May Also Like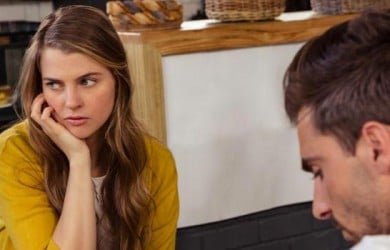 Popular Topics On Married Life