Ten Romantic Activities to Inspire Couples
If you're wanting to know how you can be more romantic in your relationship, you've come to the right place to know more about married couples romance, how to be romantic and romantic activities for couples.
The sky's the limit when it comes to romantic ideas for married couples that inspire romance.
Assigning high priority to daily acts of romance strengthens bonds, and enhances the quality of long-term partnerships.
This article aims to give romantic relationship advice and offers ten powerful romantic couple activities to get lovers started.
Defining romance with romantic date ideas
Most people think of "romance" as those cliché' activities such as watching the sunset together, candlelit dinners, or drinking wine by a roaring fire.
While these qualify as romantic activities, the idea is to ignite inspiration for couples with romantic ideas that initiate small but meaningful acts of love and adoration.
Romantic activities can be simple, such as, picking a rose for your partner occasionally, or strategically hidden love note. They can also be elaborate, like planning surprise vacations, or decorating the house with candy chains and rose petals.
While engaging in romantic things to do, whether big or small, it's the actions you perform consciously, made for the express purpose of saying "I love you".
What you should know about romance
R

omantic ideas for couples create opportunities for partners to spend time together

Romantic activities

strengthen intimacy; bringing about physiological chemicals associated with love
Romantic activities for married couples allow for increased communication
Romantic games allow for humor, entertainment, and adventure
Romance between couples creates a constant reminder of love and adoration
Romantic activities at home or outside keep things fresh and lively, (especially important over the long-term)
Romantic activities help partners get to know one another
Romantic couples activities promote and reconstitute feelings of respect and reciprocity
Romance ideas make for suspense, anticipation, and fun
A truly romantic relationship will be virtually devoid of boredom
How to incorporate romance into my relationship
Here's a definite answer to the question, how to be more romantic.
While it is never too late to get started, proactive couples may implement romantic activities early on. In doing so, romance can become a natural part of your connection which may last for years to come.
Below we've listed ten romantic activity techniques for your convenience.
While these romantic night ideas and day date ideas are yours to use as you like, remember it is best to use these as a guide, adapting them, embellishing or improvising them, as well as coming up with some of your own.
Remember that romantic things for couples to do must be creative, adaptive, engaging and definitely fun.
Here are some most romantic activities for him and her that can be adopted easily
1.

Gift giving
Abide by the rule that gifts should always be wrapped.
A tip to help those out there with busy lives is to stock up on gifts, hiding them so they may be brought out when the time is right.
Appropriate times in which to give an unwrapped gift lies in the presentation, for example: a necklace can be strung around a teddy bear, or an engagement ring in the bottom of a champagne glass.
2. Greeting cards
A greeting card can be given with almost any gift, and keeping a stockpile of them may come in handy when you don't have time to shop. They may be accompanied by flowers, chocolates, balloons, a stuffed animal, or other gift.
3. Mail order subscriptions
Does your partner like chocolate, lingerie, perfume? Many companies offer clubs or memberships, which send off samples monthly by mail.
4. Wash his feet
Grab a tub of hot soapy water and a loofah; wash his feet, dry them, and then continue about your business. He will be honored and speechless.
5.

Professional massage
You can massage your partner yourself, or if you're not confident in your skills, set up an appointment for two at a spa or massage parlor. The two of you will enjoy having a relaxing massage together.
6. Poetry and music
If you're creative, write a one page poem about your partner and have it written in calligraphy and framed. Or, see how you can have an album by his favorite musician autographed and mailed.
7. Photo album
Put together a secret photo album that serves as a memoir of you and your partner's lives together. It can have baby pictures of each of you, then a timeline represented by pictures of you before you met, while courting, and into the present. Once finished, you can spend hours reminiscing over your memories.
8. Towel in the dryer
Towel him or her off with a pre-warmed towel after a shower or bath. They are guaranteed to love it.
9. Surprise scavenger hunt
Hide a series of notes strategically around the house with riddles. Your partner will go nuts figuring out each riddle and locating each new clue. At the end of the scavenger hunt, a prize should be waiting.
10. Candy notes
If your partner likes candy, you can leave all sorts of quippy but cheesy notes with candy. A pack of Red Hots can say "I'm hot for you", or Hershey's kisses can be used as coupons for "kisses" or other sensual favors.
Share this article on
Want to have a happier, healthier marriage?
If you feel disconnected or frustrated about the state of your marriage but want to avoid separation and/or divorce, the marriage.com course meant for married couples is an excellent resource to help you overcome the most challenging aspects of being married.
More On This Topic
You May Also Like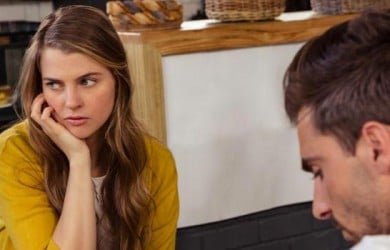 Popular Topics On Married Life