10 Tips on How to Avoid Going Into Debt for Your Wedding
When dating partners want to take their relationship to marital status, a lot of planning goes into making their wedding day a success. In a survey by Zola, about 70% of couples ended up spending more than what they estimated. This is why some of them may ask, are weddings worth it?
Hence, with the cost of weddings likely to increase, couples need to pay more attention to the intricacies involved when planning a wedding so they don't run into debt. In this article, you will learn what wedding debt means and some tips on how to avoid massive debt during and after your wedding.
What is wedding debt?
Wedding debt is a sum of money owed, usually when couples spend more than they can afford. Because weddings are happy and memorable events, couples are likely to spend more than they budgeted. Hence, they could end up in some wedding debt.
Couples can avoid wedding debt if they are intentional about proper planning and sticking to the budget, irrespective of some last-minute changes.
Wedding debt is something that many young adults struggle with, and Fenaba R Addo reveals this in his research study. This study is titled Debt, Cohabitation, and Marriage in Young Adulthood.
What do couples spend the most on at weddings?
When it comes to what couples spend the most at weddings, it depends on how they want their occasion to be. People who are expecting a large number of guests, are likely to spend more on the venue because they need a big space to contain people.
Additionally, they might need a central place where people can easily access it.
Another thing couples spend on is food, which also depends on the number of people coming around. If it is a large wedding, couples can expect to spend more money than if they had a few people coming around.
Couples who hire a wedding planner might end up spending more because they could be expensive. However, getting a wedding planner has big advantages because they take up most of the workload.
How does marriage impact debt
Before getting married, one of the important things that you and your partner should discuss is your financial situation. You need to know if any of you is in debt so that you can create a repayment strategy.
One of the common questions that people ask is what happens to debt when you get married. This question depends on the type of debt and the legal laws that apply in your country.
If any of the spouses is in debt, they can discuss if they would help each other or not. It is important to remember that even as married partners, you might incur some new debts because your responsibilities will increase.
If you've asked yourself questions like when you get married, do you share debt, discussing with your partner is the first step to finding a solution.
10 Tips on how to avoid going into debt for your wedding
While you keep thinking of how to make your wedding a memorable event, one of the things you need to consider is to avoid running into debt. Here are some helpful tips to prevent wedding debt as your special date approaches.
1. Pick a feasible date for the wedding
Intending couples who do not want to run into wedding debt can avoid unnecessary expenses and outstanding payments to choose a convenient date that will allow you to raise sufficient money.
Even though you can't wait to tie the knot with your partner, remember that it is better to finish your wedding without going into debt. You and your partner should put your heads together to select a date that will allow you to achieve your financial goals.
2. Discuss with other married couples
Sometimes, listening to married couples could be beneficial because of their experience in planning weddings. They might have some valuable advice to give about what happened during their wedding and how you can avoid making some mistakes.
Also, they could give you some planning hacks you might not have been aware of. Before or when you pick a wedding date, it is best to have some married couples in your corner that you can reach out to for advice.
3. Begin to save ahead of time
If you plan on getting married and you don't want to run into debt, you need to prioritize savings. It is best to start saving some months or years before your wedding so that you won't be overwhelmed by the expenses you might incur during that period.
One of the ways to make your savings more effective is to cut down on some of your expenses.
Since you have a long-term goal in mind that must be met, you might have to focus more on urgent expenses. Some people might consider opening a separate account where they can drop a particular percentage of money to prevent them from touching it.
Knowing how to save money for a wedding fast may often start with saving ahead of time.
Watch this video on how to save and manage money as a couple:
4. Create a budget for your wedding
Having a budget for your wedding is one of the best ways to plan effectively to avoid debt. When you don't have a budget, you might spend more than expected because it is difficult to plan when there is no structure for spending the money.
If you want to know how to cut down wedding costs, draw up an estimate on the total amount of money you will spend. Then allot money to each expense, even down to the most insignificant item.
When you have a budget, ensure you work with it. Spending over your budget might make you run into wedding debt.
Related Reading: 

15 Tips for Getting Married on a Budget
5. Discuss with your partner
When a wedding is approaching, there are two major parties involved. Hence, while you make plans on how to finance a wedding, remember to carry your partner along so you can learn of their plans.
You and your partner need to be on the same page when it comes to planning the wedding finance.
Even though both of you do not earn the same amount of money, you should have the same principles regarding long-term savings. You and your partner should challenge each other to meet monthly goals so that you can easily finance wedding.
When you and your partner keep track of each other's saving goals, it becomes easier to prevent wedding debt from occurring.
Related Reading: 

50 Best Things to Talk About With Your Boyfriend
6. Talk to your family
Another way to avoid wedding debt is to discuss it with your family. Sometimes, when two people want to get married, the families of both parties could be involved in settling some aspects of the expenses.
While you try to save up some money, you can discuss their plans for your wedding with your family.
You can also tell some of your family members to help with some expenses instead of giving you gifts. If you want no wedding debt, getting your family involved is one of the best strategies to consider.
7. Consider not inviting too many people
One of the ways to avoid wedding debt is to reduce the number of people that you intend to invite to your wedding. Inviting many people means you might have to get a bigger venue and more food, drinks, etc.
While you may feel like enjoying your special day with everyone in your life, remember that you could end up in wedding debt.
Therefore, pay more attention to those who matter more in your life instead of having everyone around. When you have a limit on the number of people that you're expecting for your wedding, you can plan effectively with that number.
Not having many people around helps you on how to save money for a wedding fast.
8. Hire a wedding planner
To avoid wedding debt, you and your partner can consider hiring a wedding planner. If you're working on a strict budget for your wedding, you can hire a wedding planner to help utilize your money judiciously.
They might help you look out for discounts and promotional sales so that you can get some products or services at an affordable rate.
Additionally, they will ensure that you keep scheduling to meet up with all your plans. Even if you have to incur more costs by getting a wedding planner, you are sure to get good value for your money.
Related Reading: 

6 Qualities You Must See in a Wedding Planner Before Hiring One
9. Use a wedding planning app
Exploring the features and tools of a wedding planning app is another great way to avoid wedding debt. People getting married in these modern times are busier and more distracted than ever.
Therefore, it might be difficult to balance wedding planning with other aspects of their lives. They might end up leaving out important aspects of their forthcoming wedding.
A wedding planning app helps you to be organized while you use the technologies that it comes with to keep track of your spending. Some of the tools that you're likely to use on a wedding planning app are budget calculators, honeymoon booking tools, gift trackers, etc.
10. Ask for help from friends
While you plan for your wedding, you and your partner can consider reaching out to some of your trusted friends and close acquaintances for help. Some of them might not support you in monetary terms, but they could be helpful in making your day memorable.
One of the ways to make your wedding day the best experience ever is to leverage the power of people. You can come up with a list of these special people and send out customized invites so that they will feel honored and happy to help.
For more tips on how to avoid going into debt, check out this book by Jame Tankard titled The Basics of a Debt-Free Wedding. This book contains essential principles and strategies to get out of marriage debt.
Commonly asked questions
Knowing some of the common questions that intending couples may ask before their wedding could give you insights on what to expect when preparing for yours.
Is it normal to be in debt after a wedding?
When it comes to wedding financial help, one of the reasons why people run into debt is because there was no adequate planning. They probably didn't draw up a budget, or they started saving up money for the wedding when it was a short time before the slated date.
To avoid getting into debt, explore creative and financially wise ways to pay for the wedding. Consider discussing with family, and friends and even reaching out to a wedding planner for help.
Debt can greatly affect newlyweds if care is not taken, and this is what this study by L.M. Skogrand and other authors reveals. This study is titled The effects of debt on newlyweds and implications for education.
Why do you need a wedding loan?
One of the reasons why you might need a wedding loan is when you discover that you don't have enough funds to foot some expenses. Even if a wedding loan might put you in debt, you will be able to settle some of these expenses and pay back the money later.
If you want a wedding loan, your first consideration should be family and friends. Some of them might give you a loan without requesting interest.
Plan better for more enjoyment
After reading this article, you can agree that it is possible to avoid wedding debt if you're deliberate about making early plans and involving the right people.
While you and your partner plan for your special day, you can apply some tips in this article to prevent wedding debt. For more hacks on understanding debt and marriage, consider taking a premarital preparation course or seeing a marriage counselor.
Share this article on
Want to have a happier, healthier marriage?
If you feel disconnected or frustrated about the state of your marriage but want to avoid separation and/or divorce, the marriage.com course meant for married couples is an excellent resource to help you overcome the most challenging aspects of being married.
You May Also Like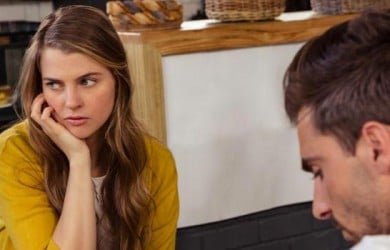 Popular Topics On Married Life