5 Great Marriage Finance Tips
Are you looking for marriage finance tips for a happily ever after?
Although love should be the foundation of any marital relationship, let's be real. Finances in marriage is a tightrope walk, and how to handle finances in a marriage is the most frequently asked question by couples looking for financial compatibility.
Marriage finances advice can be a great tool for couples to manage their finances, considering how finance in marriage can be a bone of contention between couples.
Marriage and money are inextricably entwined.
When your finances are not in order, it can make you feel pretty insecure.
And when that happens, it tends to affect and, in many ways, even infect your relationship. That's why, whether you've been married for 2 years or 22, it's always a good idea to put a plan in place when it comes to your finances.
Following financial tips for marriage will help you to ace money management in marriage and overcome marriage and money problems.
Marriage finance counseling
Another great way to deal with your finances in marriage is to consult a Marriage counselor.
Some people even prefer to get some marriage finance counseling to tackle financial problems in marriage. It would be a good idea to watch out for the red flags that suggest your marriage is in financial trouble, so you can seek financial advice for couples.
Financial counseling for couples will equip you to create a strong foundation for a financially stable marriage by helping you deal with common issues related to money management for couples.
You will get useful financial planning advice that would help you to deal with issues like bills, debt, savings, and financial goals that create financial stress in a marriage.
Some couples also attend finance seminars or read a few books or follow a few blogs from finance moguls to find the answer to the question – 'how to manage finances in a marriage?'
It can also be useful to read more about financial planning for married couples to get useful financial marriage advice if you are trying to overcome financial conflict in your marriage.
But whatever route you and your spouse decide to take, just make sure that you do make your financial stability a priority.
You can get a great start by applying the following finance tips
1. Write down your debt
One of the most useful pieces of marriage finance tips to strike the right balance between marriage and finances is to write down your debts.
When you're caught up in the hustle and bustle of life, it can be hard to get a real handle on your debt. You simply look at the bills as they come in and try and pay what you can.
But when you're not sure about how much debt you have, interest can accrue, late fees can apply, and your credit score can be severely affected.
That's why it's a good idea to sit down once a month and go over all of your household debt to see what you owe so that you can create monthly payment plans.
This piece of useful financial advice for couples will help you to avoid many money issues in marriage that may arise in the future due to a lack of financial transparency with your spouse.
2. Pay ahead
Paying ahead is one of the most essential tips to cut down the financial stress in a marriage.
Maybe you are not in a position where you can pay your mortgage or car loan ahead of time, but what you can pull off are other smaller bills.
Just knowing that you don't have to worry about small bills coming in every month is a little thing that can put a huge smile on your face.
Also watch: How to pay off your mortgage in 5 years.
3. Set up automatic payments
There are two great things about setting up automatic payments for things like your utilities and cable bill.
One is that you don't have to commit to memory when things are due.
Two, it's a surefire way to avoid any late fees. And just think about the peace of mind and how much time you can invest in other productive activities by not having to worry about paying $15-$20 bills late every month.
Following such marriage finance tips can save you from the constant tracking and re-calibrating your other expenses and save you from making difficult choices.
4. Have a joint bank account
One of the old-school, conventional, and yet effective marriage finance tips is to have a joint account with your spouse.
Although some people will frown on this, your spouse is not your roommate; they are your life partner.
One great thing such a marriage finance tips offer is that setting up a joint account can help to hold you and your spending accountable.
When both partners are aware of how much money is in their joint bank account, this means that discussions can be had when it comes to spending, saving, and future planning.
And you know what having such discussions is a good thing.
Far too many couples find out far too late in the game that their spouse owes thousands in credit cards or hasn't paid a bill in months all because they keep their finances separate.
This marriage finance tip allows couples to support and strengthen one another by merging them instead.
5. Create a savings account
Whoever said, "marriage is an investment" could not have been more correct.
Creating a savings account is one of the wisest marriage finance tips as it builds your marriage as an investment for a lifetime.
It's an investment of love, of time, and yes, of your resources, including your finances. Yet one mistake that a lot of couples make is not putting aside money for things like vacations with one another.
Life can be hard, but knowing that you both are setting aside income so that you can spend some real quality time together can get you through its challenges.
Remember, both of you saving $100 a piece each month equates to $2,400 by the end of the year.
That's a nice chunk of change for a romantic cruise or a road trip, and the best part is, you're spending cash rather than creating any credit card debt!
Final words
Marriage isn't easy and requires a lot of nurturing. Financial stress, on the other hand, can make it that much difficult for you to build a strong relationship with your partner.
The most significant thing is to ensure that you and your partner have comparative financial needs and that yo figure out how to settle on any monetary issues that might come your way.
So take the time to think about how you'll manage your household finances to save yourselves a lot of financial arguments and stress down the road.
Follow these smart marriage finance tips, and you'll notice a significant improvement in your marriage in no time.
Share this article on
Want to have a happier, healthier marriage?
If you feel disconnected or frustrated about the state of your marriage but want to avoid separation and/or divorce, the marriage.com course meant for married couples is an excellent resource to help you overcome the most challenging aspects of being married.
More On This Topic
You May Also Like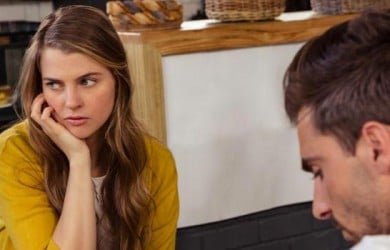 Popular Topics On Married Life