8 Reasons For Hiring A Wedding Planner
Thinking about eloping because the planning is so stressful? Maybe you're
feeling anxious about your big day and how to keep things on schedule.
I have definitely been in your shoes! I remember planning my wedding for 250 people-mostly on my husband's side.
I was living in a different state than where my wedding was to take place. When my husband said he wanted to deliver each invitation personally, I about lost it!
I'm going to tell you the one thing I wish I had done. What is that?
The one thing I would have done differently is hiring a wedding planner or at least a Day-Of-Coordinator!
My wedding began 2 hours late, my new husband disappeared right after the ceremony when it was time to sign and then take pictures.
If I'd had a wedding planner or coordinator, this could all have been avoided!
Aslo watch:
So if you are not certain what a wedding planner does and why hire a wedding planner, here are 8 benefits of having a wedding planner.
1. A wedding planner can save you money
One of the most obvious wedding planner benefits is that they can get special discounts from different venues and vendors.
With all of the discounts they can get you, they basically pay for themselves, so can you think of a reason why you WOULDN'T want to hire one?
2. They know about all the styles
Not only do they know about styles for this current season, but most of the time, they are up-to-date on fashions and styles that are coming up! Want an elegant, Pinterest- worthy wedding? They can help!
3. They know everyone in the business
If there is a vendor whose style you like and they are not available, your planner knows other vendors with similar styles. They have so many connections, they can usually quickly find someone!
4. A planner can make your wedding look cohesive
A planner can make sure that you don't have 5 different themes or styles going on at once! By communicating thoroughly with each vendor, they will make sure that everything has the same style and looks beautiful!
5. Planner's job is to make sure everything runs on schedule
They will make sure that everything is ready to go and runs on time. Your wedding won't start 2 hours late! They will help you take care of any little hiccups on your big day!
Recommended – Pre Marriage Course Online
6. Planners have a special eye for details
All of the planners I have known had a special knack for detail.
They are amazingly detail-oriented. They are able to take care of all the big things, but also make sure that every detail is organized and ready so that there are no problems on your big day!
They can transform your day from beautiful to magical!
7. Great communicators with a keen eye for detail
Your wedding planner is your go-between every time. They coordinate with the DJ and your photographer to make sure everyone is on the same page and your photographer is prepared and able to get in all of the shots you want!
8. You will enjoy the process so much more
Imagine being able to focus on your relationships, being able to enjoy those days leading up to the wedding instead of spending those last minutes making DIY centerpieces. You're able to really enjoy being with your loved ones.
Now that you've read about some of the things planners do, can you ask yourself for a reason' why should I hire a planner'.
They do so much to take away as must stress from you as possible and make your day a memorable one.
If you hire a great planner, you'll be able to leave your stress and anxiety behind and focus on not just your big day, but the next step of life with your best friend-marriage!
How to choose a wedding planner
Now that you've decided to hire a planner, what questions you should be asking to find the right planner for you?
1. If they don't have their work posted online, ask to see some of their work.
This will speak volumes about their abilities. If you see their work and like it, this is definitely a plus!
2. Find a planner you connect with.
Enthusiasm spreads like fire and you want someone who can share in your excitement and will be on board with your ideas, but also will add to them!
3. Find someone who loves what they do.
I know this probably sounds obvious, but this is so important
When you talk to someone, you can usually tell if they love what they are doing or not. Don't hire someone who isn't excited about what they do!
4. Ask for reviews or references.
Make sure that other brides and vendors have loved working with them.
You can find out so much about a person from the reviews that have been left. If that's not enough, ask for a reference.
Many times, planners and vendors have past clients who can tell you what they were like on the wedding day and the time leading up to it.
Where can you find a great planner
1.If you haven't found a planner you jive with, ask your venue or photographer if they have a list of preferred vendors.
Many times planners, venues, and photographers have an actual list of vendors they have worked with and recommend. They can tell you what vendors you will love and who will go above and beyond for you.
2. If you haven't visited a wedding expo, you should!
Tired of calling and sending messages? Get straight to the chase and meet some awesome planners and vendors at an expo.
Even if you have to travel to a nearby city to find one, it's usually worth it. You can usually find planners here and even get special discounts on packages.
3. Check social media.
My last tip for finding a great planner is to just check on social media. If they have been planning for a while, you should be able to find them online, whether it's through a website, Facebook, Instagram, or another site.
You've read about why you should hire a wedding planner, where you can find one, and what questions you should be asking. Go out there and enjoy getting married and starting your new life with your partner stress-free!
Share this article on
Want to have a happier, healthier marriage?
If you feel disconnected or frustrated about the state of your marriage but want to avoid separation and/or divorce, the marriage.com course meant for married couples is an excellent resource to help you overcome the most challenging aspects of being married.
Learn More On This Topic
You May Also Like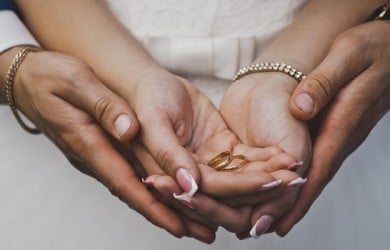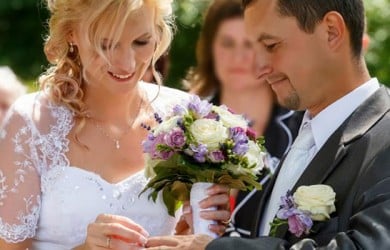 Popular Topics On Getting Married