14 Smart Ways to Raise Kids Who Love Each Other
Are you a parent? Do you have more than one child? Do they love each other or not? Have you ever heard them whispering to threaten each other? Or do they often have conflicts that lead to mutual friction? Or do they share something which is sibling love?
Each child has a personality.
The occurrence of conflicts stemming from being incompatible is often happening in a family. Teaching your children to love your brothers and sisters is an essential task for parents like you. Thus, you and your children have a happy home.
Raising siblings to love each other and finding ways to cultivate that love among children is sometimes painful. But it is entirely possible.
Here are ways to help you raise your children to love each other.
Smart ways to raise kids who love and care for each other
1. Start early
Even if you have teenagers, it's not too late.
However, if you have a baby, toddler, or younger child, you are quite lucky. You have an excellent opportunity to start early by teaching them to develop sibling love.
Teach them the importance of getting along with their siblings and treating each other well. Besides, children are blank sheets of paper, and they mimic all the actions of those around them.
So, you can make yourself an example for your children to imitate.
2. Prevent the development of bad behaviors in kids
Don't let them have bad behaviors that affect each other.
As a child, some people were once a bag for you. It was the joy of the child back then, but not for the victims. For those with similar experiences, they hate or have ever hated their brothers.
When they grow up, those feelings may have changed, but they are probably not close.
Therefore, do not let violence to grow between your children. Don't let them fight or do unkind things for each other.
If they do such things, punish them, and teach them how to behave appropriately.
3. Teach kids about the importance of sibling affection
Parents should always remind them of their existence. See it as a blessing to share as a family. You can also create diaries to keep pictures of children right from the stage of their infancy. The close moments, the moments of play together should be recorded. When the time comes to review these images, children will love each other even more.
Parents can also ask small questions about their thinking of each other.
For example –
"What do you like to play with your sister/brother? What do you want to do for your sister/brother? … "
4. Make an attitude assessment table
There are love activities for preschoolers to develop the right attitude in them from a young age.
This idea will undoubtedly be an excellent way to help children recognize their behaviors and words. Parents should work with their children to draw up an assessment of attitudes, which, depending on the right, average, and not proper levels, will help children assess their actions towards their siblings for a day or a week.
Parents should also have rewards for good behavior.
5. Teach them how to yield to each other
Teaching children to learn how to stay humble is also an excellent method to stimulate mutual love in children.
Parents should always encourage children to ask questions about fairness.
For example –
"How to be fair?". And let the child answer the above question.
Instead of yelling and forcing children to stop playing when they argue, parents should allow them to find the best solution for both.
6. Love your kids equally
Showing love for your children is one way to teach them how to love. Show them that love will not make them feel jealous, rather love will inspire them to be able to stay together.
If they feel loved, they will show love to others.
7. Teach them patience
Patience is a virtue and worthy of respect.
It is not easy to have such good attributes, and it requires self-control and understanding. Especially for older siblings, patience may be less, and frustration may take.
By teaching patience, children will have more understanding and tolerance for their siblings.
8. Let children spend more time together
When people spend time playing together, the feelings towards their family members will develop and bring them closer as a one big, happy, family.
Families are happy when they spend their weekends together. Parents should also choose a time during weekends to spend quality time with their children. This movement will create more beautiful memories for children.
It is also a way to bring family members together.
9. Let the children face each other
It is not only a game that makes your family's atmosphere more exciting and fun, but also a way for children to recognize each other's faces. If you understand more and more emotions, you will be more sympathetic and know how to respond to your sibling's feelings when you are together every day.
This idea helps children to understand their sisters more and avoid the possibility of bickering.
10. Let your kids feel each other's intimacy
There is always a clear line between adults and children. Why don't mothers take advantage of that time to emphasize the intimacy they are having together?
Parents can create a corner for their children to play together or let them sleep together to see how they will share the bedroom. It is also a way to help children share and love each other more, avoid quarreling in life.
11. Make children arrange things themselves
Help your child develop skills to solve the problem of settling and how to work in a group to make the most effective decisions together. Instead of you taking the TV remote to select your favorite channels, please teach your children how to yield to each other's requests like taking turns into watching those channels.
You can say: "If you can choose a program to watch, we will watch it together after lunchtime" and then let the children settle for themselves. It is also a right way for children not to argue and love each other more.
12. Don't hesitate to praise your children
Parents should not limit their compliments to their children, let them know they are doing wrong and order them to stop.
But don't forget to praise them when they realize they are obedient. When you play with each other, you should tell me how happy and proud you are.
Sibling love brings many benefits to children.
In the future, children will know how to moderate their relationships with their peers, know how to resolve conflicts in a right way, know how to adjust emotions better and most importantly, always feel happy.
13. Let children play together
Play drama is one of the right ways to help children practice social skills and build friendships. To get a good script, children need to pay attention to each other's actions, combining people's ideas.
This drama play is also fun when children play together. It also helps children avoid having a quarrel in their lives.
14. Teach them to respect each other's personal space and property
Personal boundaries are crucial for many people. And when the limitation is overcome, conflict often occurs.
You should teach your children that sometimes people just need to be alone. And if they want to borrow a toy or other property, they should ask for permission. They should not just take from others and assume everything will be fine.
Take good care of your marriage life.
This will help children to live and educated in the best environment.
Final thoughts
Nurturing children who grow up and love each other is not an easy thing.
It needs a long process and patience of parents. Don't be impatient if you make mistakes, they're just kids, and they need you to guide them in the right direction.
Share this article on
Want to have a happier, healthier marriage?
If you feel disconnected or frustrated about the state of your marriage but want to avoid separation and/or divorce, the marriage.com course meant for married couples is an excellent resource to help you overcome the most challenging aspects of being married.
More On This Topic
You May Also Like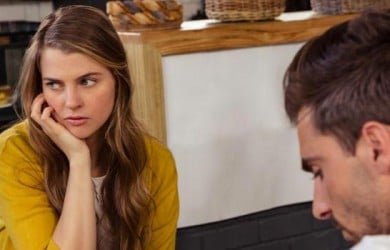 Popular Topics On Married Life