12 Best Ways to Have Self-Control Sexually
Do you know how to have self-control sexually? This is one of the first questions you may want to ask yourself even as you get into a relationship. The subject of sexual self control is one that has been debated for a long time.
On one hand of the equation are those who think that sex is something everyone is allowed to have wherever, whenever, and with whoever they deem fit. On the other hand, there are those who believe that sex should only be between married partners.
Over the years, though, people seem to have become more sexually open. A survey carried out in America and Europe revealed that men consider 7.6 sexual partners ideal (in a lifetime), while women consider 7.5 sexual partners ideal.
While it is relatively easy to throw caution to the wind and sleep with as many people as you want (and keep the details to yourself), you may want to consider your safety and that of your partner at the same time.
Considering all the ways things can go south, knowing how to have self control in a relationship is crucial.
By the time you're done reading this article, you will discover how to have self-control sexually in a relationship, and also find some strategies that can help you improve your decision to be faithful to your partner.
What is self control?
Self-control is an innate ability to control your responses to external and internal stimuli so that you can avoid behaviors that aren't desirable, control the outcomes in your life, and attain self-mastery quickly.
The concept of self-control is the knowledge that, although we have impulses and desires, we aren't slaves to them. A man should be able to control his desires (both for sex, money, power, etc) and not give in to every whim his heart imagines.
One thing many of us can unanimously agree on is that a lack of self control is the beginning of a careless life that will be full of regrets.
Related Reading: 

15 Ways How to Have Self-Control in a Relationship

 
Types of self-control
There are many types of self-control you need to survive as a person. Here are some of them.
1. Impulse control
As the name implies, this is your ability to manage innate impulses, desires, and feelings. When you can control your impulses, you'll have fewer episodes of acting without thinking.
2. Movement control
This is the conscious part of self-control that deals with your ability to determine where, how, and when your body moves. It takes the conscious efforts of your muscles and brain to control movement.
3. Emotional control
This is your ability to manage strong emotions and keep yourself under check even when there are strong triggers that could make you lose your cool. When you have emotional control, you wouldn't be quick to express extreme emotions like anger and deep sadness.
Related Reading: 

14 Tips on How to Control Your Emotions in a Relationship
12 best ways to have self-control sexually
Employ these 12 sexual control techniques to improve your self-control in terms of how you have sex.
1. Pray about it
When it comes to the strategies to control sexual urges, it is almost impossible to make any sensible headway on your own. Regardless of your religion, there should be a provision for you to pray about your emotions and sexual desires.
Praying about your sexual desires is a sign that you understand you may not be able to make reasonable progress all by yourself, and you aren't ashamed to ask someone greater for help.
Also, use scriptures as a backup while you pray. Depending on your religion, you would find scriptures that instruct on sexual purity. Incorporate them into your prayers for better results.
2. Learn to control your mind
On your journey to figuring out how to improve self control, mind control is one practice that can help you. Those who struggle the most with sexual challenges in their lives are those who haven't yet trained themselves to control what they think about.
If you allow your mind to run free, you may find yourself thinking erotic thoughts (at some point) that would soon push you into sexual activities you may not want to get into.
Research has shown that effective mindfulness practices can play a pivotal role in controlling impulsive sexual urges. So, if you find yourself constantly overcome by intense sexual desires, you may want to consider strengthening your mind with mindfulness practices.
3. Watch the movies you see
The pictures we see play a major role in what our minds ruminate on, long after we have seen them. Then again, scientific studies reveal a direct correlation between visual and sexual stimulation.
Have you noticed that you may feel horny for a long time after watching a movie with many heated scenes and sexual innuendoes in it? This is because your brain captures those images you have seen and attempts to take them apart when the movie is over.
As you figure out how to have self-control sexually, one of the first things you should do is review your movie choice. Do you mostly see movies that have adult scenes in them? If yes, consider letting them go.
4. Let go of x-rated material
A recent study revealed that people who consume a lot of pornographic material tend to be more sexually stunted than those who don't. Pornography aims to deliver the highest levels of visual and mental satisfaction to those who consume it. Hence, most pornographic materials are highly exaggerated.
Considering how far-fetched most of the scenarios in pornography are, people who get attached to pornographic materials report less sexual satisfaction even when they try to have sex in real life.
Binge-watching x-rated content is not how to have self-control sexually. Pornographic books and magazines also fit the bill of what you should consider consuming less of if you really want to improve sexual self-control.
5. The friends you keep matter
There's a popular saying that you are a reflection of the 5 people you spend most of your time with. If your friends have no problems with being sexually careless, you may struggle to have self-control sexually.
Take this as your cue to review your closest friends. What are their core values?
6. Build self-control in other areas of your life
Lack of self control sexually is usually a sign that there's something wrong with self-control in other areas of your life. When you lack sexual control, review how your relationship with money, work, friends, and family is.
Building self-control in other areas of your life will often spill over to affect your sexuality positively.
7. Speak to a mentor
Having someone you look up to and can confide in comes with its perks, especially when you seem to be struggling with your sexual self-control. At this point, speaking to your mentor will help put some perspective in place.
A conversation with your mentor or trusted older friend will equip you with powerful and practical strategies you can deploy to keep your resolve intact and stay away from sexual behaviors that aren't right for your relationship.
8. Count the cost of wrong actions
It is easy to lose sight of your 80 (your spouse or partner) simply because you are getting attracted by a 20 (someone you're trying to have a fling with). Put a foot on the brakes and imagine all you stand to lose if you give into your desires.
It could cost you the peace and emotional stability you're enjoying now. It may cost you your spouse and children (if things go south and your partner decides to file for a divorce).
It could cost you your reputation and respect. Also, think of the health implications of your actions. What if you catch a deadly STI or any other infectious disease that could put your life (and that of your spouse or partner) at risk?
Counting the cost of wrong actions can help you say away from giving in to wrong sexual desires.
9. Find yourself in a community of like-minded people
If you belong to a church, mosque, or spiritual house, this is the time to find yourself in a community of people who have the same values as you. Even if you are irreligious, having a group of people who value fidelity will help you stay on guard.
Listening to their stories will inspire you to continue your journey. They can also pray with and for you if the need arises. Then again, a community is a place where you can bare your soul and not be afraid of getting judged.
When you're with them, you feel safe and you can discuss things you would have otherwise been afraid to talk about.
10. Set boundaries
As you figure out how to have self-control sexually, never forget that you're the expert on matters that relate to you. You understand your biggest triggers, that is, the circumstances that can make you struggle sexually.
Identify your triggers and set boundaries around yourself. Limit the way you interact with a certain group of people if you find yourself constantly attracted to them. Set rules about how and when you visit specific people (if necessary).
Boundaries will make you uncomfortable, but they will be your salvation in the long run.
Learn how to set healthy boundaries in relationships through this video:
11. Be honest with your partner
One of the ways to strengthen sexual self-control is to let your partner in on your struggles. While this may sound suicidal, being on the same page with your partner can help you improve your self-control.
For example, imagine your partner doesn't understand your struggles and they insist on seeing movies with strong sex scenes together. Think about how awkward it may get and the internal battle you may have to fight – especially if they aren't down for sex afterward.
However, if they understand your struggles, they can be supportive on your journey of taking back your sexual self-control. Note, also, that not all partners will be understanding. Some may become overbearing afterward.
While at it, prepare for the possibility of your partner becoming overly critical about you when you share your struggles with them. This is an uncomfortable fact, but it begs to be said nonetheless.
It is up to you to show your partner that you're committed to strengthening your self-control, even as you understand that their reactions aren't up to you. They may choose to help you or take a walk. It's their call.
Related Reading: 

How to Be Honest in a Relationship
12. Speak to a therapist
If your sexual challenges stem from traumatizing experiences in the past, you'd benefit a lot by speaking to a licensed therapist who would help you sort through your mind and begin your journey to complete healing.
In some cases, your partner can decide to embark upon relationship counseling with you at the same time. If this happens, seize the opportunity to hash out every challenge you may be experiencing in your relationship at the moment.
Some more important questions
Irrespective of the information contained in this article, we understand you may still have some questions lingering in your mind. Here are some frequently asked questions about sexual self control.
How can I be more sexually disciplined?
The first step to becoming more sexually disciplined is to understand and accept that it is possible. Come to terms with the fact that you can be with one person at a time and achieve all the sexual and emotional satisfaction you need.
Afterward, make up your mind to do all it takes to attain your goal. This article has covered 12 powerful strategies you can deploy now. Run through all of them and decide on the one(s) you will get started with.
Also, don't forget to keep praying about it (if you are a person of faith). Ask your God to help you as you strengthen your sexual self-control.
How do you maintain self-control in a relationship?
Maintaining self-control begins with appreciating the relevance of self-control in your relationship. Think of all the things that could possibly go wrong if you lose your control and you may be inspired to hold on for as long as you can.
Then again, boundaries come in handy when you want to maintain self-control. Then ensure that you don't push yourself beyond a sane limit and help you stay on track for the longest time.
Sexual discipline is imperative in life!
Understanding how to have self-control sexually is an important skill you must learn as you try to create long-lasting and wholesome relationships. Without sexual self-control, you may experience challenges with trust and infidelity.
In this article, we have covered 12 powerful strategies for you to try out today. Go through this article as many times as you need and extract those you need to start taking action on immediately.
Share this article on
Want to have a happier, healthier marriage?
If you feel disconnected or frustrated about the state of your marriage but want to avoid separation and/or divorce, the marriage.com course meant for married couples is an excellent resource to help you overcome the most challenging aspects of being married.
Learn More On This Topic
You May Also Like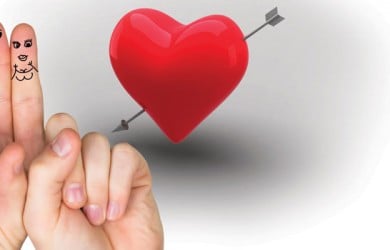 Popular Topics On Married Life