15 Helpful Bible Verses about Marriage Communication All Couples Should Know
As a person of faith, you know that the bible is your rock, your mainstay where you can return to find inspiration, hope, and faith when life gets difficult.
The bible also offers a practical and useful guide for many aspects of life – and many thoughts and ideas expressed there are applicable to even the most modern relationship.
The bible is also a wonderful tool for improving communication in your marriage. Within its pages, you will find many Bible verses about communication like inspirational verses, some of which are directly about marriage, and some of which are not.
But all of which can be used to inspire a healthier and more open-hearted connection between you and your spouse.
At times, our relationship tends to get very complicated. While we can incorporate God into our lives with bible verses about communication, these testaments will help us have a unique and healthy relationship with everyone in our lives.
Whether you are in a new relationship or have been into marriage for years, these bible verses about communication will be something you'd always look up to and find clarity.
How do you define communication in marriage?
We all know how important communication is, especially for married couples.
There are so many marital issues that could be resolved through proper communication. Unfortunately, this doesn't happen, and resentment, anger, and disappointment build up.
Communication exercises for married couples are one of the best ways to fix a marriage or to create a firm foundation.
Even if there're no issues, learning how to communicate will help you in your marriage.
Some think that communication in marriage is solely about talking, but it's not. It's also about paying attention, listening, and, sometimes, even patience.
Communication is essential to maintain a wholesome marriage.
Here are just some benefits of effective communication in marriage:
You are updated with each other's activities, interests, and hobbies.

You understand each other better

Makes marriage more satisfactory

Communication is a way to build more

trust

, respect, and honesty

Creates a better

connection between spouses
Couples exercises for communication include many techniques, but when you base your marriage principles in the scripture, you'll gain more benefits.
The bible is a wonderful source of wisdom, and for Christian couples, this will serve as a reminder of how they should live, communicate, and act.
Related Reading: 

The Importance of Communication in Relationships
15 helpful Bible Verses about communication in marriage
If you're looking for some bible verses on communication, why not take some time today to contemplate these inspiring Bible verses to help with a closer approach to bible verses about communication in a relationship (verses taken from English Standard Version).
1. The power of companionship
Genesis 2:18-25 tells us that,
Then the Lord said, It is not good that the man should be alone; I will make him a helper fit for him.
These bible verses about communication teach us that God intended for humans to have companionship and someone to lean on when they needed it. Companionship is such a vital and beautiful part of marriage.
A strong marriage means you will never be truly alone, or lonely. You know your partner is always there for you. Stay open and loving, and you'll be able to communicate clearly and gracefully no matter what life throws your way.
Related Reading: 

15 Ways to Cultivate Companionship in a Relationship
2. Good home life is important
Proverbs 14:1 tells us that
The wisest of women builds her house, but folly with her own hands, tears it down.
This bible verse about communication in marriage says if you want a healthy marriage with great communication, start by looking at your home life. It sounds old fashioned, but your home really does matter.
A clean, welcoming home that is a pleasure to be in help contribute a positive, calming atmosphere to your life.
On the other hand, home of mess and chaos makes you feel more stressed out. Work together on keeping your home delightful for you both. Maybe it's time to tick off some of those DIY projects you've had in mind for a while?
3. Put your marriage first
Mark 10:09 says
"What therefore God has joined together, let not man separate."
These are important bible verses for married couples. Your marriage should be one of the most important things in your life. You're partners for life. You have committed to sharing your home and your life together.
Honor that by making sure your marriage is one of your top priorities. No matter how busy you both get with life, work, family, or unwanted outside drama, don't let it shake you from the core of your marriage.
There's nothing wrong with turning to a trusted friend or family member if you need advice, but in general, try to keep your marriage private and don't share your problems with other people.
4. Be mindful of your words
Proverbs 25:11-15 reminds us that
A word fitly spoken is like apples of gold in a setting of silver.
This is one of the wonderful bible verses to strengthen a marriage. It is essential to contemplate the importance of communication in marriage to help you build better communications in your marriage.
Words are at the heart of all communication. The words you choose can help or hurt any situation. Whenever you have an issue or conflict comes up, think carefully about what you choose to say to your partner about it.
Look for means of expression that are gentle, kind, honest, and true, and try to avoid accusations, sarcasm, and words intended to wound. Communicate your thoughts and feelings in a genuine way that helps your partner have clarity about your thoughts
Related Reading: 

Five Tips for Building Mindful Communication
5. Practice the art of listening
James 1:19 tells us,
Know this, my beloved brothers: let every person be quick to hear, slow to speak, slow to anger.
The art of listening is often overlooked these days in marriage communication, but it has the potential to change your marriage on a deep level. When you learn to truly listen, you ensure your partner feels heard and validated.
You get a more profound and truer glimpse into their heart and motivations. Listen openly and without judgment. You'll grow closer to each other and communicate better as a result.
Related Reading: 

The Importance of Art of Listening in a Relationship
6. Don't forget to ask the lord
James 1:5 reminds us that,
If any of you lacks wisdom, let him ask God, who gives generously to all without reproach, and it will be given him.
If you are facing communication problems in your marriage, remember the Lord is always there. You can always turn to him through bible verses about communication. Offer your worries to Him in prayer.
Let Him speak words of wisdom and comfort into your heart. If your partner is a fellow person of faith, you might like to pray or read the bible together. This is a wonderful way to grow closer as a couple while growing in your faith.
Concerning bible verses about communication, in the video below, Jimmy Evans talks about how communication is the primary way of knowing your partner. He shares 5 standards we need to set in our communication in marriage.
Here are other scriptures on communication and marriage that can help you and your partner.
7. Do not let unwholesome topics rule your communication
Ephesians 4:29
"Do not let any unwholesome talk come out of your mouths, but only what is helpful for building others up according to their needs, that it may benefit those who listen."
Communication in marriage should only consist of wholesome topics. Do not let your topics be filled with things or issues that do not concern your marriage or relationship.
Instead, you can focus on couples communication exercises where you can talk about topics that will help you grow.
8. Seek guidance as you speak
Psalm 19:14
"Let the words of my mouth and the meditation of my heart be acceptable in your sight O Lord, my rock and my redeemer. "
This is one of the bible verses about communication that states that we should always pray for guidance. This way, you know that whatever you say is acceptable to God.
Instead of ill words that hurt, Christian marriage communication exercises should be part of one's routine. This way, we become aware of how we should talk to each other.
9. Don't be too quick to answer
Proverbs 18:13
"If one gives an answer before he hears, it is his folly and shame."
One of the most important marriage exercises to improve communication is listening. Listening is very important should you aim for better communication in marriage.
Without listening, you would not be able to understand what is being said and you may comment just because you're angry or irritated.
Listening, when properly done, will help resolve problems. Listen, understand, before commenting.
10. Practice patience
Proverbs 17:27
"Whoever restrains his words has knowledge, and he who has a cool spirit is a man of understanding."
A person who practices marriage communication exercises should also work on having more patience. Hurtful words, once said, cannot be taken back.
That's why, even if you are angry, you should restraint from saying words that could hurt and scar your relationship. Instead, learn to control your anger and be wiser.
Related Reading: 

15 Ways to Have More Patience in a Relationship
11. Bonded by love and grace
Ephesians 5:25
"Husbands, love your wives, just as Christ loved the church and gave himself up for her."
This bible verse on communication reminds you of your vows. Use this as a reminder to appreciate and show love to your spouse. Words of appreciation and love is one form of communication that should not fade, even if you've been married for many years.
12. Always have respect for one another
Ephesians 5:33
"However, each one of you also must love his wife as he loves himself, and the wife must respect her husband."
A lot of relationship exercises for couples communication reminds everyone to respect each other. From the way you talk to each other to how you handle disagreements.
Don't let anger, resentment, or differences be the cause of disrespect. Even in arguments, have respect and avoid using words, like swords, which pierces one's heart.
Related Reading: 

10 Reasons Why Respect Is Important in a Relationship

13. A reminder for the husband
1 Peter 3:7
"Husbands, in the same way be considerate as you live with your wives, and treat them with respect as the weaker partner and as heirs with you of the gracious gift of life, so that nothing will hinder your prayers."
Some relationship communication exercises for couples reminds men to always respect their wives, of course, this should also work both ways.
Living by the scripture, you will understand how communication plays an important part of showing love and respect for your partner. Talk to your partner and make them feel that they are important and that their voice matters.
14. Kind words help heal
Proverbs 12:25
"Anxiety weighs down the heart, but a kind word cheers it up."
Anxiety and stress are constant in today's lives. That is why communication in marriage is important, in fact, it has the power to heal.
If your heart feels burdened, find refuge on each other. Seek comfort through communication.
Do you have social anxiety? Don't worry, you're not alone. Kati Morton explains anxiety, social anxiety, and the three effective ways to beat it.
15. Make God the center of your marriage
Psalm 143:8
"Let me hear in the morning of your steadfast love, for in you I trust. Make me know the way I should go, for to you lift up my soul."
One of the bible verses on effective communication is making sure that you are putting God in the center of your marriage.
If you do this, you become aware and sensitive. Your actions, words, and even your communication style are being guided by the words and teachings of the Lord.
Takeaway
Communication in marriage doesn't just revolve on skills alone. If you put Christ in the center of your marriage, your outlook changes and this has a huge effect on how you communicate with your spouse.
Learning patience, love, respect, and even how you speak, are just some of the things that make a huge difference.
The bible is a rich resource of inspiration and guidance. Turn to it today to get a better understanding of biblical communication in marriage. Let it steer your course towards a richer and more loving marriage.
Share this article on
Want to have a happier, healthier marriage?
If you feel disconnected or frustrated about the state of your marriage but want to avoid separation and/or divorce, the marriage.com course meant for married couples is an excellent resource to help you overcome the most challenging aspects of being married.
More On This Topic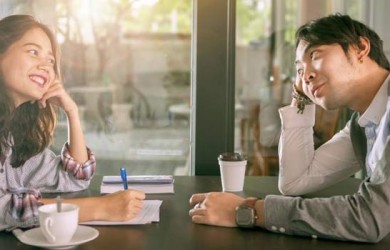 You May Also Like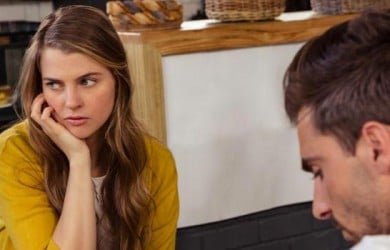 Popular Topics On Married Life