Love in Marriage – Bible Verses for Every Aspect of Married Life
While some think the Bible is outdated, the truth is this book contains valuable gems about marriage.
These love in marriage Bible verses reveal why Jehovah God created the institution of marriage, what is expected of husbands and wives, how sex plays an important part in marital happiness, and how to forgive each other through the hard times.
Marriage is wonderful and fulfilling, but it isn't always easy. Looking at love in marriage Bible verses can help you find the guidance and peace to help you better understand your romantic relationship.
Here are some love in marriage Bible verses about falling in love, being good to one another, and keeping your relationship strong, happy, and healthy.
The marriage bond
"For this reason a man will leave his father and his mother and he will stick to his wife, and the two will be one flesh. –Ephesians 5:31"
Click to Tweet
"It is not good for the man to be alone. I will make a helper suitable for him. – Genesis 2:18"
Click to Tweet
"For man did not come from woman, but woman came from man –1 Cor 11:8"
Click to Tweet
" Therefore a man shall leave his father and his mother and hold fast to his wife, and they shall become one flesh. And the man and his wife were both naked and were not ashamed – Genesis 2:24–25 "
Click to Tweet
Characteristics of a good wife
" He who finds a wife finds what is good and receives favor from the LORD – Proverbs 18:22 "
Click to Tweet
" A wife of noble character who can find? She is worth far more than rubies. Her husband has full confidence in her and lacks nothing of value. She brings him good, not harm, all the days of her life – Proverbs 1:10–12 "
Click to Tweet
" In the same way, you wives, be in subjection to your husbands, so that if any are not obedient to the word, they may be won without a word through the conduct of their wives, because of having been eyewitnesses of your chaste conduct together with deep respect – 1 Peter 3:1,2 "
Click to Tweet
Being a good husband
" Husbands, continue loving your wives, just as the Christ also loved the congregation and gave himself up for it, in order that he might sanctify it, cleansing it with the bath of water by means of the word, so that he might present the congregation to himself in its splendor, without a spot or a wrinkle or any of such things, but holy and without blemish –Ephesians 5: 25–27 "
Click to Tweet
" In the same way husbands should love their wives as their own bodies. A man who loves his wife loves himself, for no man ever hated his own body, but he feeds and cherishes it, just as the Christ does the congregation, because we are members of his body–Ephesians 5: 28–30 "
Click to Tweet
" Husbands, in the same way be considerate as you live with your wives, and treat them with respect as the weaker partner and as heirs with you of the gracious gift of life, so that nothing will hinder your prayers – 1 Peter 3:7 "
Click to Tweet
Lasting love in marriage Bible verses
" There is no fear in love. But perfect love drives out fear, because fear has to do with punishment. The one who fears is not made perfect in love. We love because He first loved us – 1 John 4:18–19 "
Click to Tweet
" Love is patient, love is kind. It does not envy, it does not boast, it is not proud. It is not rude, it is not self–seeking, it is not easily angered, it keeps no record of wrongs. Love does not delight in evil but rejoices with the truth. It always protects, always trusts, always hopes, always perseveres. Love never fails… – 1 Corinthians 13:4–7 "
Click to Tweet
" Let all that you do be done in love – 1 Corinthians 16:14 "
Click to Tweet
" Be completely humble and gentle; be patient, bearing with one another in love. Make every effort to keep the unity of the Spirit through the bond of peace – Ephesians 4:2–3 "
Click to Tweet
" So now faith, hope, and love abide, these three; but the greatest of these is love – 1 Corinthians 13:13 "
Click to Tweet
" So now I am giving you a new commandment: Love each other. Just as I have loved you, you should love each other. Your love for one another will prove to the world that you are my disciples – John 13:34–35 "
Click to Tweet
The importance of sex in marriage
" Let marriage be honorable among all, and let the marriage bed be without defilement, for God will judge sexually immoral people and adulterers – Hebrews 13:4 "
Click to Tweet
" May he kiss me with the kisses of his mouth, for your expressions of affection are better than wine – The Song of Solomon 1:2 "
Click to Tweet
" I say to you that whoever divorces his wife, except on the grounds of sexual immorality, and marries another commits adultery – Matthew 19:9 "
Click to Tweet
Showing forgiveness to one another
" Hate stirs up trouble, but love forgives all offenses – Proverbs 10:12 "
Click to Tweet
" Above all, love each other deeply, because love covers over a multitude of sins – 1 Peter 4:8 "
Click to Tweet
" But God demonstrates his own love for us in this: While we were still sinners, Christ died for us– Rom. 5:8 "
Click to Tweet
" But you are a forgiving God, gracious and compassionate, slow to anger and abounding in love… – Nehemiah 9:17 "
Click to Tweet
" But love your enemies, do good to them, and lend to them without expecting to get anything back. Then your reward will be great… – Luke 6:35 "
Click to Tweet
Keeping God in your marriage
" Two are better than one because they have a good reward for their hard work. 10 For if one of them falls, the other can help his partner up. But what will happen to the one who falls with no one to help him up? Moreover, if two lie down together, they will stay warm, but how can just one keep warm? And someone may overpower one alone, but two together can take a stand against him. And a threefold cord cannot quickly be torn apart – Ecclesiastes 4:9–12 "
Click to Tweet
" Love the Lord your God with all your heart and with all your soul and with all your mind.' This is the first and greatest commandment. And the second is like it: 'Love your neighbor as yourself.' All the Law and the Prophets hang on these two commandments – Matthew 22:37–40 "
Click to Tweet
" The Lord your God is with you, he is mighty to save. He will take great delight in you, he will quiet you with his love, he will rejoice over you with singing – Zephaniah 3:17 "
Click to Tweet
May looking through these love in marriage Bible verses help you to reflect on your own marriage, appreciate the journey you and your partner have been through, to practice forgiveness when the waves are rocky and to always keep God and his word as an important part of your relationship.
Share this article on
Want to have a happier, healthier marriage?
If you feel disconnected or frustrated about the state of your marriage but want to avoid separation and/or divorce, the marriage.com course meant for married couples is an excellent resource to help you overcome the most challenging aspects of being married.
Learn More On This Topic
You May Also Like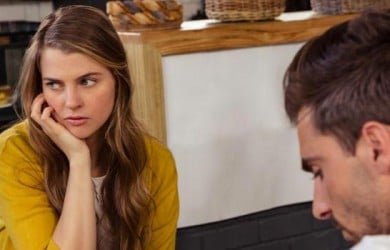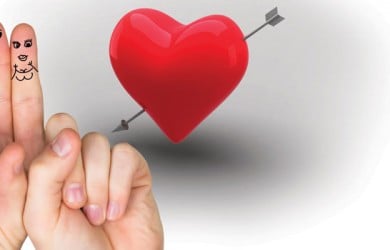 Popular Topics On Married Life