How to Write Feminist Wedding Vows That Show Equality & Love
In an ever-changing world that seeks equality and inclusivity, even the most time-honored customs are undergoing inspiring makeovers. One such cherished tradition, marriage, is currently witnessing a remarkable transformation as couples opt for feminist wedding vows.
These contemporary vows are a departure from the past, where weddings were primarily about the merging of two lives.
Today, they embody more – they symbolize respect, partnership, and a shared dedication to equality between partners. These feminist wedding vows not only mirror the evolving nature of modern relationships, but they also stand as powerful promises of love that go beyond conventional gender roles and expectations.
Let's understand the significance of feminist wedding vows and how they redefine marriage ceremonies into profound celebrations of unity and love that recognize no boundary. Let's also know this concept, discovering how these vows reshape matrimonial traditions into testaments of mutual respect and limitless love.
How to write feminist wedding vows to encourage equality?
Writing feminist wedding vows that promote equality involves crafting words that reflect a commitment to partnership, mutual respect, and shared responsibilities. Here are a few ways to write modern feminist wedding vows that encourage equality:
Reflect on personal journeys
Begin by sharing personal stories highlighting your journeys toward understanding the importance of equality and feminism. Discuss experiences that shaped your beliefs and led you to prioritize an equal partnership in marriage.
Address intersectionality
Recognize that gender equality intersects with other forms of identity and discrimination, such as race, ethnicity, sexuality, and socioeconomic background. Express your commitment to understanding and addressing these intersections within your relationship and beyond.
Promote consent and autonomy
Discuss the significance of consent and autonomy within your relationship. Promise to seek each other's consent and respect each other's personal boundaries in all aspects of your marriage.
Celebrate emotional expression
Emphasize the importance of emotional vulnerability and expression. Vow to provide a safe space for each other's feelings and to reject societal expectations that suppress emotions based on gender norms.
Advocate for equal opportunities
Pledge to advocate for equal opportunities within your partnership and the world around you. Express your shared commitment to breaking down barriers that hinder women's progress in all spheres of life.
Empowerment through education
Promise to continue educating yourselves on feminist issues, so you can better understand and address the challenges faced by individuals of all genders. Commit to being informed advocates for gender equality.
Renounce toxic masculinity and patriarchy
Explicitly reject toxic masculinity and patriarchal attitudes that perpetuate gender inequality. State your dedication to dismantling these harmful beliefs and behaviors in your relationship and interactions.
Discuss the importance of recognizing and valuing care work within your relationship and in society. Vow to share household and caregiving responsibilities equally, acknowledging the labor that often goes unnoticed.
When discussing family planning, promise to approach parenting, childcare, and work-life balance decisions with an equal partnership mindset, ensuring that both of your aspirations and needs are considered.
Commit to continuous growth
Vow to grow as individuals and as a couple, fostering an environment where personal development is encouraged for both partners. Promise to support each other's ambitions and growth paths without constraints.
Inclusive template: Your feminist wedding vow guide
As you start this journey, remember that your vows show what you both believe in and your commitment to treating each other respectfully and growing together as a team.
Section 1: Shared values and equal partnership
Begin by expressing the values that form the foundation of your relationship. Highlight your dedication to equality, mutual respect, and shared decision-making. Emphasize that your partnership is based on collaboration and cooperation rather than conforming to traditional gender roles.
Section 2: Breaking gender stereotypes
Address the importance of breaking free from gender stereotypes. Emphasize that you reject limiting societal norms that confine behavior, expression, and opportunities based on gender. Your commitment is to create a space where both partners can thrive as their authentic selves.
Section 3: Acknowledging intersectionality
Recognize the intersections between gender, race, ethnicity, sexuality, etc. Affirm your commitment to understanding and addressing the unique challenges individuals with different identities face. Your marriage is an opportunity to uplift and support each other, embracing diversity and inclusion.
Section 4: Equality in emotional labor
Discuss the significance of sharing emotional labor equally. Promise to be active listeners and empathetic supporters, valuing each other's feelings and experiences. This commitment ensures that both partners contribute to the emotional well-being of the relationship.
Section 5: Financial equality and collaboration
Address financial matters openly and promise financial equality. State your commitment to making joint financial decisions, sharing responsibilities, and working together toward financial security. Your partnership extends to all aspects of your life, including financial planning.
Section 6: Advocacy for equal opportunities
Pledge to be advocates for equal opportunities in all areas of life. Express your determination to challenge systemic inequalities and contribute to creating a more just and equitable world. Your partnership is a platform for promoting change and progress.
Section 7: Supporting personal growth
Promise to support each other's personal and professional growth without constraints. Vow to be allies in pursuing passions, education, and self-improvement, fostering an environment where both partners can achieve their fullest potential.
Section 8: Renouncing harmful beliefs
Explicitly reject harmful beliefs such as toxic masculinity and patriarchal attitudes. Commit to unlearning and dismantling these harmful ideologies within your relationship and interactions with others.
Section 9: Empowering care work
Acknowledge the importance of caregiving and household responsibilities. Promise to share these tasks equally, recognizing the value of care work and ensuring both partners contribute to the well-being of your shared life.
Section 10: Celebrating consent and autonomy
Highlight the significance of consent and autonomy within your relationship. Commit to respecting each other's boundaries, making decisions together, and ensuring your partnership is built on mutual agreement and understanding.
Some feminist wedding vow examples
Here are a few feminist wedding vows examples to inspire you. Feel free to personalize them to fit your relationship and beliefs:
Example 1: Embracing Equality
I vow to stand by your side as your equal partner, acknowledging that our strengths and passions are unique yet complementary. I promise to challenge the norms that limit us, uplift your dreams as fiercely as my own, and share in our journey's responsibilities together.
Let's create a marriage built on respect, consent and the shared pursuit of a just and equal world.
Example 2: Celebrating individuality
In the spirit of feminism, I promise to honor your autonomy and individuality. I pledge to be your ally in the pursuit of your dreams and passions, celebrating your successes as my own.
Our love is a partnership of equals, defined by mutual respect, open communication, and the freedom to be our true selves.
Example 3: Breaking boundaries
As we embark on this journey, I pledge to break free from the confines of traditional roles and expectations.
I commit to sharing life's joys and challenges, dismantling harmful stereotypes, and nurturing a relationship founded on shared power and agency. Together, we can rewrite the narrative of love, equality, and partnership.
Example 4: Fostering growth
In the name of feminism, I promise to encourage your growth and self-discovery. I vow to learn from you, listen to your experiences, and support your pursuit of knowledge and change.
Let's use our love as a catalyst for personal and collective growth as we strive for a world where all voices are heard and valued.
Example 5: A pact for equity
I take you as my partner in the fight for equity and justice. I promise to share in the responsibilities of our union, challenge the biases surrounding us, and create a home where feminism thrives.
Our love story is one that embraces diversity, respects consent, and works toward a world where love knows no boundaries.
Example 6: Uniting against sexism
With a heart committed to feminism, I pledge to stand against all forms of sexism, discrimination, and injustice. I promise to be your steadfast advocate and to actively listen to your experiences as we strive to create a relationship free from harmful stereotypes and power imbalances.
Example 7: Advocating for change
I vow to be a partner in change, using our love as a platform to challenge systemic inequalities and gender biases. I pledge to support your activism and amplify the voices of those whose stories have been silenced. Together, we can rewrite history, one act of love and advocacy at a time.
Example 8: Respecting consent
In the spirit of feminism, I promise to honor your boundaries and seek your consent in all aspects of our relationship. I vow to create a safe space where open communication and mutual understanding thrive. With consent as our guide, our partnership will be defined by respect and equality.
Watch Jamie Wolfer, an entrepreneur, and YouTube influencer, talking about planning a wedding in five simple steps:
Example 9: Commitment to learning
I commit to a lifelong learning and growth journey as we navigate the complexities of feminism and equality together.
I promise to engage in conversations that challenge us, educate ourselves about the experiences of marginalized communities, and use our privilege to uplift those whose voices have been marginalized.
Example 10: Building a just future
I pledge to build a future together that reflects our shared values of feminism and equality.
I promise to champion your aspirations, challenge the norms that hold us back, and work tirelessly alongside you to create a marriage that is not only a celebration of love but also a catalyst for positive change in the world.
Make the vows that last forever
In the embrace of feminism, feminist wedding vows are a declaration of partnership, equality, and shared growth. We stand as allies, united against stereotypes and injustices, committed to dismantling biases that linger.
Our love is a canvas where consent, autonomy, and respect are the vibrant strokes that shape our journey. Together, we break boundaries and forge a path that celebrates individuality while fostering collective change.
As we exchange these vows, we pledge to learn, evolve, and amplify voices once silenced. In this union, we blend love's essence with advocacy, weaving a tapestry of commitment that binds us to a future of equity and hope.
Share this article on
Want to have a happier, healthier marriage?
If you feel disconnected or frustrated about the state of your marriage but want to avoid separation and/or divorce, the marriage.com course meant for married couples is an excellent resource to help you overcome the most challenging aspects of being married.
You May Also Like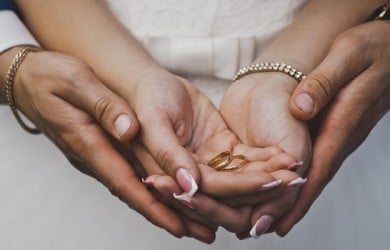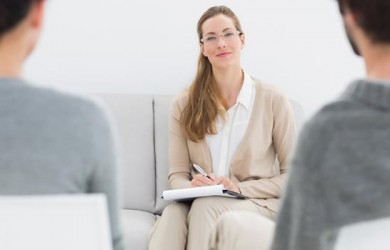 Popular Topics On Getting Married