11 Ideas on How to Be Romantic in Marriage
We believe that romance should never be complicated. Sure, your spouse may love a grand romantic gesture every once in a while, and anniversaries are definitely a time to splurge in the romance department. But not all romantic gestures involve holding a boombox over your head or having a sweet cell-phone video go viral.
Sometimes, the best romantic actions are the simplest ones.
Not everyone is born with the inherent ability to sweep their partner off their feet with romance. But don't worry!
These 11 romantic ideas will leave your partner with cartoon hearts in their eyes. Here are our top tips for adding a little more romance into your marriage.
1. Explore non-sexual intimacy
Don't get it wrong – sex is great. It's also a wonderful opportunity to explore how to be romantic, but there are so many other forms of intimacy that can be romantic.
Genuine physical displays of affection, such as cuddling, holding hands, hugging, kissing on the lips, and even maintaining eye-contact, have all been strongly linked to boosting partner satisfaction and heightening a sense of intimacy in a relationship.
The oxytocin released during physical touch also reduces stress and boosts monogamy.
2. Keep special mementos
Being romantic doesn't always involve incredible speeches or date night. Take, for example, keeping a memento box of your relationship.
Think of it as a deconstructed scrapbook. In a wooden box, keep letters, wrapping paper from gifts, concert tickets, and other tangible memories you have with your partner.
3. Look for ways to be sweet
As stated in the onset, sometimes the most romantic gestures are the simplest ones.
Studies show that relationships where partners show gratitude for one another had increased marital satisfaction compared to couples who skipped their pleases and thank-yous.
Making breakfast, heading down to the bank so that your spouse doesn't have to, and bringing home their favorite chocolate bar may not sound like Shakespeare-esque type romance, but these little things add up to a lot in marriage.
4. Set the mood
One of the most romantic ideas involves sexual intimacy. After all, what is more romantic than sharing such intimacy and vulnerability with your partner?
But, in order to make sex romantic, you have to take the proper precautions.
Play soft or sensual music, schedule some time where you can be alone together, light candles, or set up the fireplace.
Put all of these things together, and you've already begun creating a romantic ambiance for your night alone.
5. Pick up a couple's hobby
One romantic way to strengthen your relationship is by sharing a hobby together. Studies show that couples who do report higher levels of marital satisfaction.
Pick up an instrument together, learn a dance or a new language. Whatever you do, just make sure you're doing it together.
Not only is this a fun bonding activity, but it also strengthens your cooperative skills and reliance on one another.
6. Do something spontaneous
Spontaneity is a great avenue for romance in your marriage.
Surprise your spouse by showing up at their work with a packed lunch, or plan a spontaneous weekend getaway at a spa, or bring home a bouquet just because!
Your partner will absolutely adore these sweet and thoughtful gestures.
7. Have a couple's photoshoot
Doing a couple's photoshoot is a sweet and sexy way to boost romance.
Whether you just got engaged, bought your first house, are pregnant, or just bought a new puppy – celebrate it with a romantic photoshoot!
This is the perfect opportunity to celebrate your relationship and boost intimacy through all of those ooey-gooey kissing pics.
8. Make a DIY gift for them
One of the sweetest romantic ideas you can do for your spouse is to make a DIY gift for them. These are real gifts that come from the heart.
Do you play an instrument? Why not write your spouse a super sappy or incredibly funny song about your relationship?
Write a poem, make a "52 Reasons I Love You" deck of cards listing things that you adore about your partner on each card, or simply write them a romantic letter.
9. Cook their favorite meal
Cooking at home is so inherently romantic. You get to plan your spouse's favorite dish and serve it up at the table with candles and wine.
Or you can take this romantic idea to the next level and make it a date night activity.
Choose a multi-course meal and spend the evening in the kitchen with a bottle of wine and your sweetheart and get cooking!
10. Plan a getaway
A vacation for two is a great way to get away from it all and strengthen your emotional connection to your spouse.
For the ultimate couple's trip, make sure you're able to leave the kiddos with a babysitter or family member. This way, you'll get to explore your romantic side fully.
Remember that there is a big difference between travel and vacation. Travel often involves busy days full of exploration and tours, while a vacation paints a vision of laying on a beach with a Mai Tai and getting massages in a hotel spa.
Whichever one of these choices is more likely to bring you and your spouse closer together is the route to take for this romantic getaway.
11. Take your time in bed
If you want to learn how to be romantic, start in the bedroom. Take your time and enjoy the moment you're sharing together.
Touch, caress, kiss, and connect on an emotional level before you get down to business. There is no rush when it comes to lovemaking, so take your time.
Couples are happier when they feel loved and cherished by one another.
Learning how to be romantic is as simple as looking for ways to be thoughtful, baking your partner a sweet treat, and spending more quality time together.
The more romantic you are, the more likely it is that your partner will follow suit.
Also Watch:

Share this article on
Want to have a happier, healthier marriage?
If you feel disconnected or frustrated about the state of your marriage but want to avoid separation and/or divorce, the marriage.com course meant for married couples is an excellent resource to help you overcome the most challenging aspects of being married.
More On This Topic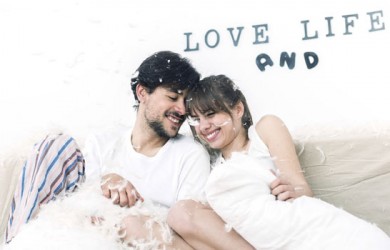 You May Also Like