When Should You Take a Marriage Course?
You can go for a marriage course to understand the building blocks of a healthier relationship or if your relationship has reached a stage where discussions about the following problems are not leading to any solution:
There's lack of conflict resolution skills

You express love differently

Communication is difficult

You're no longer on the same page

Quality time is lacking

There is no marital friendship

The relationship is simply toxic
By providing a structured and proven way to tackle such issues and more, a marriage course can help couples who want pre-marriage counseling as well as long-married couples who are on the brink of divorce.
There are, on an average, 876,000 divorces every year in the United States alone – That's one divorce every 36 seconds! But for those who are engaged or currently married, there shouldn't be a fear of getting divorced, even if you feel like your relationship is on the rocks.
Taking a marriage course can be an excellent step as taking marriage counseling classes has never been easier. You can now take marriage classes online from the comfort of your own home with self-paced lessons that you can review as many times as necessary.
Are you happy in your relationship? Do you know how to resolve conflict and communicate honestly in a healthy way? If not and you are worried that your relationship is on the rocks, don't panic. This article explains why and when you should take an online marriage course.
1. There's lack of conflict resolution skills
It's natural for couples to disagree every once in a while, but not knowing how to resolve arguments can cause partners to lash out at one another.
In a study documenting reports of 748 arguments between a husband and wife, conflicts regarding finances were the most recurrent and unresolved issues.
Small issues like these can fester and cause resentment and anger to build within a marriage.
Do you and your spouse know how to resolve arguments about your finances respectfully and fairly? If not, taking an online marriage course can help. Through these lessons, you will learn:
How to build empathy

Understanding your partner's strengths and weaknesses

Repattern your thoughts

Communicate without yelling
2. You express love differently
Carnegie Mellon University reports that couples who enjoy a happy, stable marriage have less stress than single or divorced people.
But if you and your partner do not know how the other expresses and desires to receive love, it can be a problem.
Perhaps you are someone who needs words of commendation or physical affection to feel loved and safe, but your partner is someone who expresses affection through quality time or gift-giving. Coming to understand the way you each crave and display love can help you feel more confident in your relationship.
3. Communication is difficult
Communication is the cornerstone of happy, successful marriages. Yet, many couples do not know how to talk about the important things in their relationships.
Studies by the Journal of Marital and Family Therapy reveal that a couple's communication is strongly associated with more satisfying sexual interactions and overall relationship happiness.
Learning important communication techniques is one of the biggest reasons why you should take an online marriage course.
4. You're no longer on the same page
Do you and your spouse want the same things? Are you able to paint a clear view of what your future looks like in five months or five years from now? If not, you may have a problem.
Disagreements about fundamental things in your relationship such as finances or planning to have a family, can lead to unhealthy tension and hurt feelings.
Agreeing on aims and goals is one of the biggest factors in a lasting marriage, as per the Australian Institute of Family Studies.
Studies show that couples who share fundamental beliefs, values, and goals are more likely to have success in their marriage.
It is quite possible for people to take the relationship to the next level and still have several basic differences that need to be sorted before saying "I Do".
For such cases, the online marriage classes for engaged couples are a great way to get on the same page and open a dialogue about life, family planning, careers, and your future.
Enroll in a marriage course today to build a relationship that you've dreamed of!
5. Quality time is lacking
When was the last time you were able to have a quality date night with your spouse? If you had to think about it, it's been too long.
A lack of quality time can cause couples to lose emotional and physical interest in one another and drift apart.
The National Marriage Project at the University of Virginia found that having a weekly date night is one of the best ways to avoid divorce, boost communication skills, and rekindle romance.
The project suggests that couples who share an exciting date at least once a month are more likely to:
Stay committed to the relationship

Explore new things together

Lower stress
So if you are facing problems in any of these areas, by all means go for a marriage course as the marriage class activities can be made a regular part of your quality date night which can put your relationship on the right track.
Also watch: What Is an Online Marriage Course?
6. There is no marital friendship
Another benefit of marriage classes is that they restore friendship as much as they do romance.
A well-balanced marriage is one where partners are lovers as well as friends. The Journal of Happiness Studies reports that marital satisfaction is twice as when couples view each other as their best friend.
If you can't remember the last time you spent time doing something fun with your spouse, it's definitely time to take an online marriage course.
7. The relationship is simply toxic
Toxic behavior doesn't always show its face at the beginning of a relationship. Once these negative qualities begin to surface, your partner may start to feel like a stranger to you.
If you have tried Googling 'Marriage classes near me' and are confused about how to go for it, you can try searching for marriage courses online and experience the benefits of marriage classes online. Couples can go through these lessons together or opt for it individually and use them as an opportunity to open up about concerns they may have about the relationship.
For example, Marriage.com provides two marriage courses, a Marriage Course Online for couples looking to strengthen their relationship against the ups and downs and a Save My Marriage class for partners who are considering separation.
The right time is now…
If you are struggling in your relationship and are experiencing one or more of these 7 risk factors, it's time to look up a marriage class for couples to take together.
So don't spend another moment in an unhappy marriage. Take the Save My Marriage course today and experience the benefits for yourself.
Share this article on
Want to have a happier, healthier marriage?
If you feel disconnected or frustrated about the state of your marriage but want to avoid separation and/or divorce, the marriage.com course meant for married couples is an excellent resource to help you overcome the most challenging aspects of being married.
More On This Topic
You May Also Like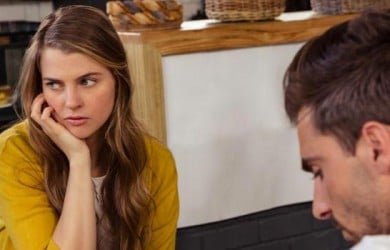 Popular Topics On Married Life