8 Signs Your Relationship Will Last
Picture this; you have just met this wonderful man who certainly has all the qualities you have always wanted in a man. You fall for his effortless charm and agree to go out with him. It's obvious that you like him and in no time you are in a relationship with him. What you two have is beautiful, well, at least for some months before it finally hits you that the relationship is just not working.
In a moment of self-reflection, you look back and realize that there were so many things that you ignored about him initially. Maybe, you were blinded by love but now the honeymoon phase of your relationship is over and you see things much more clearly. And it's obvious that you settled for the wrong guy.
It hits you that those friends and family who told you that he is not really good for you were right after all. He is not supportive of your dreams and your outlook on life is quite different from his. How did you even end up with him?
Well, such a scenario is always a possibility when a relationship is only founded on emotions. And so when the emotions run their course there is really nothing much to hold the relationship together. But the good thing is that there is always a way to tell whether a guy is truly meant for you. Here are some tips on how to know if he is the right guy for you.
1. He respects you
The very first thing that should tell you whether he is the right guy for you is the amount of respect he accords you. It is always easy to tell whether he is a respectful man by just how he treats other people or your friends and family. Men can get quite busy, so if he goes out of his way to make time for you then he is worth considering. Since that shows that he honors your position as the woman in his life and that is respect. Also, nothing beats honesty when it comes to evaluating whether a man is respectful. This is the only trait that will prevent him from disrespecting you by hiding things from you.
2. He makes sacrifices for you
A good relationship is made of two people who are intentional about making things work between them. And what this essentially means for the two of you is that you will have to make so many sacrifices along the way. So if your man is reluctant to make sacrifices for you, he really doesn't deserve you. Because if you are the one who is always making sacrifices for him, you will end up with a heavily unbalanced relationship. Thus, the sacrifices he makes or doesn't make can reveal if he really cares about you and your wellbeing. Can you depend on him to come through for you when you are in trouble?
One of the things that usually lead to conflict amongst couples is the fact that they have very different outlooks on life. You can easily avoid falling into this trap by understanding his values and how they shape his understanding of life. Are his values similar to yours? If they are not outrightly clear, then there is no harm in asking him for clarity. The reason why shared values are important is that they ensure decision making in the relationship is easy.
4. His love is unconditional
We do agree that no one is perfect and love is unconditional, right? Well, there are so many reasons why your man should practice this kind of love. When he loves you with all your flaws, he will be the only support you need to become a better version of yourself. Even when the rest of the world thinks you are worthless, he will still see so much value in being with you. And that will guarantee happiness in your relationship for many years to come.
5. Your family and friends love him
Yes, a relationship is between two people but before you consider that next guy, find out what your close family and friends think of him. These are people who have been in your life for so many years and they probably know what is best for you. They can really help you think clearly before making a big decision regarding this new man. Also, be observant of how he treats the people, who are close to you, it will reveal to you his true character. If he is the right man for you he will not only respect you but also the people whom you care about the most.
6. He shows you off
Men express their feelings very differently from women. Your man may not tell you that he loves you but he will prove his love for you by how he treats you. One of the ways a man will do this is by showing you off to his closest friends. Indirectly, that is him telling you how much of a gem you are and the fact that he is proud to be with you. Another thing about him showing you off is that he is trying to mark his territory around you. And men only get this protective around things or people they value.
7. He always listens to you
Communication is very key to sustain any relationship through its up and downs. Therefore, you deserve a man who will not always bend towards having his way at your expense. He has to be mature enough to listen and consider your opinion in all the decisions you have to make together. This trait is also what will anchor you as his one and only confidant. You will be the one person who he always runs to when he is in problems and needs someone to help him think through things. Definitely, something you want, no?
8. Conversations with him are enriching
We all deserve that one person whom we look forward to sharing the daily details of our lives with. If your man is not this person then your relationship is in big trouble. See, intimate conversation is one of the most efficient ways to build an emotional connection with just anyone. Thus any wonderful relationship deserves an environment where you can talk about just anything and be enriched. Such an environment creates an avenue for openness in your relationship that will make you two even closer.
I bet these tips now eliminate all the questions that you had on whether the current man you are seeing is the right one for you. Mostly, these traits won't be so obvious to you in the initial interactions that you will have. But you need to be more deliberate on establishing whether he is the right fit. Ask him all the questions that you need and be sure to study how he behaves around you or his friends. With that, you will be able to gather a lot on him that will help you make the best decision.
Share this article on
Want to have a happier, healthier marriage?
If you feel disconnected or frustrated about the state of your marriage but want to avoid separation and/or divorce, the marriage.com course meant for married couples is an excellent resource to help you overcome the most challenging aspects of being married.
More On This Topic
You May Also Like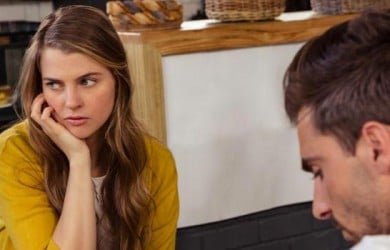 Popular Topics On Married Life