What Is a Marriage Course? Cost, Benefits & How Effective Is It?
All couples – whether dating, engaged, newlyweds, or married for many years – want the same thing: a happy relationship.
But when it comes to love, this is sometimes easier said than done.
Marriage is a union that is ever-growing and always changing. The key to a great marriage is to ensure that you are growing together – not apart.
The more time goes by without healthy communication and intimacy, the less likely you are to succeed in your relationship.
That's where the need for marriage courses arises.
What is a marriage course?
It is an online class with a series of lessons designed to help you and your partner strengthen communication, intimacy, and trust, among other things necessary for a healthy relationship.
Here are some of the most common questions couples ask when considering taking a marriage course online:
What is a marriage course? Is it the same as a wedding course?

Why should we choose online education over traditional marriage therapy?

How do I pick the right course for my spouse and me?

How do marriage courses work, and what are the benefits?
Read on to find out the answers to these questions and learn more about marriage courses.
Even the happiest marriages will face challenges throughout the relationship. You can help keep your marriage strong and healthy by taking Marriage.com's online marriage course today!
What is a marriage education course?
When looking up "What is a marriage course?" Many couples wonder what they are getting themselves into.
Simply put, an online marriage guidance course is designed by professionals to help you and your spouse.
The course is laid out as a lesson plan with different marriage course topics for each partner to consider.
Also watch: What Is an Online Marriage Course?
Topics covered in the marriage course
Learning compassion

Knowing the

keys to communication

Learning the

importance of intimacy

Discovering how traditions factor into your marriage
Similarly, the save my marriage course covers such topics as:
Can my marriage be saved?

Advice for reconnecting

Communication and companionship

Videos

Motivational talks

Recommended books and other insightful articles
Helpful bonus materials are also available to help couples continue to grow in their marriage.
Whether you're looking to rebuild a broken relationship or strengthen a healthy one, taking an online marriage class is a great stepping stone toward these goals.
A marriage course differs from a wedding course in the sense that the latter only focuses on the preparation for a happily married life.
How does a marriage class work?
What are marriage classes? An online marriage course is designed so that couples can take it together or separately.
One of the biggest benefits of taking a certified marriage course online as opposed to seeing a traditional therapist is that it is completely self-guided.
Couples can work at their own pace to review the course materials. Having the course available at home also allows partners to go back and review the lesson plans as many times as they like throughout their marriage.
Couples going the online route also benefit by not having to share any embarrassing secrets with a therapist.
Marriage classes work by providing advice articles, inspirational videos, and assessment questionnaires to understand your and your partner's individual needs better.
How to identify the right Marriage Course Online
Now that you know what a marriage course is, finding one should not be difficult.
To decide which marriage course is right for you, start by identifying your marriage course goals.
For example, are you newlyweds looking to strengthen your relationship as you enter a new world of marriage? If so, the Marriage Course Online with the fundamentals will help you learn how to tackle marriage's trickiest issues.
If you have already been married for some time and feel like you're on the brink of separation or divorce, our Save My Marriage Course will do just the trick.
Enroll in a marriage course today to build the relationship that you've dreamed of!
How to attempt marriage training courses
Once you register for your online course, you will receive an email with a link to your class.
You can take the course alone or with your partner at your own leisure.
Once you begin taking the course, you will be able to read the marriage guides and work through the lesson plan. Your classes will include a marriage guide, activity worksheet, videos, and more.
Depending on the package you choose, courses are anywhere from 2 to 5 hours and come with bonus content and expert resources.
To know what is a marriage course including what type of content it entails and how it can help with any state of your marriage, have a look at the course contents to find out what suits your relationship the best.
Related Read: 

The 10 Best Online Marriage Counseling Programs of 2022
How can your relationship benefit from taking a marriage course online?
Can an online marriage course prevent divorce? The answer is that couples will get out of the course what they put into it.
Couples who take their lessons seriously and apply what they are learning in their relationship will reap endless benefits, such as:
Reducing the possibility of divorce

Encouraging communication within the marriage

Getting to know the importance of empathy and compassion

Restoring broken trust

Encouraging goal building as a couple

Getting to know how to resolve marital issues in a way that is both healthy and productive

Improving marital friendship

Rebuilding a broken marriage

from the ground up
The course also comes with a marriage course certificate upon completion. Such an accomplishment will show your true dedication to your spouse and the lasting happiness of your relationship.
5 benefits of online marriage course
Online marriage course comes with several benefits. It is essential for both parties to actively participate in the courses for the benefits to show.
Skeptical about taking an online marriage course? Don't be. Check out this article to understand the benefits of the online marriage course better:
Related Reading: 

What Are the Top 5 Reasons You Should Take an Online Marriage Course

?
How much do online marriage courses cost?
There are many online marriage courses available today. Which one is right for you?
There are a few factors to consider when deciding on an online marriage course: cost, length, and availability. Each course has its own fee structure and teaching methodology.
Some are free, while others charge a monthly subscription fee. The length of each course varies as well.
Some courses are six weeks long, while others last for a full semester. The format of the course materials also varies. Some courses are text-based, while others are video-based and include interactive activities.
So, how much do online marriage courses cost? It depends on several factors, including the length of the course and the format of the course materials.
Related Reading: 

How Much Do Online Marriage Courses Cost

?
What is the purpose of the pre-marriage course?
Premarital counseling is an important part of getting married and ensures that the newlyweds are aware of the challenges they may face in the future and are prepared to tackle them.
Premarital counseling is meant to help couples improve their communication and solve problems that may arise as they begin to live together as a couple.
Why is marriage important in human society?
A couple's marital status has an important impact on society as a whole. It affects everything from their income to their health status to their children's well-being. Married couples tend to have healthier habits than those who are single or divorced.
This is a result of the social support that comes from having a steady partner and the daily companionship they provide. In addition, married couples tend to have more income and stable employment. They are also more likely to stay together and raise children.
Takeaway
Online marriage courses are easy to use and, when taken seriously, can create lasting, sustainable changes in your relationship. Start building trust today and strengthen your relationship against any challenges in the future by taking a marriage course online.
Share this article on
Want to have a happier, healthier marriage?
If you feel disconnected or frustrated about the state of your marriage but want to avoid separation and/or divorce, the marriage.com course meant for married couples is an excellent resource to help you overcome the most challenging aspects of being married.
You May Also Like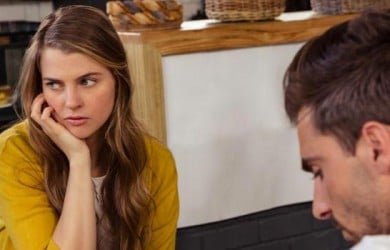 Popular Topics On Married Life