5 Signs Your Relationship Is Changing for the Better
We've all heard the saying, "changing yourself for a relationship is wrong." You may have also heard your friends or family say "you've changed" at some point or warn you not to change. This topic can bring up a lot of mixed emotions for people, such as confusion, hurt, and even resentment.
Yet, not all changes are bad. Sometimes, the relationship changes over time that we made were the ones we had been wishing or hoping to make but may not have taken steps to do so until we were in that relationship.
Changing someone in a relationship is a common topic that comes up in my work as a relational therapist. Clients often see me after a relationship has ended where they feel they had lost themselves. They are looking to work on themselves and hopefully find a healthy partnership in their future.
My clients want to know how to distinguish between "good" or "bad" changes in a relationship. They want to learn to detect signs your relationship is changing for the better.
How to change for the better in a relationship?
Relationships are rewarding, but they might require work to help be a positive force for both partners. Both relationships and the people involved in them change over time. But to ensure that there are only signs your relationship is changing for the better, changes should be for the right partner and reasons.
When a person changes in a relationship, it showcases investment and attachment. But try to make changes that are positive and benefit your growth in the long run. Also, have confidence in what you bring to the relationship. Try to make only those changes that keep you rooted in your sense of self.
5 ways to tell if your relationship is changing you for the better
After working for years with clients concerning these issues, I've developed the following list of questions that help gauge whether the change may be healthy (or not).
When things start to change in a relationship, ask yourself these questions:
1. Do the changes align with your core beliefs, or values?
Change should be a representation of something you already believe in or stand for. It should not be something that is forced upon you based on your partner's preferences alone.
For example, if I'm someone who says I care about the environment but haven't been as active as I'd like to be, maybe my partner could share an article they saw that would give me a chance to be more involved or offer to accompany me to a local event.
The key is I'm preliminarily interested in it, and they are supporting that, not making me conform to something I don't already believe in or feel would benefit me.
2. Is the change being forced or pressured by your partner?
A healthy relationship should never "pressure" you to change in any way. Certainly, being given an ultimatum would fall under the negative side. Even if the change is for safety reasons, like self-harm or drug/alcohol abuse, the focus of change should be for you, NOT the other person.
If the behavior is something your partner doesn't feel they can live with, it's their decision to stay or leave the relationship. Each person is accountable for themselves and their actions. You can consider their suggestion but the choice to change is yours alone.
Also Try: Should You Stay Or Leave the Relationship Quiz
3. Are the changes leading you away or towards your loved ones?
This can be a tricky one because it depends on the relationship dynamic with your friends and family. If your loved ones tend to be hurtful or abusive towards you, then maybe creating changes that bring some distance can be a good thing.
On the other hand, if your loved ones are positive influences in your life, it would be a good sign for your partner to encourage you to spend more time with them or maybe even work on mending those relationships. However, no matter what you do, THE CHOICE IS YOURS!
Breaking down distance or inserting distance between you and your loved ones might have long-term effects on your life. Therefore, these decisions should be made by you in quiet consideration of your personal feelings and not some else's.
4. Are the changes sustainable?
This one is pretty straightforward: The change should be something you can keep up with, realistically. The change should not be momentary in response to your partner's requests or demands.
Suppose you feel the stakes keep getting higher and higher and are possibly too demanding. In that case, you should feel comfortable enough to communicate this to your partner without fear of consequences or retaliation.
You have to feel comfortable in what you can achieve and not feel inadequate if you cannot keep up with the change long-term.
Related Reading: 

Open Communication In a Relationship: How to Make it Work
5. Do you feel better about yourself?
Bringing all the previous points together, assess whether the change is healthy for you or not. If you feel good about yourself (maybe more confident, happy, peaceful, inspired, or whatever else), it's likely a good sign of positive change!
Changes that are detrimental to your happiness and self-worth are not worth making. Changes made should assist in making us feel better about our personality and growth as a person. But changes that are for someone else might end up giving us further insecurities and self-doubts.
Watch this video to learn more about changing yourself for the right reasons:

Conclusion
These are my top 5 ways to tell if the change you're experiencing are signs your relationship is changing for the better. Though there can be many more, it's an excellent place to start!
If you, or someone you know, might be questioning this for themselves, offer these as some talking points. It could help reflect on the relationship as well as personal growth.
Share this article on
Want to have a happier, healthier marriage?
If you feel disconnected or frustrated about the state of your marriage but want to avoid separation and/or divorce, the marriage.com course meant for married couples is an excellent resource to help you overcome the most challenging aspects of being married.
Learn More On This Topic
You May Also Like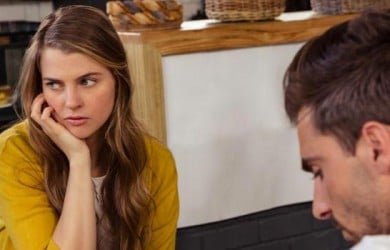 Popular Topics On Married Life