10 Realistic Expectations in a Relationship
Building and maintaining realistic standards in a partnership is not an exact science. And there is no single formula that will get you safely through the expectation-making phase.
Anyway, there are still certain basic principles you can work out and try to stick to. Understanding the wisdom behind standards and expectations is undoubtedly at the top of the priority list. Furthermore, learning to apply that insight in a natural and transparent way follows immediately.
Addressing relationship expectations of each other is essential whether you're in a new relationship and figuring out what to expect or trying to improve an ongoing relationship.
What are expectations in a relationship?
When two persons are in a relationship, they often have expectations about how the partnership will turn out. The list of expectations in a relationship can vary by individual, but they are typically based on how people assume their partnership to appear and feel.
One might think it's safer not to say what to expect in a relationship to avoid being disappointed. However, expectations may genuinely reinforce your relationship by cultivating healthy standards.
Realistic expectations in a relationship can be beneficial because they help both partners understand their roles and duties. On the other hand, if those standards are unrealistic, the relationship may suffer as both parties are disappointed.
Make it obvious what you want from your relationship. However, don't place too much pressure on yourself or your partner. A healthy relationship is a work in progress, so do your best and understand that you won't be able to change everything about your relationship overnight.
It's necessary to keep in mind that you'll never know what realistic relationship expectations from your partner are until you've been together for a while. By communicating openly, you will help each other establish a healthier, more meaningful relationship that's going to last for years.
Before we go on to the next section, check out this video to learn more about realistic expectations in a relationship.
10 realistic expectations that make your relationship work
Perfection is out of reach for anyone. You can't expect your partner to never make a mistake, forget things, or consistently do the proper thing. Every single one of us fails at something at some time, somewhere, and in some way.
On the other hand, the right approach to managing what to expect from a relationship can help filter out many of the basic things that couples argue about.
If you understand how to distinguish between reasonable and unreasonable expectations, you can make an effort to keep your relationship expectations list in check and obtainable.
To clarify, here is a list of ten realistic expectations in a relationship that you should try to nurture.
1. Honesty
Being open and honest with your lover is the most effective way of ensuring healthy communication. Honesty is also essential since those who are honest with one another can better comprehend one another. Essentially, honesty contributes to the health and strength of the relationship.
Related Reading: 

Why Honesty in a Relationship Is So Important
2. Trust
To trust someone means to be able to depend on them and to feel completely safe being alone with them. In reality, you cannot maintain a long-term relationship without trust. One of the causes of relationship breakdown is a lack of trust.
Related Reading: 

15 Ways on How to Build Trust in a Relationship
3. Affection
There is a reason why getting love and affection feels so good; it is a chemical occurrence. The psychological and social benefits of getting affection to speak for themselves. Aside from assisting you in maintaining good relationships, your self-esteem will benefit greatly.
4. Commitment
A commitment is convincing and unambiguous. It is the action taken to show one's commitment to what one is committed to. As a result, it is reasonable to expect equal commitment, which is necessary for developing a relationship in which both parties feel validated.
Related Reading: 

15 Signs of Commitment Issues and How to Overcome Them
5. Compassion
Compassionate couples experience more pleasure and understanding in their relationships. Compassion transforms how you connect, and a partnership can become brittle without it.
6. Empathy
Empathizing with your partner involves putting yourself in their shoes. A partnership that lacks empathy is bound to fail. Seeing the world through your partner's eyes promotes closeness and affection.
7. Respect
Respect is not about manipulating someone or forcing them to act the way you want. In a relationship, respect is demonstrated by how you treat one another on a daily basis. A partnership in which you feel invisible, overshadowed, and humiliated is just not worth your time or effort.
8. Compromise
Compromise does not suggest that you agree entirely with your spouse or vice versa. Instead, in a healthy relationship, compromise means that both people constantly give up something in order to reach an agreement. You will not always make a compromise happily, but it is critical that you do.
9. Quality time
The quantity of time spent together may decrease over time. Regardless, making time for each other is essential and valuable. Quality time is important for growing a relationship to something far more meaningful.
Related Reading: 

15 Reasons Why Quality Time Is So Important in a Relationship
10. Generosity
Generosity in a marriage makes you happy and shows your partner that they are appreciated. There are numerous aspects of it that can improve relationship quality between spouses. Thus, encouraging generosity can improve relationship satisfaction.
Check out the importance of generosity in a relationship:
Easy ways to set up realistic expectations in a relationship
Defining healthy expectations in a relationship means identifying what you anticipate from your partner as well as what they can demand from you. When setting expectations, make sure you and your partner are on the same page and willing to compromise if required.
If you're not sure where to begin with setting reasonable expectations in a relationship, here are a few suggestions.
Share with your partner what you both hope from the partnership. However, aim to understand and accept your partner's shortcomings. It will aid in the development of mutual understanding and the establishment of more fair boundaries.

Try to be honest about your partner's talents and flaws. If you are unable to meet the majority of your partner's requirements, they will most likely be unable to meet yours as well. More importantly, don't expect them to understand exactly what you're thinking and to satisfy all of your needs.

Focus on what you like about your partner instead of focusing on what you hate about them. Allow them to grow if they aren't meeting most of your expectations. Putting pressure on them will just make the situation worse.

Don't compare your relationship to anyone else's. It is also critical to pay attention to what your companion has to say regarding your expectations. Every partnership is unique, so attempting to compare it to another's is pointless.

Make sure you're also looking after yourself. As a consequence of your previous experiences, expectations can arise, develop, and evolve. It will be difficult to maintain your expectations if you are not in a good position.

It is critical to be open-minded. It would be preferable that you're also prepared to adapt and develop your personality, and to be open to fresh perspectives and to try out new things.
More questions on realistic expectations in a relationship
Check out these questions on having realistic expectations in a relationship for a healthier and happier bond:
What to do when your expectations don't align?
Remember that no one can always make another person satisfied. It absolutely cannot be done. So expecting your partner to always make you pleased is a recipe for disaster.
It's also pointless to expect your partner to not do anything that irritates or upsets you. So, focus on finding satisfaction within yourself and being thankful for the moments when your lover brings you joy.
What's more essential is how you handle negative emotions when they arise. Avoid saying things out of frustration and realize that fighting isn't always a negative thing. Instead, it can assist you in resolving disagreements and growing closer as a pair.
What are unrealistic relationship expectations?
You should be aware of a number of unrealistic relationship expectations. Some examples include expecting a partner to satisfy all of your needs and expecting a relationship to be social-media-perfect. They can make them feel as if they need to look elsewhere for validation.
Essentially, placing too much pressure on someone implies that you have unrealistic relationship expectations. These types of expectations strain the relationship because they give the impression that your partner is never good enough to meet your expectations in the relationship.
Takeaway
Expectations get a bad reputation in the dating world. Expectations in a partnership are frequently demonized as the root cause of dissatisfaction, disagreements, and breakups.
Healthy relationship expectations can mold interactions, establish a foundation for a relationship, and foster a supportive and stable environment. However, it is all too easy for those simple ideas to snowball into big, unreasonable expectations.
Setting expectations in a relationship is an unavoidable element of being in a relationship. In fact, despite seeing expectations as a source of conflict, most people begin a relationship with some preconceived notion of how they ought to be treated.
It's truly beneficial to have clear expectations in your romantic efforts. They show that you love and respect yourself enough to want to be acknowledged and admired in specific ways.
Share this article on
Want to have a happier, healthier marriage?
If you feel disconnected or frustrated about the state of your marriage but want to avoid separation and/or divorce, the marriage.com course meant for married couples is an excellent resource to help you overcome the most challenging aspects of being married.
You May Also Like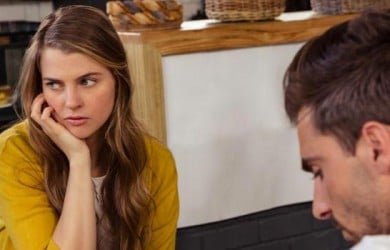 Popular Topics On Married Life