9 Things You Should Not Do When Traveling With Your Partner
Are you considering traveling with your partner? Since my partner and I started our relationship in 2018, we've travelled a lot together.
Not only that, but we've both worked and undertaken the same project jointly, and that's given us the lights to know what you shouldn't do when traveling with your partner (including the journey of life).
We currently travel and work together, and we can say that travel is one of those experiences that takes you to unusual situations with your partner and makes you spend incredible moments and also not so amazing moments.
It can be easy to get frustrated and argue, even while doing something as fun and exciting as travelling. However, the challenges of traveling with your partner for the first time usually subside once you start traveling with your partner more frequently.
Yes, traveling can be stressful. Don't you believe us? Look at the average family at Disney World, and you'll see that, even in the happiest place on earth, kids scream and parents look terrified; these people are in their final judgment.
But it doesn't have to be that way. Of course, there will be ups and downs, but if you put a little effort into presenting your best version and avoiding bad habits, you and your partner can do well.
To help you in preparing for your trip as a couple and enjoy the benefits together to the fullest, these are the 9 tips to survive traveling with your partner and things not to do when traveling as a couple.
1. Spend every second together
Something that you have surely heard more than once and that you should not do when traveling with your partner is to spend time together. It is not required for you to be together on your trip 24 hours a day, seven days a week.
Even if you only travel with your partner for a week, be sure to take the time once in a while (ideally every day) to be alone. It does not mean that you have to spend a whole day apart, but simply need to make time for yourself.
We hear this over and over again (self-love! Personal care!) But all it really means is taking the time to get in touch with yourself, your needs and rejuvenate yourself.
This is especially good advice if one or both is introverts. Is there a perfect compromise? Spend 2-3 hours alone during one afternoon of your trip, doing what you want.
That is why when we were in the San Blas Islands in Panama, I enjoyed an activity snorkelling alone in a sunken ship, while he stayed in the bow to watch.
2. Expect the whole trip to be romantic
You are traveling with your partner. Every moment should be fireworks, castles and epic moments on top of a mountain, right? Incorrect.
Of course, you will have some moments like that while travelling, but what you should not do when traveling with your partner is to expect everything to be rosy.
Every second of your trip will not be glamour and romance since it can happen that:
There are delayed flights

Either one gets lost

There are frustrations of language
All these things can absorb joy (not to mention killing romance). So do not go on your trips waiting for pure and unadulterated happiness.
3. Don't make time for romance
For the same reason, although you cannot expect traveling with your partner to be a constant love party, it should be mandatory to be able to enjoy romantic moments together.
It doesn't always sound spontaneous and passionate, but it's what you have to do!
If your idea of romance is an afternoon in which you choose to ask for room service and stay in bed all day or a special walk where only the two are, think about how to make your couple's trips sweet and memorable. These intimate moments will stand out and will be some of the best-kept memories of your trips.
4. Discussing money
Arguing about money is the worst, it's the first thing you shouldn't do when you're traveling with your partner. And when you're on vacation, you shouldn't even bring it up.
There may be an exception to this if you travel as a long-term partner. Then, inevitably, the money problem will arise, and you will have to work to commit and budget as a team.
But if you're on a shorter vacation, strive to avoid the financial arguments. Have a serious discussion before you travel about what you plan to spend and where you can waste and make a joint budget.
5. Acting possessively on your partner
This advice is for your daily life, not just to travel as a couple. However, being in a foreign country introduces new environment and new people.
Especially in a few parts of Europe, men are more vocal with their appreciation of female beauty.
Husbands and boyfriends: don't panic or fight. Almost always, it means no harm, and their whistles are simply a compliment to the charming woman you are escorting.
The same applies to women. Your man might be a little curious about the tall blondes of Scandinavia or Russia, but remember, he came here with you. In their journey together, it is wise to focus on each other.
No one and nothing else matters. It's just you two and an incredible vacation. Don't let other people's audacity ruin your trip.
6. Falling into a routine
This doesn't apply only to couples who travel long term. Whether you're traveling with your partner or at home, it can be too easy to fall into a routine.
This is definitely something you shouldn't do when you travel with your partner, avoid making this a routine. While travel has an inherent advantage: it constantly adds excitement and novelty to your life.
Even so, routines become a habit. Some level of routine is fine, but don't get so caught up in the daily routine and schedule that you forget:
spontaneity

romance

and the special, small gestures.
Try to shake things up at least once a week… whatever that means to you and your partner! traveling with your partner helps you get out of a monotonous routine.
7. Isolate
Now it looks like we're going to contradict each other directly. The journey may be all about you two and your relationship, but the tour will be enhanced if you expand your group of two people from time to time.
A short vacation or honeymoon can be an exception… then it is natural and you are expected to be over-centred in your partner.
But if you're involved in long-term couple travel, don't isolate yourself. Be sure to take time each week to be social. Try and meet other couples. Get to know the people and their culture.
Participate in group brewery tours,cooking classes, or even city walks. These things will open up your circle and add more to your travel experience. It's sharing those new experiences with your partner that's important.
8. Complaining endlessly
It's awful when a traveling companion is a non-stop moan. That lowers shared morale and can be irritating to your partner. If this rings a bell, try to keep your complaints inside. Or better yet, rethink your thinking and do the next exercise.
Every time a complaint comes to your mind, say something that you are happy or grateful for out loud. This will boost your mood and maybe help your partner feel more comfortable too. Do not divide your travel responsibilities.
On trips of any length, it can be beneficial to designate tasks for each person related to the trip. What you shouldn't do when traveling with your partner is to put all the responsibility into one, as you'll end up frustrated and surely blaming something.
If your partner knows that you are responsible for carrying the passports, there won't be the "I thought you brought them!!!!" at the airport. Your partner will be able to rest easy, knowing that the other member has it under control.
This helps both members and contribute to the relationship to make the process less stressful for everyone. In short, it makes traveling with your partner ten times better.
9. Waiting for the journey of your life
What you should not do when you travel with your partner is focus your trip on the incredible photos you plan to take, enjoy the sunset, look at your partner, know the place.
We believe that Instagram has given us unreasonable expectations about especially traveling with your partner. With carefully selected galleries and pre-planned photos down to the smallest detail, it can be easy to believe that your vacation will be for the record books.
Probably yes, but only if you keep your expectations true to life.
If you wish, you will enjoy romantic sunsets. You will have elegant meals. You will walk hand in hand or take a walk on the canals of Venice, but remember that life is not a film or a fairy tale.
Embrace the good and the bad of your partner and relationships, and you'll find yourself with an unforgettable gift.
Share this article on
Want to have a happier, healthier marriage?
If you feel disconnected or frustrated about the state of your marriage but want to avoid separation and/or divorce, the marriage.com course meant for married couples is an excellent resource to help you overcome the most challenging aspects of being married.
More On This Topic
You May Also Like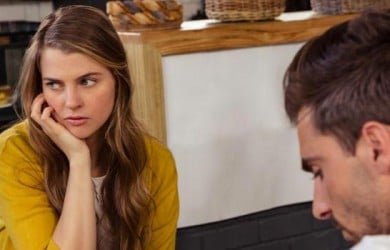 Popular Topics On Married Life