How to Set Boundaries With a Narcissist? 15 Ways
Do you have someone in your life who always wants to be adored? They feel entitled and accept nothing less than superior treatment, even though they disrespect others. And oh! They have no regard for people's feelings yet expect you to respect them at all times. Then, you are dealing with a narcissist.
It's easier to avoid narcissists entirely. However, since we all have them as a spouse, siblings, co-workers, bosses, or friends, knowing how to set boundaries with a narcissist is the best decision. That way, you can relate without being affected by their self-centered attitude. So, how do you set boundaries with narcissists?
Learn more in the following paragraphs as we explore everything related to narcissism and boundaries.
How does a narcissist behave in a relationship?
Before setting boundaries with a narcissist, you should familiarize yourself with a narcissist's common attitudes and behaviors. In setting narcissist boundaries, the following are the typical behavior of a narcissist:
A narcissist feels entitled to the best things

A narcissist has a heightened sense of self-admiration

A narcissist feels superior to others

A narcissist is self-obsessed

A narcissist has no empathy for others

A narcissist has a jealous tendency

A narcissist likes to seek attention

A narcissist is more focused on beauty and power
Notably, a narcissist and boundaries don't exist in the same lexicon. Narcissists don't know how to establish healthy boundaries with people. Also, they will constantly try to override your decision and make you feel powerless. Before you know it, you don't know who you are anymore.
However, you don't need to feel out of control. Indeed, a narcissist picks on "easy prey" to feed on. Such an easy target would be a gentle, empathetic, highly-sensitive, and easy-going person.
If you suspect you might be in a relationship with a narcissist, how to set boundaries in a relationship with a narcissist is your way out. It will help protect your mental health regardless of what a narcissist brings.
Related Reading: 

Stages of a Relationship with a Narcissist – Don't Miss These Red Flags
15 ways to set boundaries with a narcissist
If you can't avoid one in your life, knowing how to deal with a narcissist will help you build a healthy relationship and foreground your personality. Learn more in the following paragraphs:
1. Understand what and who you are dealing with
The first step in how to set boundaries with a narcissistic spouse or friend is to know them and their behavior. Who exactly is your narcissist and what is their typical behavior?
What's their background like? What do they desire most? Importantly, how do they treat you and others? Once you know them inside out, it will help you create the best strategies.
Narcissists appear over-confident and brave. But deep inside, they are insecure and emotionally weak, which is why they don't want you to know. Once you understand that narcissists are operating within their own inadequacies, it lets you know how to approach them.
2. Don't allow yourself to be manipulated
When setting boundaries with a narcissist, you should know that one of their powers is manipulating others. There is no line that a narcissist won't cross to use people for their selfish gain. The fault is theirs, but they will guilt-trip you into thinking it's yours.
For example, you both agree on something, but the narcissist refuses to keep to their end of the bargain. When this happens, gently remind them what they said earlier and stand your ground.
Related Reading:

 How to Recognize and Handle Manipulation in Relationships
Learn about the signs of a manipulative personality in this video:
3. Know your limit
To know how to set boundaries with a narcissistic spouse, you must know yourself. How much can you endure narcissistic behavior? When do you need to be around them and not? Do you even need to be around them? If you do, how long?
Related Reading: 

15 Signs to Know When Enough Is Enough in a Relationship
4. Don't feel the need to defend yourself around them
When trying to set boundaries with narcissists, you should never defend yourself from them. It's in a narcissist's nature to use intimidation to make you question and second-guess yourself. You can only win if you don't explain why you act the way you do.
5. Listen to your gut
In establishing boundaries with a narcissist, ensure you listen to your emotions.
Trust your instincts as they will warn you when dealing with a narcissist. If you are angry at a narcissist's behavior, don't just take it all in. Identify what you feel and why. If it's fear you feel, why is that?
Related Reading:

 Gut Instinct in Relationships: How to Trust Your Intuition
6. Don't show them how their behavior affects you
How to set boundaries with a narcissist? Don't ever show them your reaction to their behavior. That gives them power and the feeling that they have control over you. When a narcissist starts showing annoying behavior, you can ignore it or walk out to control your emotions.
7. Choose the best way to react
There are times when it's best to react to narcissistic behavior. Nevertheless, ensure you are choosing the appropriate behavior. Try not to flare up, as this might make them think they have the power to provoke you. Instead, kindly tell them how you feel firmly.
8. It's okay to say no
Narcissists will try to force your hands many times or test your limits many times. Instead, decline their requests politely when you aren't comfortable. If you are afraid of saying no to people, you will have to learn otherwise regarding narcissism and boundaries.
Related Reading: 

25 Things You Should Never Tolerate in a Relationship
9. Name their behavior
A narcissist will try out many things with you to see how far you can take some of their behaviors. When they act in a certain way, learn to label it, so they know you understand what they are doing.
For example, you may say, "It's demeaning when you say I can't do some things."
10. Don't defend yourself
How to set boundaries with a narcissist? Don't defend yourself during an argument when a narcissist insults you. If you do, ensure you tell the narcissist that their actions or words are irrelevant to you. That's because narcissists are often guilty of the awful things narcissists accuse others of.
11. Don't share personal matters with a narcissist
One way to give a narcissist all the power to control you is to tell them personal details about yourself. You don't want someone who is egoistic to hear about your personality, interests, hobbies, strengths, and weaknesses.
A narcissist often assesses you to determine the best way to control or gain an advantage over you. When you let them know certain things about you, you give them the chance to use them against you.
Related Reading: 

15 Best Ways to Emotionally Detach From a Narcissist
12. Don't join them in putting down others
Often a narcissist will backbite or put down others in your presence.
Narcissists put on an act to make themselves feel good and superior. When this happens, please don't fall into the temptation of joining them. If you do, you give them the autonomy to say the same about you. It also means you accept them.
13. Know that you have choices
One of the reasons many people endure the wrath of a narcissist is because they feel they have no options. This scenario often happens when you have a narcissistic spouse.
Understand there will always be alternatives for you – a new job, a healthy relationship, an empathetic friend, pleasant acquaintances, and so on.
14. Create healthy relationships with others
A relationship with a narcissist can be energy-draining. Such a relationship distracts you from a narcissistic person and helps you direct your energy into the right place.
Regardless of the strategies you may have tried, there will come a time when you will become tired. In that case, it will help to build healthy relationships with other people.
15. Take action
After understanding everything, you might want to take some action. It is essential if you have tried everything in your power to set boundaries with a narcissist, but nothing is fruitful. If setting boundaries with narcissists doesn't work, don't give up.
Instead, make a new plan. Some of the actions you may take include breaking up with a narcissist, moving out, or getting a new job.
What to expect when setting boundaries with a narcissist?
Considering how controlling they try to be, one may wonder what happens when you set boundaries with a narcissist. It's simple; a narcissist will flare up. They will argue and blame you for how they behaved towards you.
Notably, a narcissist will ignore your feelings and act like the victim. However, stay strong. Don't think your boundaries are any lesser than their needs. Eventually, they will be fine. But what matters is that you protect your mental health.
In brief
Narcissists are everywhere – in our family, work, marriages, and other relationships. Indeed, it can be exhausting to deal with a narcissist, especially when they continue to put you down and ignore your feelings. If this is your situation, it's time to know how to set boundaries with a narcissist.
That way, you can have a relationship with them without letting it affect your life. When nothing seems to be working, you may seek the help of a therapist to teach you healthy ways to cope with a narcissist or other means.
Share this article on
Want to have a happier, healthier marriage?
If you feel disconnected or frustrated about the state of your marriage but want to avoid separation and/or divorce, the marriage.com course meant for married couples is an excellent resource to help you overcome the most challenging aspects of being married.
Learn More On This Topic
You May Also Like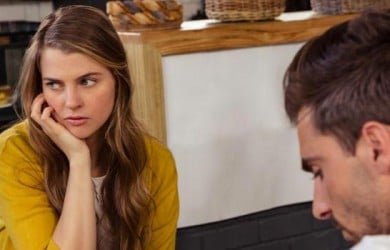 Popular Topics On Married Life