The 7 Best Techniques for Stealth Attraction
If you want to grab the attention of someone without coming off as a complete idiot before them, then consider getting the hang of stealth attraction techniques and how they work.
When it comes to picking up a date, most people use apparent strategies, including catchy pickup lines or the standard "May I have your number?" While these, in themselves, aren't terrible strategies, they're mostly cliche and not memorable.
There's every possibility that before you showed up, 5 other gentlemen must have tied to get her attention using those same lines. If you'd end up pulling the exact same stunts as the 5 other guys who came before you, how then do you stand out and make a good impression immediately?
By the time you're done studying this piece, you will discover what the stealth attraction secret is all about and how to get anyone's attention with it.
First things first…
What is stealth attraction?
Richard La Ruina coined the term "stealth attraction" while teaching a course on contacting women for hookups and casual dating regulations. La Ruina, as sly (and occasionally troublesome) as ever, focuses on women's subconscious brains.
Stealth attraction techniques focus on the elements that women find appealing but are ignorant of.
Simply put, the stealth attraction secret is all about determining what factors subconsciously draw a woman to a man and using all these factors to woo the woman of your dreams.
Unlike overt (direct) efforts, stealth attraction uses covert (hidden) methods for seduction.
When used the right way, it can help you get the attention of your dream woman since studies have shown that many unseen forces play pivotal roles in sexual attraction- including non-verbal communication, first impressions, and self-assuredness.
7 best techniques for stealth attraction
As previously said, stealth attraction techniques are extremely covert and thus not adopted mainstream. If you choose to use them, tread with caution. Then again, train yourself to identify when they're being used on you.
These attractions infiltrate a woman's psyche and cause her to do whatever you wish. In addition, the stealth attraction program is designed to help you make an impression on your dream woman or a casual hookup.
Nonetheless, here are 7 powerful stealth attraction strategies you can employ now.
1. The priming attraction technique
If you are attracted to a lady in a public place, make eye contact, smile slightly, and go by her. Go over to the counter and get in line if she's placing an order. Initiate a one-line conversation with her on any generic but intriguing topic.
If she was standing in line to pay for her groceries at the mall, one thing you can try is to pay for whatever she purchased (if you can afford to). This will give you the time and space you need to strike up a decent conversation with her.
While at it, spare some minutes and try to keep her talking until she is well aware of your presence (and maybe even your intentions). While using this technique, take care, so she doesn't see you as a creep who's only trying to get into her pants.
If she decides she isn't interested, she will not return your small gestures. She may come off as calculated, cold, dismissive, or aloof when she's not interested. Your success with this technique depends on your ability to understand non-verbal communication.
While you make small talk, you'll get a sense of whether she's interested in you or not. This is a clever technique of asking for her phone number because it gives her time to contemplate (unconsciously).
The main advantage of using this strategy is that you won't catch her off guard and throw her into a defensive state.
Since you started with a kind gesture and made her feel warm around you (by making small talk or humorous talk at first), she'll be more inclined to give you her phone number.
That's the first step. However, note that the fact she gave you her number doesn't automatically mean that she's interested in dating you immediately. Give it time, regardless.
Priming is the psychology behind this. According to this hypothesis, you are more likely to get a positive response from a person when you first make them feel good.
2. Body language
Seductive body language, not just the exclusive use of words, is another important stealth attraction technique you must pay attention to if you're serious about wooing her
Most guys keep talking (maybe out of nervousness or an innate desire to impress a woman), without realizing that being quiet can sometimes be perceived as sexier.
The point is, many women aren't interested in your tired pickup lines because they've heard them a million times. Instead, your ability to say a lot without using your mouth will attract her attention faster.
Even though stealth attraction words have their allure, they must be used correctly, with the right meaning, sincerity, and timing. Before that, establish the groundwork and grow your attraction to the woman you have your sights set on, as well as detect her interest in you.
Somebody signs include looking approachable; don't frown. From time to time, look in her direction with a warm but seductive smile on your face and make sure your eyes connect.
If you can, offer to help her open the door, hold her purse, or hold up the stool for her as she takes a seat.
If you're feeling adventurous, consider brushing your hand on her skin by placing your hand on the small of her hack as you escort her to the door of the bar or brushing a strand of hair away from her face when you're in deep conversation.
These gestures, when done right, make you look confident, and sexy, and they help you communicate your intentions without having to say too much.
3. Don't rush things
This is probably the golden rule in the Holy Grail of stealth attraction techniques. Patience is a critical component of stealth attraction. You run the risk of spooking her if you go in for the swoop at the end of a date.
You're in for the long run, right?
Begin by paying her a sincere compliment. Let your gaze pass over her face, then her lips. Hold her eyes and tell her that you want to kiss her. That's right, inform her (the stealth seduction words could be as simple as vocalizing your thoughts and desires).
She might blush, smile, or respond with her words. Go forward if you obtain the green light. Pull back if she doesn't consent. This slow flow into the kiss is preferable to a rapid, unexpected, and possibly non-consensual lean-in.
4. Look good
Your appearance also plays a role in stealth attraction since it influences how others see you. Appearances include facial symmetry and a healthy body, but they also include how you portray yourself.
Studies even show that the fit of a man's clothes can influence how women perceive him and how others relate to him. S much as we fail to admit it, we make assumptions based on apparel and facial hair.
It's time to get a haircut, shave and groom your beard. Dress like a boss who is out to get his queen. Look confident and add a little swagger to your steps. Personal hygiene and a sense of fashion are some of the ultimate stealth appeal strategies.
Suggested video: How to be more attractive:
5.
Build self-confidence
Your self-esteem is a requirement as you figure out how to employ stealth attraction to your advantage. She won't accept you until you stop rejecting yourself first.
Stop comparing yourself to others. Build up yourself to be a confident man. If you want someone to like you, work on becoming more self-assured. Just as studies have shown, confidence is a desirable trait many people look out for in their romantic partners.
6. Be a mystery man
Quit telling the pretty lady you've just met your life story. Listen more than you speak, and when you speak, make it memorable. Women prefer men who exude a sense of mystery as it makes them wonder what could be under the surface, so they draw nearer.
You can pique someone's interest without exposing all of yourself to them. Sometimes, let her ask herself some questions like, "I wonder what's on his mind. Is he even fond of me?"
Mystery heightens the relationship between two individuals and provides an edgy vibe to it. As much as possible, maintain some air of mystery around your love interest.
7. Be clear with them
Are you looking for a hookup or something more? Whatever your intentions are, be forthright and honest in communicating them. Transparency is one stealth attraction secret you should adopt.
By being honest upfront, you give your love interest the opportunity to decide if they're on the same page as you. Don't go making them feel like you want a long-term commitment when you were only on the prowl for your next hookup.
Pros and cons of stealth attraction techniques
Now that we have clearly established what stealth attraction is all about, here are some of the advantages and disadvantages of this method.
Pros of stealth attraction
Stealth attraction can have certain benefits. Check out the pros of stealth attraction:
Increased confidence and assertiveness
When used right, stealth attraction help you to overcome the fear of rejection and approach more romantic interests. In doing so, you boost your love life.
Related Reading: 

20 Things You Can Do To Feel More Confident In A Relationship
Improved communication and social skill
Stealth attraction is great for men who want to enhance their ability to approach and engage with whomever they are attracted to. Instead of fighting the bile that rises into your throat every time you think of asking someone out, why not consider using this approach instead?
Related Reading: 

20 Ways to Improve Communication in a Relationship
Useful for shy and introverted people
Stealth attraction helps shy and introverted people to communicate their feelings. With this, everyone gets a chance at love.
Cons of stealth attraction techniques
Stealth attraction might not always hold advantages. Check out these cons of stealth attraction techniques:
Ethical concerns
Not all religions support the use of these techniques to attract the attention of a romantic interest.
Then again, considering how edgy some of these strategies can be, high-level precision is required to pull them off. Hence, these strategies aren't exactly mainstream.
Risk of manipulation and deception
With stealth attraction techniques, there is a high risk of abuse and manipulation. Someone can intentionally give off vibes they don't mean just to lure another person into bed with them or exploit them.
Related Reading: 

20 Signs of Emotional Manipulation in Relationships and How to Deal With It
Potential harm to self-esteem and mental health
How would you feel if you ended up falling for someone, only to discover that he used these stealth attraction techniques just to have his way with you? Broken, right?
Misuse of these strategies can lead to damage to self-esteem and mental health, especially on the side of the victim. This is why we said earlier that you must teach yourself to identify when someone is trying to use these strategies on you.
That way, you're better equipped to protect yourself mentally and emotionally.
Takeaway
"Does stealth attraction work? How do I employ stealth attraction to woo a girl?"
So far, this article has provided in-depth answers to these questions.
The aforementioned stealth attraction strategies will help reduce your chances of suffering rejection in love again.
You can also opt for couples counseling if you want to navigate the relationship and understand where it is leading you.
However, here's a kind reminder that these techniques are best used when you're sure of what you want from the other person. Don't try stealth attraction until you're convinced you're ready for a relationship with them.
They might just give in.
Share this article on
Want to have a happier, healthier marriage?
If you feel disconnected or frustrated about the state of your marriage but want to avoid separation and/or divorce, the marriage.com course meant for married couples is an excellent resource to help you overcome the most challenging aspects of being married.
More On This Topic
You May Also Like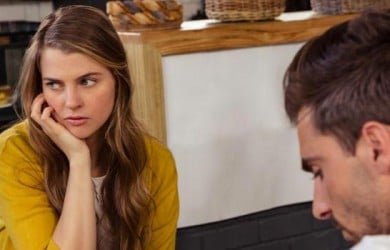 Popular Topics On Married Life