11 Tricks an Alpha Male Uses to Pursue a Woman
You might know an alpha male and wonder how an alpha male pursues a woman, but usually, there's little effort or need for pursuit. And that's not him being egotistical or arrogant; it's just not usually his way nor a need for this gentleman.
Generally, alpha males have people pursuing them and have their share of mates to select from. Still, when they find someone of interest who might not be so forthcoming in their stance, this man doesn't come on too strong.
Alpha males usually don't want the other person to feel uneasy but to recognize he's unlike other men with an approach that is somewhat rudimentary, not grand as you might anticipate.
An alpha male's secret, if you will, is that he prefers to remain in control of his emotions. This allows the perception of strength and confidence while displaying an air of chivalry and protectiveness that potential partners are automatically drawn to.
Learn about the alpha male and his characteristics in the "Supreme Alpha Male Bible" book.
What does an alpha male want in a woman?
What makes alpha males fall in love primarily is a partner who presents themself as a patient and loyal companion. When the man finds an individual who displays these qualities, he will be drawn to them.
The man will then display how an alpha male pursues a woman to his admirers. But the alpha male will require time to fall in love, thus patience.
They search for the right individual who can offer an opinion and challenge their intellect, show strength, all while having the ability to seduce them.
The male enjoys a person who carries themself with confidence. He has more of a desire to pursue the individual that displays a bit of "chutzpa" over a person opposite his character or a character more generic.
A strong sense of self combined with maturity and inner strength is a good combination for this man who thrives with someone who looks at the world with a positive approach.
What will cause an alpha male to fall in love?
It can be challenging if you're trying to discern how to get an alpha male to chase you when interested potential partners typically surround these men.
For one thing, most women who are confident enough for an alpha male don't worry about the man pursuing them. That's what will attract the men. They will see this security and find it intriguing, desiring to learn more.
An alpha male likes to take time to fall in love and will require certain patience as they grow towards those feelings. The man needs to find a balance and stability for their powerful personality.
There is a misperception that the alpha male prefers someone opposite to their personality. Instead, he prefers an individual who can understand what makes him who he is and be able to handle those strengths.
When the gentleman finds the person with these qualities, he will begin his journey to falling in love.
Check this video on how a potential mate can tell your alpha:
What does an alpha male do to make a relationship special?
When an alpha male decides the person they're with is the right partner, they will allow themselves to fall in love. The man is not above spoiling their partner with lavish gifts and ensuring that their mate doesn't have a desire that is not met.
When he has found the one, the alpha male energy allows him to do what he can to ensure optimum contentment and happiness. There will always be quality time with extravagant dates and spontaneous vacations.
An alpha male's partner will become almost an obsession for the man, but the woman can rest assured his love is pure and directed at who she is as a person. You can learn more details about the alpha male with this research.
What does an alpha male do when pursuing a woman?
Men and women are drawn to an alpha male's charisma, energy, and strength of character. The alpha male is someone you can spot wherever you go.
Generally, this person is surrounded by people attempting to sway interest in their direction. There is no problem in attracting desire though there's minimal effort, merely the alpha male energy.
Is there a specific strategy that others can mimic? What tactic should the average person follow to acquire similar results? How does a man similarly pursue a woman to the alpha male? Let's look at how the gentleman does it.
1. The first move is his
When an alpha male likes someone, he will let that be known. He knows when he desires something and will fully understand the partner he wants.
When he finds someone he genuinely likes, he'll have no doubts and be secure in making a move initially. How does an alpha male pursue a woman with confidence of choice?
The man has no fear of rejection because he recognizes it doesn't define his character or diminish his self-worth. Still, there will rarely be a rejection for him to ponder.
Related Reading: 

20 Signs a Guy Is Protective of You
2. He makes her feel safe
Despite their strength and confidence, there is no arrogance or egotistical nature. These are kind men, and nice guys are not always last.
When considering how to pursue a woman, the alpha male's priority is to ensure that she feels at ease and optimally respected.
The man doesn't feel a need to play games or act in the role of the dangerous guy that many partners tend to favor. The alpha is comfortable with his identity and more concerned with treating his mate nicely.
If you need to know how an alpha male pursues a woman, he reflects on the gentleman and avoids the rebel.
There is also a sense of protection. Whether together or apart, the alpha male wants to ensure his significant other is okay. You'll recognize signs that an alpha male likes you when he constantly checks your safety without being overbearing.
Also Try: 

Questions to Quiz Your Significant Other
3. He will seduce
When you pursue a woman in the same vein as an alpha male, you need to be predominantly seductive. These men are incredibly flirty but not with every person they come in contact with – because they don't need to be.
These guys don't need to validate themselves by charming the masses. He does recognize the importance of keeping a relationship passionate and allowing for an air of mystery to fan the flame. The man will not play games.
That's not part of his repertoire. You'll learn how an alpha male pursues a woman he's interested in through seduction and flirtation. He highlights his masculinity and assertiveness without showing aggressiveness.
4. He is a true gentleman
Chivalry is not dead when it comes to the alpha male. Men who pursue women have the misperception that women no longer enjoy gentlemanly behavior, which couldn't be further from the truth for the most part.
Treating with care and respect is universal; it's kind and feels good for everyone. For the alpha male, walking someone home after a date or accompanying them to the door after driving home is part of ensuring safety and being a gentleman; plus, it's a kind human gesture.
Related Reading: 

15 Amazing Characteristics of a Godly Man
5. He is never cold
If you want to learn how to be an alpha male with a woman, it's essential not to be aloof. A potential partner needs to recognize that you like them the way they like you. An alpha male has no qualms with showing a woman he needs her.
Confidence doesn't equate to arrogance. Even confident people enjoy being appreciated, particularly with the individual they're romantically involved with. He wants to hear his mate's thoughts and feel support and admiration from them.
6. He is a dominant man
When discerning how to keep an alpha male interested, a woman must be open about what she wants. These men take the lead with every component of their life.
There's never a moment they wait for someone to handle any particular situation, nor do they follow someone else's lead. They take charge, as is true in their pursuit of women.
That doesn't mean he prefers a woman who will merely follow his lead. But he will try to make the things she wants to happen.
7. He can be vulnerable
If you want to know how to spot an alpha male, typically, you'll recognize this person from the individual eluding the power in the room. He will elicit the strength of character and confidence surrounded by a group of people.
But he could fool you because aside from these things, the alpha male is also a human capable of vulnerabilities. That means he will have weaknesses. There will be insecurities and fears that they might not make known to the average person but to the person he loves.
Related Reading: 

16 Powerful Benefits of Vulnerability in Relationships
8. The alpha male can be jealous but not overly so
The alpha male, as mentioned, has a strength of character and knows his value. Still, he cares. If he didn't, there would be no reason to feel jealousy.
But any feelings of love will bring with them a bit of jealousy or insecurity.
For those trying to discern how an alpha male pursues a woman, he does so with subtlety and disallows the slightest negativity from growing out of control.
9. Commitment is not a problem for the alpha male
An alpha male pursues a woman with the future in mind. There is no commitment phobia for this man who becomes interested in someone because he sees potential for the two as a couple.
The man didn't get where he is currently without planning, persistence, or working hard. This is how he lives his life to achieve his goal. There is no desire to waste time on pursuits he's uncertain of.
He'll have no issue with discussing the future inclusive of his new partner.
10. Respect is a two-way street
In the same vein, as the alpha male likes to be supported, appreciated, and admired, he wants a partner that will walk by his side. The woman needs to discuss what's important in her life and the goals she has set for herself.
The man can then, in turn, show optimum respect and appreciation for her dreams.
11. Protection is vital to the alpha male
The alpha male is not the dangerous guy, not one to start a brawl, but instead a kind person. That doesn't mean he isn't protective. This gentleman will always stand up for his partner.
A significant other can feel confident that they can turn to the guy when needed.
How does an alpha male pursue a woman chivalrously?
When they go out or even when they're apart, the alpha male will ensure his mate is safe. After all, he doesn't want harm to come to them because he cares. He wants to let them know someone is there for them.
Final thoughts
As alpha as this man is, he's incredibly kind and considerate, a gentleman. Chivalry is not always appreciated, but it needs to be looked at with a different mindset than most people consider the concept.
It's more of kindness that we all share as humans than about submissiveness. It's about caring about each other. And that's what the alpha male is saying to their partner with their gestures, protection, and pursuits, they care.
Share this article on
Want to have a happier, healthier marriage?
If you feel disconnected or frustrated about the state of your marriage but want to avoid separation and/or divorce, the marriage.com course meant for married couples is an excellent resource to help you overcome the most challenging aspects of being married.
More On This Topic
You May Also Like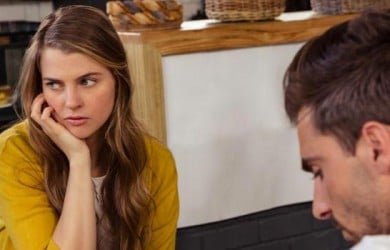 Popular Topics On Married Life