15 Clear Signs of a Loyal Woman
The first time someone breaks your trust is devastating, especially when it's someone you gave your heart to. If your ex couldn't be trusted, you'll probably look for signs of a loyal woman in your next relationship.
Dating isn't easy. It seems like the next best thing is right around the corner, which makes having a loyal girlfriend an irreplaceable find.
The internet has made it especially easy for a partner to have an emotional or physical affair, ride the line of cheating, and keep secrets from their spouse.
So what are the signs of loyalty in a woman? How can you tell what a loyal girlfriend looks like? And what should you do if you realize your girlfriend isn't trustworthy?
Here are some questions you can ask to get to the bottom of your relationship concerns.
5 questions to find out if she is loyal
If you're wondering how to tell if a girl is loyal, why not do a little test?
These questions are designed to help you get to know your partner better while taking a sneaky dive into her thoughts around loyalty.
1. What do you want out of our relationship?
This is a romantic equivalent of the "Where do you see yourself in five years?" conversation.
If she sees you in her future, she's letting you know she cares about your relationship and is committed to seeing where time takes the two of you.
2. Are you a good secret keeper?
Is she loyal? Test her with your secret and see if it ever gets out to either of your friends. Let the secret be small and silly (e.g., "I once had a crush on Bab's Bunny") so that you aren't too embarrassed if word gets out.
3. Have you ever been unfaithful to an ex?
Being faithful is one of the biggest signs of a loyal woman.
Knowing about her past indiscretions will let you know how seriously (or not) she feels about cheating on a partner. It will also let you know what she views as infidelity. She may view intercourse as a no-no, but sexual dancing and even kissing may not be off-limits in her mind.
4. What kind of relationship do your parents have?
Kids mostly model what they see growing up in their future romantic relationships. If her parents have a good marriage, she has a reasonable basis for being loyal and kind to you.
5. What does loyalty mean to you?
Being loyal doesn't mean the same thing to everyone. Some people think loyalty is about not cheating, but loyalty also involves showing support, backing a partner's decisions, and showing trust.
Signs your partner isn't loyal
One obvious sign she is not a loyal girlfriend is if she had already cheated in your relationship. Having an emotional affair, kissing someone, or going further sexually with another partner during your relationship are clear signs she's not committed to you.
Here are some other flags to look out for to see whether you're looking at signs of a faithful woman or are destined to be heartbroken.
She avoids calling you her boyfriend

She isn't always available

She can't wait to spill secrets

She undermines your decisions

She openly flirts with others

She gets weird about her phone

She's cheated on you before
If your girlfriend has done one or more of these things, it may be time for you to reevaluate how serious your relationship is.
Watch this video that explains how you can keep the spark alive in a long term relationship:
15 signs of a loyal girlfriend
If you are perplexed about whether your girlfriend is loyal to you or not, read these signs and watch out for them:
1. Your relationship is a priority to her
A loyal girlfriend commits to her relationship in body and mind. She isn't just passing the time with you. She wants to spend her time building something unique with you.
If your girlfriend makes your relationship a priority and makes you feel loved, she is a keeper.
Related Reading: 

What Are the Three Biggest Priorities in a Relationship
2. She follows through
You have something important coming up. You're nervous about it, but your girlfriend promises she will be there.
Do you doubt her? If not, it's likely because she's proven to you that you can trust her. She's had a history of following through on her promises, which can leave you feeling safe and secure, knowing that is what a loyal girlfriend looks like.
3. She's respectful
Love and respect go hand in hand.
One of the biggest traits of a loyal woman is someone who respects your boundaries and your opinions. She speaks thoughtfully to you, even when upset, values privacy, and does sweet things to show you she admires you.
4. You're in her inner circle
One of the signs of a loyal woman is bringing you into her inner circle of trusted friends and family.
Asking you to spend time with her best friends lets you know she isn't leading a double life or trying to hide anything from you.
Meeting the family is another great honor that lets you know she's serious about your relationship.
Related Reading: 

15 Signs Someone Is Hiding Their Feelings for You
5. Her friends all tell you she loves you
Her friends know her better than anyone – maybe even better than you do! If her friends are crazy about you and love to gush about how much she loves you, your relationship is off to a great start.
6. She often talks about your future together
One of the signs of a loyal woman is someone who isn't afraid to talk about the future.
Commitment doesn't scare her. She isn't worried about your relationship. She's planning her future with your love as one of the main features.
7. Her phone is an open book
One of the signs of a loyal woman is not being afraid to leave her phone on the coffee table with you when she leaves the room.
Being in a relationship with a woman doesn't mean you should have access to her private conversations and socials, but the fact that she isn't worried about leaving her phone in your presence says that even if you snoop, you won't find anything bad.
8. She isn't afraid to communicate
Couples who communicate are more satisfied and optimistic in their relationships. If your girlfriend is a healthy communicator who isn't afraid to tell you things, even when they're stiff, your relationship will be solid and ready to take on anything.
Having open and honest communication is a trait of a loyal girlfriend.
9. She thinks of you as a partner
One of the signs of a loyal woman is thinking of you as her partner, not just her boyfriend.
A boyfriend is someone you have fun with, but a partner is someone you grow in life with. A partner is someone who she plans a future and makes decisions with. It is someone she loves and respects.
10. You know about her past relationships
Another one of the signs of a faithful woman is her willingness to share.
She isn't squeamish about revealing her past relationships to you because no matter what happened in her past, she wants you to know her completely.
11. You've built up a healthy trust
It isn't surprising that couples who trust each other enjoy happier and more fulfilling relationships.
One of the signs of a loyal woman is being trustworthy. This means that she avoids telling others private things about your relationship (such as that last couple's squabble you had), and she isn't quick to spill her friend's secrets, either.
12. She's never cheated before
One of the biggest signs of a faithful woman is a record of monogamy. The biggest predictor of future behavior is past behavior, so if your girlfriend has never cheated in other relationships, odds are she's not thinking about straying with you, either.
13. She has cheated before and learned a valuable lesson
Another one of the signs of a loyal woman is that she has learned from her mistakes.
Cheating in the past doesn't mean she isn't going to be a loyal girlfriend to you. It may have just taken her a few hard lessons to learn that she doesn't ever want to hurt anyone like she's hurt others in past relationships again.
Talk to her about past indiscretions without judging her or being afraid she will repeat those bad decisions. Ask her what led to the cheating, where her heart was at the time, and what she learned from the experience.
14. She loves to show physical affection
One tip for how to know if your girl is loyal is if she takes every opportunity to show you physical affection.
That's not to say someone more reserved about PDAs is being unfaithful. Some people aren't into holding hands.
But if your girlfriend loves snuggling, kissing, and walking arm in arm, she is building emotional intimacy with you and showing signs of loyalty.
15. She's there for you when times are tough
A loyal girlfriend is around for all the challenging moments: sickness, loss of loved ones, arguments. These signs of loyalty show that she is happy to build something with you and be the one you rely on.
Takeaway
Making your relationship a priority, inviting you into her friend group, and time and again proving her love and trust are all signs of a loyal woman.
On the other hand, signs she is not a loyal girlfriend include:
Hiding her phone from you.

Being suddenly unavailable.

Being quick to spill the tea about her friend's biggest secrets.
If you don't see any signs she is loyal, talk to her. Communicate about your relationship and see what her heart wants. If she isn't ready to be serious about you, it may be time to move on to someone who appreciates you.
Share this article on
Want to have a happier, healthier marriage?
If you feel disconnected or frustrated about the state of your marriage but want to avoid separation and/or divorce, the marriage.com course meant for married couples is an excellent resource to help you overcome the most challenging aspects of being married.
More On This Topic
You May Also Like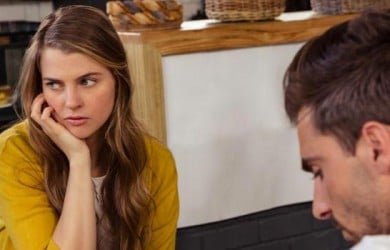 Popular Topics On Married Life