7 Tell Tale Signs of a  Bad Relationship
A relationship is all about feeling loved, contented and secure with your significant other.
If you are in a relationship that does not make you feel any of these, you are in a bad relationship. A relationship that makes you question your choices, does not carry mutual love or makes you feel unwanted can easily be called a toxic relationship.
Nobody should have to live in a relationship or marriage of this kind because such relationships often result in disastrous ends where it not only leads to the couple breaking up but may also have a toll on the mental or physical health of the affected partner.
Unhealthy relationships often develop anxiety, depression and low self-esteem in one of the partners, usually the victim, and cause them to have serious trust issues in the future.
Few of the common signs of a bad relationship are mentioned below. If you relate to any of these, it is time you talk to your partner about your worries or simply put an end to it before it has dangerous effects
1. Constant fights and arguments
Although some bickering is considered healthy for a relationship, if you find yourself always fighting and arguing with your partner, there is a high chance that your relationship has lost the charm it once held.
Misunderstandings often arise between couples but it is helpful to talk them out. However, if the couples choose not to hear each other out, conflicts will only increase and cause further stress in your relationship.
2. Lack of trust and effective communication
The foundation of any healthy relationship is said to be honesty and trust.
A relationship that consists of partners who do not fully trust each other is equivalent of the couple having communication, intimacy and compatibility issues.
Poor communication between two partners is also a great cause for steering relationships towards doom. Anger, frustrations and misunderstanding continue to build up and may also affect their physical relationship.
3. You do not feel like a priority or an equal partner in the relationship
If your partner hardly cares for you or does not support you, it may make you feel like he/she does not value you or there are things more important than you in their life.
This is something tends to affect an individual's self-esteem and self-worth. Similarly, an unequal balance of power in the house or decision making is also a red flag of a bad relationship where your partner holds all control and you are expected to comply.
4. You face criticism and humiliation at the hands of your partner
Bashing or insulting your significant other in private or in public is a huge sign that the individual does not respect their partner. Making mean jokes or passing rude comments means that your partner wishes to make you feel worthless in the eyes of everyone.
If your partner criticizes or humiliates you at every chance they get, it is a clear indication that you leave this toxic relationship right away.
5. Suspicion, jealousy and blame game
A bad relationship usually carries one insecure partner who wants to limit the contact of their spouse with other people.
They usually monitor all their partner's actions, people they interact with to find any chance of blaming them for ruining their relationship. Such people also often want to keep their partner all to themselves so that he/she has no support left and they are left alone when eventually they abandon them.
6. Your friends and family do not like your partner
It is common that we are often so blinded by love that we are not able to see the bad side of our partner.
At such times, our friends and family are usually the ones who don't find them any good.
Although you should trust your instinct and gut feeling, it is important that you take your friend's and family's concerns into consideration because they truly care about you and would want nothing that could possibly hurt you.
7. You find yourself thinking of the good times
Reminiscing and thinking of past times is not a good sign especially when you are surrounded by depression and guilt.
If you find yourself thinking of your past, wondering how did your relationship end up to a stage where all love is lost and you barely see a future with your partner, this a clear sign that your relationship is on the verge of collapse and you need to end it before it has devastating effects.
No one should be forced to live in an unhappy, unhealthy relationship.
We all deserve to live and surround ourselves with people who we love and they care about us. Toxic relationships usually always disrupt the lives of all those involved. Therefore, it is best to put an end to it as nothing is more important than one's emotional health and well-being.
Share this article on
Want to have a happier, healthier marriage?
If you feel disconnected or frustrated about the state of your marriage but want to avoid separation and/or divorce, the marriage.com course meant for married couples is an excellent resource to help you overcome the most challenging aspects of being married.
More On This Topic
You May Also Like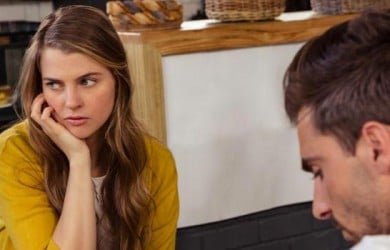 Popular Topics On Married Life