15 Signs He's Tired of You & How to Deal With It
When a relationship begins, there's this excitement and energy that emanates from both partners. At this point, they can do almost anything for each other because of the newness of their love and bond.
However, as time goes on, different factors begin to test their love for each other, and everything seems to step down a bit. If you notice that your man is not putting in the effort to make your relationship work any longer, it might be one of the signs he's tired of you.
It takes the conscious efforts of both partners to stir the waters that will ensure everything returns to normalcy.
On some occasions, it never goes back to the way it was if one partner is unwilling to make the relationship work. This article will be looking extensively into indicators that tell when a man is tired of the relationship.
Related Reading: 

How to Make a Relationship Work: 15 Ways to Help
Is he truly tired of me?
Are you wondering how to tell if someone is tired of you? This puzzle lies in your ability to deduce what your man might be thinking of after reading some of the signs mentioned in this article.
Another way you can tell if your man is getting tired of the relationship is by conducting a sincere assessment of yourself since the relationship started.
With the personal evaluation and the signs that will be mentioned shortly, you will be able to tell if your man is tired of you or he has something else he's battling.
How to know if he is done with you
If you want to tell if your man is tired and bored of being with you, you will notice that he will keep a physical and emotional distance from you.
At a point, you will feel like you are the only one left in the relationship. Also, he will make little or no efforts to keep rowing the relationship boat alongside you.
Here's a book by Ryan Thant that acts as a comprehensive guide into what men won't tell you. The book helps women to understand men better and possibly read their minds to know what they want.
Related Reading: 

How to Reduce the Emotional Distance in a Relationship
15 signs that he is tired of you and the relationship
Can you deduce if someone is tired of you? If they truly are, that means it is only a matter of time before they are out of your life for good. If you are in a romantic relationship with a man and you suspect this, here are 15 signs he's tired of you.
1. He does not communicate with you
When you notice that he is pretty uninterested in communicating with you about issues in the relationship, it is one of the vital signs he's tired of you. Some partners might feel that since their man no longer complains, that it is a good thing.
However, they are oblivious that their man has most likely lost interest in the relationship and is only waiting patiently for it to end.
2. He is more self-centered
One of the clear signs he's tired of you is when you notice that he thinks more about himself and rarely brings you into the equation. Most times, he will only bring you in when he feels like everything has been sorted out.
So on his priority list, you would probably be at the bottom. You can quickly tell this because his actions water them down as you put more effort into the relationship.
Related Reading: 

20 Effective Ways to Put Effort in a Relationship
3. He takes advantage of you
Someone who takes advantage of you might be tired of you, and you can tell if you are sensitive enough. If you notice and are tired of being used, watch closely; you will see that he will draw closer to you when he needs something.
Then, after you fulfill his needs, he will ghost off till another need arises. When this happens regularly, it is possible that he is tired of you.
4. He gets angry at your unexplainably
One of the common signs he's tired of you is when he gets angry at you for little or no reason. Almost everything you do pisses him off. Whereas, if another person does the same to him, he would most likely ignore them.
5. He ignores you
Your man doesn't need to tell you that "I'm tired of you" before realizing this. If you notice that your affairs are of no interest to him, unlike when the relationship was relatively new, then he is likely tired of you.
It is possible someone else has his attention, or he has lost faith in the relationship.
Related Reading: 

15 Things to Do When a Guy Ignores You After an Argument
6. He doesn't respect you any longer
Respect is one of the essential pillars of a relationship, and when it is absent, it could imply that one party is tired of the other. When you notice that he doesn't deserve you, he cares less about how you will feel when he disrespects you.
Also Try: Does My Husband Respect Me Quiz
7. He doesn't apologize after an incident
It is normal for fallouts to happen in a relationship, and partners have to apologize to each other for the relationship to move forward. However, if your man is the cause of a particular conflict, and he neither refuses to apologize, then it is one of the big signs he's tired of you.
8. He doesn't want you meddling in his affairs
If you have asked yourself, "Is he getting tired of me?" check if he allows you to know what is going on in his corner. He might see other women or plan to relocate, and he does not want you to be involved.
If you begin to suspect and you ask questions, he might get angry. The behavior of not wanting you to pry into his life is one of the signs he's tired of you.
9. He doesn't place importance on special occasions
If you're tired of loving someone, it is impossible not to remember some special dates in their lives. This is one of the signs he's tired of you when you notice he doesn't make any effort to make your important day worth it.
If he has other plans, he would prefer to cancel on you on those days rather than create memories with you.
10. He doesn't support you
It is painful to realize that someone who used to have your back before does not care about you any longer.
If you are looking for one of the signs he's tired of you, this is one to look out for. When you need utmost support, and he turns a blind eye or gives the cold shoulder, he is tired of you.
Related Reading: 

7 Things to Do When You Have an Unsupportive Partner
11. He prefers to blame you
If he regularly prefers to blame you instead of owning up to his mistakes, it is clear that he is on his way out of the relationship. When he creates a problem, you might have noticed that he hides behind the shadows and allows you to face the repercussions alone.
12. His presence threatens you
Have you ever felt scared in the presence of your man? Maybe you think he is going to spank or pounce on you the next minute. When you begin to feel like this continuously, it means that his body language suggests that your perception of him has been flawed.
At this point, you can tell that the relationship is not worth continuing.
13. He has no plans for the relationship
It is pretty easy to tell when your partner isn't interested in the relationship anymore. You will notice that they don't talk about the relationship goals or plans. They live the day as it comes with no iota of intentionality.
Related Reading: 

What Happens When There Is Lack of Attention in Relationship?
14. He gets annoyed when you want to be cozy with him
Partners in healthy relationships will always want to be around each other. This is why you can find any of them acting cute and cozy around the other. He is likely tired of you if you notice that he doesn't fancy the way you act 'childish' around him.
15. His friends change their attitude towards you
Have you noticed that the friends of your man no longer act friendly towards you?
Sometimes, they probably behave like strangers around you, and you begin to wonder what went wrong. If this happens to you, you can guess that your boyfriend is tired of you and has probably told his friends.
Yaz Place's book titled Signs He's not into you helps women know if their man is still interested in the relationship or just wasting their time. Hence, they can stop guessing and look at the possible signs that their man exhibits.
Three things to do when he is bored of you
After you have confirmed that your man is bored of you, what is the next step to take? It is best to act right so that you don't ruin the chances of having your man back and saving the relationship.
Here are some things to do when you are sure your man is bored of you.
1. Communicate with him
You might think you know all that is going on, but you would be shocked when you converse with him, and he starts to open up. Having open and honest communication with him would help you find out why he got bored.
Related Reading: 

The Importance Of Communication In Marriage
2. Plan a surprise getaway with your partner
One of the ways to revive a relationship with an individual who is tired of someone is to plan a getaway that they would not see coming.
The both of you can go to a place far away from work, family, and friends and use the opportunity to reconnect with each other.
If you are wondering why he is tired of you, watch this video on why he could be done with you.

3. See a therapist
If you think that things are beyond control, seeing a therapist would be a great idea. A therapist helps you uncover the root cause of the problem, which allows you to see things from a different perspective.
In addition, it would be great if you and your partner see the therapist together so that the matter won't be judged from one angle.
To fix your relationship if you think your man is bored of you, check out Tara Fields' book titled: The Love Fix. The book helps partners to both repair and restore their relationship on track.
Conclusion
After reading some of the possible signs he's tired of you, you now have an idea of why your man has been behaving in a certain way.
Therefore, it is advised that you don't confront him like you want to attack him. Instead, it is best to have open and honest communication with him to get him cooperative.
Share this article on
Want to have a happier, healthier marriage?
If you feel disconnected or frustrated about the state of your marriage but want to avoid separation and/or divorce, the marriage.com course meant for married couples is an excellent resource to help you overcome the most challenging aspects of being married.
More On This Topic
You May Also Like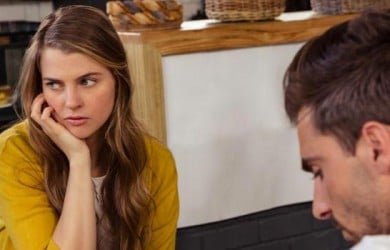 Popular Topics On Married Life