What Does a Man Think When He Falls in Love- 10 Signs
Falling in love is one of the most beautiful feelings ever. This is the point where you are convinced that your world revolves around your love interest, and you cannot wait to spend the rest of your life with them.
Not everyone knows how men behave when they fall in love because they are seen as a gender that tries to suppress their feelings to avoid feeling vulnerable.
However, this article is an eye-opener to understanding questions like what does a man think when he falls in love?
What does it mean for a man to fall in love
When a man falls in love, it is often a life-changing experience because he gets to display some behaviors that he would not show an ordinary friend.
For starters, a man who falls in love will do all he can to keep his crush safe. This is the point of their lives where they would put their crush first because they want to get them.
Therefore, they will put every effort into making themselves happy and feel safe around them.
Also, some men love to show off their crush to their friends because they are happy with them.
Generally, many men are raised to have a gruff exterior. But when a man is in love, he brings down every barrier and gets vulnerable with his crush.
To know more about what to look out for when a man is in love, read Dian Els's book titled: When a man is in love. This book will expose you to some truths you need to know about relationships and men.
What is the outcome when a man falls in love
A man who falls in love often looks like a changed person. Often, there is an increased sense of security consciousness that they display towards their potential partner. They become responsible for whatever happens to their crush.
In addition, a man who falls in love dedicates more time to his crush no matter how busy they are. If you wonder what happens to a man when he falls in love, know that he already has plans to make his crush the center of his world.
How does a man behave when he falls deeply in love
Do some people ask questions like how a man feels when he is in love? Other people might also wonder how men think when they are in love.
While finding the answer to what a man thinks when he falls in love is challenging, here are some signs that tell you how men fall in love.
1. He asks you about your future
When a man falls in love with someone, he begins to picture himself with them in the future. Therefore, he will ask some futuristic questions to know if your plans align with his.
When these questions pop up, he is also trying to build some intimacy with you by showing that he is serious about creating something worthwhile with you.
2. He puts you first
Another way to know what falling in love feels like for a man is when he puts you first in everything. You will discover that he is too selfless to be accurate, and it would look obvious that there is something more to it.
For instance, if he wants to try out something new, he would seek your opinion to interest you. Also, if you have something important to do, he will make himself available even when it is inconvenient.
All these sacrifices show that he is deliberate about making you his partner.
Related Reading: 

What Are the Three Biggest Priorities in a Relationship
3. He is excellent at communicating
When a man is in love, he is eager to communicate with you. If there are issues between the two of you, he would be willing to discuss them and solve them.
A man in love prefers having open and honest conversations because it allows him to understand the situation and provide help.
4. He divulges personal things that he rarely tells anyone
Although not conventional, many men prefer to keep personal information within them instead of bringing anyone in. You would have to be a special person before they reveal some of their "battle scars."
When a man starts letting you know that nobody has heard what he is telling you, know that he has a special interest in you.
This is the aspect of intimacy that many people don't know about. If you wonder how do guys feel when they fall in love, this is one of the signs to look out for.
5. He invests spending quality time with you
A man in love is never too busy for his crush. He will create time out of his routine to spend with you. If he is not in the same city as you, he will make up for this distance by calling and texting regularly.
Then anytime he can see you, he will travel to your location.
The guy understands that spending quality time with you physically and virtually will help build intimacy that will most likely lead to a relationship.
Quality time in a relationship is essential. Here's research by Ignace Glorieux and other authors on the topic: Spouse "Together Time." In this study, you can learn how spending quality time together positively impacts your relationship.
6. He uses "We" instead of "I"
One of the answers to what a man thinks when he falls in love is that he sees the two of you as a union. Therefore, whenever he talks about the two of you, he uses "we" instead of "I."
He says this to give the impression that he wants to be officially identified as your partner. So, you are the core of his consideration in any picture he is painting because he does not want to leave you out.
Related Reading: 

How to Use the Love Languages in a Healthy Way
7. He leaves his comfort zone for you
When a man falls in love, the comfort zone does not exist for him! He ensures that he will give it to you when you need his attention.
Since you are his crush, he will do everything within his capacity to make you comfortable even though it is inconvenient for him.
This is one of the sides of a man's personality that they hardly explore. Men like to look out for themselves before anybody. But once they are in love, they bend those rules for that special person.
On the flip sign, leaving the comfort zone is one of the signs she loves you intensely if you think a woman is crushing on you.
To have an idea of how men and women communicate differently in relationships, check this video:

8. He listens to you
One of the ways that shows how does a man acts when he's falling in love is to listen to you. Everyone hears, but only a few people listen. When a man listens to you, it means he is taking in crucial details of that conversation.
You will know when a guy listens to you when he brings up some tidbits of a discussion you had with him a while ago.
People see men as impatient individuals because not all of them are hard-wired to listen attentively. However, if he listens to you, he is interested in you.
Related Reading: 

30 Signs He Cares More Than He Says
9. He marks his territory in public
When a man marks his territory in public, he tries to warn off other potential partners, informing them that his crush has already been taken.
One of the familiar ways men mark their territory is by showing public display of affection, popularly known as PDA. If you notice that he holds your hands or puts his arm around you, he tries to show everyone that you belong to him.
10. He believes in you, and he is optimistic about your future
Another sign that shows what falling in love feels like for a man is when he puts his faith in your capabilities. If you are trying to talk down on yourself, he stops you. He tries to inspire you so that you can keep trying.
When you mention some fears about your future, he tries to quell them by saying soothing words that keep your fears at bay.
If you need more signs that tell you that he is in love with you, check out S God's book titled: Top 50 signs he's in love with you. This book helps you spot surefire signs to tell you that he has fallen for you.
How do men fall in love
The way men fall in love is dependent on some factors. If a man is accepted for who he is, he could fall in love. For a man to fall in love, he needs assurance that his shortcomings will not be used against him. Therefore, if you can provide that assurance, he can fall in love.
Another factor that makes a man fall in love is recognizing his worth. This means that you are letting him know that he matters. When you do this repeatedly, he can fall in love with you.
Read this article to have a clearer understanding of how men fall in love.
Conclusion
If you once pondered on the question of what does a man thinks when he falls in love, you will understand better after reading this piece. It might look impossible to see through a man because of how tough they claim to be.
However, if you know the signs to look for, you will know when a man is in love and how guys think in relationships.
Share this article on
Want to have a happier, healthier marriage?
If you feel disconnected or frustrated about the state of your marriage but want to avoid separation and/or divorce, the marriage.com course meant for married couples is an excellent resource to help you overcome the most challenging aspects of being married.
Learn More On This Topic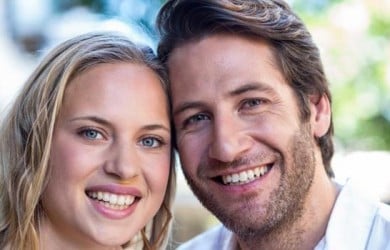 You May Also Like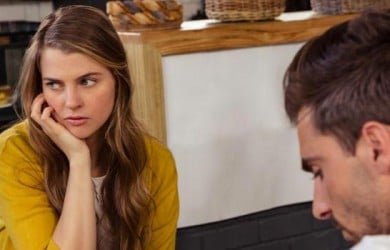 Popular Topics On Married Life