How To Sail Through The Hurdles Of A Marital Life
Marriage is very different today than it was a hundred years ago. The roles of husband and wife are more unclear, and our society seems to have no set rules for them. Even so, most people have great expectations for romantic satisfaction within marriage, as well as high hopes for healing and personal development. Each partner yearns, consciously or unconsciously, for the other to heal their early childhood wounds, and to love, accept, and cherish them.
The journey of marriage
The marriage journey is a hero's and a heroine's journey with many adventures including the experience of facing your fears, finding courage, discovering mentors, learning new skills, and dying to your old sense of self which feels something like depression before it feels like a new and more vital life. It will take time to go on this adventure, but it is a worthy human endeavor. It has the potential to transform your experience of love into something much more intense than you could ever imagine.
Marriages are not smooth
The path of the romantic hero and heroine is not supposed to be a smooth ride. There are no shortcuts. Seeing the world, yourself, and your partner from a bigger perspective is always an intense process of stretching and letting go. Understanding our process for encountering and resolving those experiences in the context of adult development will allow you to reflect on your own life, and inspire you to use the challenges in your marriage for improvement and growth in your romantic relationship.
My husband Michael Grossman, MD(an antiaging rejuvenation physician specializing in bioidentical hormone replacement and stem cell therapy), narrates how we realized and rectified the hurdle in our married life-
"Our story that leads to our own transformation began in our early thirties when late one night, a rare Southern California thunderstorm approached our neighborhood. Barbara had been pressing me to talk about some emotional difficulty in our marriage while I was impatient to get to sleep. Yet the more she pressured me, the angrier I became. I was exhausted from work and was desperate to relax and get to sleep. Every few minutes, a distant flash of lightning flickered in our bedroom, and a few seconds after that some muffled thunder growled. Barbara insisted that I was uncooperative, unreasonable, and unwilling to talk about the issues, but I kept putting her off by saying that I was tired and to wait until tomorrow after we had gotten some sleep. Still, she persisted and we both became angrier.
Barbara kept insisting, until finally, we both exploded. I yelled, "You are so selfish," to which she screamed back, "You don't care about me!"
Anger ensues destruction
Just then, in the middle of our yelling and screaming, a bolt of lightning shook the house with a deafening boom! The huge flash lit up our bedroom like daylight for a moment, and showered fiery sparks through the protective metal grating around the fireplace. A message from the heavens? We were stunned into silence and just looked at each other, suddenly realizing the destructive power of our anger.
Right then and there we both knew we needed to find a better way to communicate and work out our individual emotional needs."
Identify the core underlying cause of conflicts
In every marriage, there are issues that create the same fight over and over again. The fight may take different forms and appear in different situations, but it remains the same conflict at the core. Think about your own marriage and your repeated patterns of unhappiness. A deep commitment to resolve those underlying issues in marriage requires each husband and wife to undertake a healing journey as an individual, and a combined healing journey as partners.
The process of healing my marriage with Barbara required me to learn new skills and acquire new abilities, all of which seemed overwhelming at first. Listening to my wife was something I had to learn to do—even if it was painful.
Michael recalls a sitting in a communication training class and pairing off with a random student and days, he had to listen to his classmate and offer feedback about not only what she said, but also what he thought about her underlying feelings. He was pretty good at paraphrasing what his classmate said, but had no clue about her underlying feelings. Even with a helpful list of words to describe emotions, he failed. It was only then that he realized he needed to grow in this emotional realm of life.
Marital journey is different for both men and women
The hero's journey is somewhat different for a man and a woman. . After a man learns competence in his 20's and 30's, he needs to learn humility in later years. After a woman learns connection, she needs to find her voice in her 30's and 40's. The path of the hero and heroine is not supposed to be a smooth ride. Difficult episodes and life transitions are inevitable in romantic relationships. There are no shortcuts. Seeing the world, yourself, and your partner from a bigger perspective is always an intense process of stretching and letting go.
The idea that something should not be happening to us on this journey or that we don't deserve this emotional pain comes from that part of us that strives to preserve our ego's limited perspective. This attitude blocks progress on the healing journey. From our point of view as a selfish, self-centered egocentric being, we are constantly being shortchanged, cheated, mistreated, and not valued as highly as we expect. From a bigger perspective, as God might look at us, we need to be worked on, cracked, molded, and transformed into a wise and loving being.
The emotional and cognitive development that is stimulated by the conflicts of two personalities in partnership and the simultaneous desire for love and family is both intense and rewarding. It is the catalyst for healing and deepening love. Our purpose is to support your journey so that you fulfill the potential of your marriage.
Share this article on
Want to have a happier, healthier marriage?
If you feel disconnected or frustrated about the state of your marriage but want to avoid separation and/or divorce, the marriage.com course meant for married couples is an excellent resource to help you overcome the most challenging aspects of being married.
More On This Topic
You May Also Like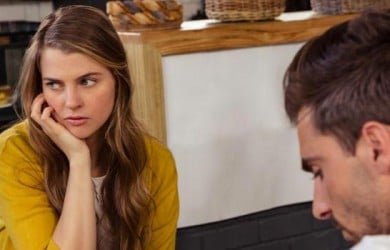 Popular Topics On Married Life