Reverse Psychology: Examples, Benefits and Downsides
Often you end up using a ruse or excuse to ensure your partner does what you want! You tell them that they cannot do it, and they do things to prove you wrong! Well, this method is known as reverse psychology.
In relationships, reverse psychology often offers a helpful solution to mend gaps and issues that may not be solved directly.
What is reverse psychology in relationships?
As per the definition of reverse psychology, it is a method where an individual advocates a behavior that is stark opposite to their desired outcome.
In psychological research, reverse psychology is known as Strategic Self-anticonformity (SSA). Reverse psychology is a technique of manipulation to get what you desire through a negative way.
In other words, it is a persuasion technique in which one does the opposite of their desired outcome to push others to do the work for themselves.
Modern research has proved that reverse psychology can be used as a method of persuasion to generate reassurance in relationships.
How reverse psychology affects your relationship?
Does reverse psychology work? Well, it does. Reverse Psychology can offer quite impressive results in a relationship.
But, the effect depends on how one uses reverse psychology tricks in a relationship. It can be bad or good, depending on your method only.
Related Reading: 

7 Most Important Relationship Psychology Check-Ins
Positive effects:
The use of reverse psychology offers fast and quick results and works well when trying different methods to solve a problem. It might change everything in a few minutes!
Works with argumentative partners
It will work and offer positive results for partners who might argue a lot. For example, if your partner is someone who might disagree with your opinions and suggestions, you can use the policy of reverse psychology in this case.
Helps the partner stay motivated
The method of reverse psychology also works well with partners who might feel uneasy and intimidated when their credibility is questioned. Such people often become more motivated when told that they feel unaccomplished.
As they feel constrained, they might get into proving everyone or their partner wrong with their skill.
Related Reading: 

25 Ways to Motivate Your Husband
Works with rebellious partners
Reverse psychology might also work well with people who may have a rebellious streak in their personalities. Such people often rebel against any opinion to just prove the other person wrong.
Using reverse psychology tricks on such people can motivate them to do what you intend them to do, making your plan successful.
It can also help in improving the self-esteem of the partner. If your partner remains confused and often ends up confused, challenging their credibility can, in turn, make them a bit more confident person who understands what is necessary to become successful!
Negative effects:
Even after so many positive outcomes, there are also negative effects of using reverse psychology in a relationship. If it is not used properly, it might ruin the relationship.
If your partner suffers from low self-esteem or depression, or other mental issues, Reverse psychology might be harmful.
It happens because such individuals often remain unsure about their judgment and may take your opinions literally. This, in turn, can dampen their self-esteem more and might also alleviate their mental health problems.
Similarly, those who do not take criticism lightly may also not respond to this technique as per your wish. You may even ruin your relationship with your partner by using reverse psychology.
In both cases, reverse psychology hinders the personal growth of people. Your partner might not grow and improve as a person at all!
Related Reading: 

Self-Esteem Makes Successful Relationships
Not a long-term problem-solver
Reverse Psychology is not a long-term method. You can use it once in a while, but it will not improve your relationship if you use it continuously. On the contrary, excessive use of reverse psychology damages relationships and internal bonding.
Due to its quick result, reverse psychology often becomes addictive. It may become a coping method of finding short fixes instead of getting a sustainable and permanent solution for problems. Hence, the problem you intend to solve for the core may not get solved at all!
On top of that, using negativity continuously just to get your things done is a bad thing in any relationship. Constant negative comments, even if you have good intentions, might damage the mental balance of your partner.
Your partner may end up becoming distant from you. They might even stop communicating with you due to negative comments and challenges!
Related Reading: 

7 Key Tips to Improve Mental Wellness in Your Marriage
Might create misunderstandings
If you constantly use reverse psychology, your partner might think you do not like them. They might even think that you mistrust them. This will cause them to lose their trust in you as well. The growing issue might even become a serious challenge for a relationship!
So, you need to have a clear idea of how to use reverse psychology in the relationship in the right way to ensure the relationship remains unharmed.
Examples of reverse psychology in relationships
Are you still confused about using reverse psychology and what it means? Then here are some examples of reverse psychology in relationships for you-
Case 1-
Consider a possible scenario involving a couple- A and B. A and B often have arguments as B often ignores the house chores and spends his time on other work.
His partner A has tried a lot but failed to change this behavior. Hence, A decides to use reverse psychology on B and declares that B cannot complete certain house chores.
This, in turn, causes B to feel constrained, and he feels that his credibility is not enough. To prove his skill and worth, he might get more motivated and complete all the tasks on time.
Even though he feels that he proved A wrong, A made him change a bit!
Related Reading: 

Love and Marriage Psychology Facts
Case 2-
In this case, a man has romantic feelings for a woman, but the woman is not interested. The man starts to avoid that woman and pretends that he doesn't care about her. This reverse psychology method in dating might even change the whole course towards positivity!
This ignorance will hurt the woman, and she will find new ways and methods to make that man notice her. Throughout the procedure, the woman may start to give more importance to the man and may even fall for him in the end, thus making the whole plan of reverse psychology successful!
5 ways to use reverse psychology in your relationship
You already understand how reverse psychology works in relationships! But, to get the benefits, you need to devise the right methods of using this manipulative technique.
Here are five excellent ways of using reverse psychology in your relationship to gain positive effects-
1. Always use a little white lie to encourage in a positive way
The best method of using reverse psychology on a man or a woman who is your partner is telling a few white lies. If your partner is someone who might be stubborn and stern, it works well! If they tell you that they have proved you wrong, praise them with white lies.
Watch this video to understand whether white lies are good:
2. Ensure that there is a sense of scarcity
You have failed to convince your husband to doon a certain task! It is the right time to use reverse psychology on your husband. But you need to create a sense of scarcity to ensure the method yields positive results!
He might jump directly into work to fill the gap and do the task you want them to! This method does not hamper anything as it creates a sense of demand that the partner tries to fulfill!
Related Reading: 

15 Ways to Improve Emotional Support in Your Relationship
3. Make it appear that your partner had the idea first
The method of reverse psychology is all about secret manipulation. So, why not manipulate everything further with a new twist! Make Your partner think that they offered the idea. This will make them think that they are in control of the situation and willingly work for you!
You do not harm their egos or mental state while getting the work done!
4. Consider giving them some reward
Rewards after successful work can encourage any person from their heart! So, ensure your partner gets rewarded after the task is done. This will make them feel proud even when using reverse psychology on them.
Here is an example. Let's suppose your partner never helps you after the family dinner. Instead of coaxing, just say, "If you prove me wrong, I will make your favorite dessert/dish for tomorrow's dinner!" or anything like that.
This will make them motivated to prove you wrong. On the flip side, your partner will also get a reward from you! This makes the whole procedure more holistic and approachable!
Related Reading: 

The Psychology Behind Love and Romance
5. Sound confusing while using this method
You can get a little creative instead of directly challenging your partner through reverse psychology. Try to sound confusing and encourage them to prove it by their action. Your confusion will work as a motivator!
Takeaway
Reverse psychology uses a negative attitude towards other people to get your intention fulfilled through them. Is reverse psychology manipulation? Well, it is, to some extent!
But, if you can use reverse psychology in a better way with positivity, it will offer great results without harming anything. On top of that, it is best used once in a while in moderation for better results!
Share this article on
Want to have a happier, healthier marriage?
If you feel disconnected or frustrated about the state of your marriage but want to avoid separation and/or divorce, the marriage.com course meant for married couples is an excellent resource to help you overcome the most challenging aspects of being married.
Learn More On This Topic
You May Also Like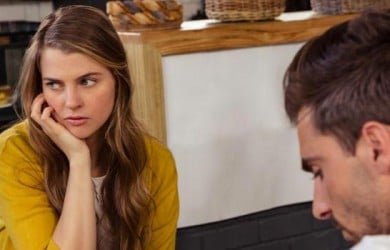 Popular Topics On Married Life