15 Tips to Build Resilient Relationships
Have you ever wished for a suit of armor for your relationship? Something you could wrap around the person you care about to protect your precious love from anything that's out to harm it?
Look no further than resilient relationships.
Why is resilience important to a successful romance? Resilience is the very thing that separates strong relationships from ones that crumble under pressure. It's the backbone of your romantic life when things get hard.
What is the importance of resilience?
Keep reading to find out the characteristics of resilient relationships and learn how to implement them in your love life.
What are resilient relationships?
A resilient relationship definition can be defined as emotional strength and psychological resilience. It's the ability to recover or easily rebound from adversity.
Why is resilience important to a relationship? The importance of resilience is that it becomes a strength to you in all avenues of your life.
When you are resilient, you have the courage to push through difficulties in your life, no matter what they are.
This determination, when focused on a romantic relationship, can help you and your partner overcome obstacles and grow closer as a couple.
What are the benefits of resilient relationships?
As a resilient person, you have the understanding that you can handle hard things. You can overcome challenges and come out happy and successful on the other end.
This comes in handy when you are in a rough patch in your relationship, whether it be financial, distance-related, boredom, or betrayal. You know that as long as you commit to strengthening your relationship, you'll come out successful.
This leads to such relationship benefits as:
Building trust in one another

Developing a deeper

emotional connection

Having an excellent sense of self
It's clear why resilience is so important to relationships, but how can you build it for yourself?
15 tips to build a resilient relationship
What is resilience? It's having tenacity when you come upon a trial. It's knowing that the right relationship is worth all the effort in the world to save.
Keep reading for tips on how to build emotional, mental, and psychological resilience in your relationship.
1. Be determined to make it work
Psychological resilience is all about setting your sights on your goal, a successful relationship, and driving towards it until you reach your destination.
That isn't to say you should barrel along in your relationship if your partner isn't fully on board with you.
Rather, use your strength and resilience to muscle through parts of your relationship that are unpleasant, knowing there's a rainbow on the other end of the storm.
2. Be optimistic
What is resilience? Sometimes, it's showing a little optimism.
A good attitude can help build psychological resilience. Things might not be great in your relationship right now but know that if things were once great between you, they could be great again with a little effort.
3. Don't ignore your problems
Why is resilience important when it comes to problems? Because it's easy to ignore things that are hard or have the potential to hurt you.
Facing a problem head-on means you have to put effort into your relationship. It's confronting the knowledge that something is broken and needs fixing.
When you have the strength to deal with your relationship issues, you help boost trust between you and your partner.
4. Learn how to communicate effectively
What is resilience? It's effective communication.
A strong person who is willing to commit to a relationship knows the importance of communication. It's how couples deepen their love for each other, how they problem-solve, and how they grow as a couple.
5. Be gracious
Resilient relationships are full of graciousness.
Research shows that gratitude is a high motivator in partner happiness. The more gracious couples are with each other, the more likely they are to make relationship maintenance a priority.
6. Practice self-control in resilient relationships
Having self-control takes strength and resilience that is definitely worth building.
This strength will help prevent you from saying things you don't mean in the heat of a moment, making rash decisions, and doing something potentially hurtful to your spouse.
7. Accept your partner for who they are
A large part of psychological resilience is acknowledging and accepting the things you cannot change.
And one thing we've learned? People don't change unless they want to change.
So instead of looking for ways to reinvent your spouse, focus on all of the wonderful things you love about them and accept them for who they are.
8. Listen to your spouse
What is resilience? It's learning to listen.
It takes strength to sit quietly when your partner is sharing something with you. You may want to interrupt to correct a point they're making or to explain yourself, but you will strengthen your relationship when you take the time to listen.
Related Reading: How Does Listening Affect Relationships
Check out this video to learn about listening skills in your relationship:

9. Learn the art of forgiveness in resilient relationships
Why is resilience important when it comes to forgiveness?
Let's face it. It isn't always easy to forgive someone who has hurt your feelings. It takes strength and resilience to rebuild trust and commit to staying together.
Sometimes resilience builds a relationship, but sometimes relationships build resilience through trials. If you've been hurt by your partner, one of the biggest displays of strength and resilience is forgiveness.
10. Develop problem-solving skills
What is resilience? It's knowing how to solve problems in your relationship.
So many of the marriage problems that plague couples today could be fixed if they simply:
You can develop resilience in your problem-solving skills by being open to reassessing when something isn't working. Be level-headed, adaptable, and flexible. Take time to think about your issue before springing into action.
11. Be decisive in resilient relationships
Why is resilience important? The importance of resilience is that it helps you become a better, stronger person. In turn, this makes your relationship stronger, too.
Don't flip-flop on your decisions. Being decisive means, you aren't afraid to make decisions and go for exactly what you want.
12. Share your needs
Emotional intimacy is essential to a happy relationship. In fact, the longer a couple stayed together, the more likely they were to emphasize the importance of emotional intimacy over sex.
When you share your needs, thoughts, and feelings as a couple, you strengthen your emotional connection with your spouse.
Is there any importance of resilience in relationships when it comes to building emotional intimacy? Yes. It takes strength to connect and to be vulnerable. It also takes strength to hear your partner out on emotional matters.
13. Don't compare
Everyone has different thresholds of what they can handle. You do yourself a disservice to compare your emotional, physical, and psychological resilience to someone else's. Be determined to make it work.
14. Have a good sense of self
What is resilience in relation to self-esteem?
The higher your self-esteem, the less helpless and confused you will feel when you face hardship in your relationship.
When you know exactly who you are, you can carry confidence into your relationship. But to have good self-esteem, you need to spend some time making yourself into the person you want to be.
Your relationship should be a priority in your life if you want to make it successful, but so should your mental health.
Make sure you are spending time with your friends and getting some solo time in to practice your hobbies and pursue your goals. This will help boost self-love and esteem.
15. Know when to ask for help
What is resilience? It's strength in yourself, but don't forget there is also strength in knowing when to ask for help.
Studies show that support from loved ones can significantly lower psychological distress, so don't be afraid to ask your partner, friend, or family member for help if you're feeling overwhelmed with your situation.
Think of building resilient relationships as you would swimming a long distance. It's much easier to do when you have a lifejacket on. Similarly, a relationship isn't a solo project. If you are working at it alone or without your lifejacket, it's easy to feel like you're drowning in the waves.
Know when to ask for help and when to call it quits.
Conclusion
Resilient relationships consist of partners who have strong psychological resilience, determination, and drive.
Why is resilience important?
The importance of resilience is simple. Relationships are hard. They are messy. People are imperfect, and sometimes they screw up and hurt you in a way that can be damaging if you don't grab hold of it.
What is resilience? It's the ability to power through rough patches even when you feel like giving up. It's loving your partner, learning to forgive, communicating effectively, and staying strong when your spouse needs you the most.
Share this article on
Want to have a happier, healthier marriage?
If you feel disconnected or frustrated about the state of your marriage but want to avoid separation and/or divorce, the marriage.com course meant for married couples is an excellent resource to help you overcome the most challenging aspects of being married.
More On This Topic
You May Also Like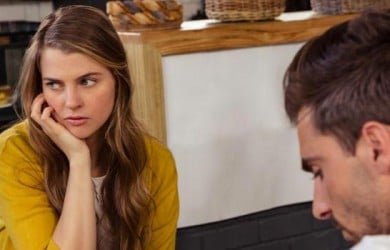 Popular Topics On Married Life