6 Tips to Stay Resilient & Strengthen Relationships Amid Covid-19
To say 2020 has been a challenging year would be an understatement. At the end of 2019, we were blissfully unaware that our lives would shortly change as a silent threat emerged.
The Coronavirus pandemic resulted in falling economies, failing businesses and livelihoods, and sadly the loss of life.
Isolation, social distancing, job losses, panic buying, home-schooling, and spending far more time at home with family and working from home, if you were fortunate enough to have employment, are the new norm. With weddings canceled, funerals with only a few people, and everything else, it feels the world has spun off its axis.
During COVID19, we experienced Black Lives Matter protests that saw people take to the streets in mostly peaceful demonstrations with some violent incidents.
We watched in disbelief at the fury that was unleashed, mainly in the US, and unfortunately, this overshadowed the many peaceful protests that took place all over the world.
The pressure has been relentless in 2020. If you felt that your capacity and resilience tested, they were. And they will be further tested in the months ahead.
The need for strengthening relationships
The saving of lives meant that our way of life had been assaulted. Our new normal is one where we need to adapt.
Amongst stories of horrific hardship where we were all navigating in unchartered territory, came stories of beautiful connections and human kindness. Those who have resisted technology showed motivation to master Facetime and Zoom for seeing their loved ones, and strengthening relationships.
We can adapt, and we must adapt. It is how humanity has survived.
In the words of Charles Darwin, "It is not the strongest of the species that survives, nor the most intelligent that survives. It is the one that is most adaptable to change".
So, how to overcome difficult times? And, how to strengthen your relationship?
You and your partner in a marriage can remain resilient by following a few healthy relationship tips. Working on these together will undoubtedly help in strengthening your relationship during this extremely stressful period.
Mental health was given early consideration by government policy and programs in this COVID19 era, and rightly so. Guarding our minds and mental health is critical to being adaptive and resilient.
The tips below help us to adapt to this new normal, which, it seems, is here to stay.
1. Stay informed, but do not drown in information.
Early on, we may have been consulting news items 1 – 2 times an hour. We could have felt overwhelmed and stressed.
Is the school returning? Where are the latest cases? Where can I get toilet paper? Can I travel?
So, how to make a relationship better amid this chaos?
You need to know just the essential facts and save yourself from drowning in an overdose of information for strengthening your relationship with your near and dear ones.
2. Establish and maintain routine
When lockdown first came in, and many of us found ourselves at home, it seemed like a novelty. Working in PJ's until an online meeting required us to get dressed. Home and work life merged like never before.
That novelty has well and truly worn off for many. People are settling in for this to be the new norm. The speculation that these experiences will forever change the work landscape adds to the uncertainty.
As creatures of routine, we need to establish and maintain a routine for staying resilient and strengthening relationships.
Get up at the same time, do some form of exercise, get dressed, and start your workday, break for lunch, and log off at a finish time. Don't be tempted to check emails while having dinner.
Cook yourself a healthy dinner and sit down at the table and converse with others (if you live alone, connect with someone on Zoom for a dinner date).
3. Exercise
Keeping active is important. Whether heading outside for a walk, fitness equipment in the home, yoga on YouTube.
It all adds to a sense of physical and mental well-being. The release of feel-good endorphins that you get from even a short walk can linger throughout the day.
If you haven't done much previously, start small and make it a habit.
Make the walk that little bit longer, increase the resistance of exercise each day. The incidental exercise we previously had in the day to day life, we now need to replicate.
Getting out where we can is treasured. Never have there been so many people on walking tracks (practicing social distancing).
In parks and tracks around the country, people bask in fresh air, nature, bush or beach, and feel all the better for it. We might catch a few rays of sunlight, which is great for our mood.
Fresh air and a change of scenery give us perspective and possibly time apart from our family, who while we love, we have never spent so much time with.
4. Stay connected
If we had to have this Pandemic, we could be grateful for technology, which has allowed many of us to continue working.
It has also allowed families separated by distance to stay connected and enjoy seeing each other online, which certainly has aided in strengthening relationships.
Technology has helped fathers be present via digital technology for the birth of babies. Religious services have been delivered online.
We are creatures that not only want connection. We need it. Even the most introverted of us need to connect with others. FaceTime, Zoom, and Skype have delivered the next best thing to hugging loved ones.
Those exchanges help people feel a part of each other's lives. If you are still yet to Facetime, Zoom, or Skype – it's never too late to start. Even dating is being done online these days, even the dinner dates!
5. Ask for help
Even with routine exercise, fresh air and nature, and connection can still leave us feeling anxious, depressed, and overwhelmed.
You may feel overwhelmed by circumstances that are not of your choosing, and you may feel caught between gratitude and guilt because conditions have been favorable to you. Or it may be you may not be able to articulate your feelings because you have never experienced it before.
Be kind to yourself. You don't have to suffer and bear it. We are all in this together. If you have friends that you can reach out to and connect with, do so.
You may feel that you want anonymity in your disclosures. Use the services that are available to us. Beyond Blue, Lifeline, and many other services for strengthening relationships and staying resilient.
If you find yourself thinking that someone else needs this service more than you, stop. You are worthy of services that are designed to support everyday people just like you in these circumstances.
Also Watch:

6. Take pleasures in simple things.
There is much to be said for taking the time to enjoy the simple pleasures. It may be that you can't meet up with your friends for that dinner or lunch as you would want to.
Find another way, make dinner at home, and enjoy their company there (within the rules as to numbers).
Adapt for staying resilient and strengthening relationships!
Wrapping up
We are going to get through this. There is no doubt. We will adapt, and in this golden age of technology allows us to remain productive and connected, we will prevail. And we will prosper.
Small deeds give hope. Whether it's a smile, a conversation, lending an ear to someone who needs to connect, supporting local businesses, we all have the power to help others, help society and, in doing so, help ourselves.
Share this article on
Want to have a happier, healthier marriage?
If you feel disconnected or frustrated about the state of your marriage but want to avoid separation and/or divorce, the marriage.com course meant for married couples is an excellent resource to help you overcome the most challenging aspects of being married.
More On This Topic
You May Also Like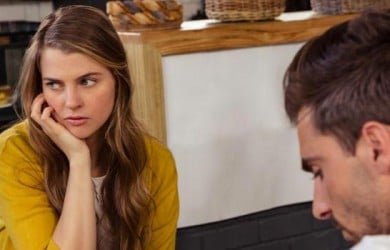 Popular Topics On Married Life