Dating a Therapist: 15 Pros and Cons
While growing up, we may wish to date people in popular professions. Some of these choices may be to inspire us, elevate our status, or just for its pleasure. But have you ever wondered how it feels to date a therapist?
Therapists are known to help people deal with emotional, psychological and physical issues. They also handle dating therapy and relationship problems. Their job is to determine your personality or behavior by talking to you. With these facts in mind, it can be challenging and yet alluring to date someone in this field.
If you are in love with a therapist or dating a therapist, it's normal to feel vulnerable around them. However, you must understand that therapists are humans too.
While their job is to dissect the human mind, it doesn't mean they don't function like others or have similar weaknesses and strengths. Some therapists have their own therapists who help them work through their issues in life. So, you might not even realize that you are dating someone who is a therapist for others.
So, if you've asked yourself, "Can I date my therapist," or "Can a therapist date a patient," the answer is no!
As per the American Psychological Association's Code of Ethics (Section 10.05), a therapist is barred from dating a current patient. Furthermore, in the American Counseling Association's Code of Ethics (Code A.5.b), a therapist is prohibited from having an intimate relationship with a client for five years.
However, there is nothing ethically or legally wrong with dating a psychologist that is not treating you currently or in the recent past. But like other things in life, dating a psychologist has its pros and cons. Read this article to find out more about it.
Related Reading: 

How to Date Someone: 15 Best Dating Rules & Tips
What is it like dating a therapist?
If you are in love with a therapist, it's normal for you to seek some answers. After all, this is someone trained to lend their understanding to their patients and that may have implications for a partner that they choose to be with.
Meanwhile, some people think therapists are usually put together and in control of their thoughts so that they can handle their partner's issues. All these opinions are far from the truth.
Dating a therapist is mostly like dating any other person. It may shock you that therapists don't have all the answers or know everything about the human mind. Just because you are in love with a therapist doesn't mean they will help you solve your life's issues.
Your therapist partner may be good at helping others, but their objectivity is compromised when it comes to their loved ones.
A therapist partner would likely refer you to their colleague than treat you, should you need a therapist. So, if you are considering dating a therapist, you must be open-minded and outspoken.
Related Reading: 

Dating vs. Relationships: 15 Differences You Must Know About
It would help if your communication skills are top-notch when dating a shrink. The small and significant issues matter, and you must be ready to discuss them with your therapist partner.
Therapists can be detail-oriented and expressive. As such, they may expect the same level of compliance from you.
One thing you won't regret when dating a therapist is that they don't usually avoid or dismiss issues in their relationship. They are likely to try and make things work out with you. But that doesn't mean your relationship will be perfect.
There are some clear pros and cons of being a therapist that directly lead to the pros and cons of dating a psychologist.
10 pros of dating a therapist
As someone who deals with human emotions regularly, rest assured that therapists have much to offer you. They have the expertise to understand others and help them feel better. That means your therapist partner might make you more expressive in the relationship.
They understand the crucial role of healthy communication, so they are more likely to hear you out. Below are the advantages of dating a therapist:
1. They are reliable
One of the benefits of being in love with a therapist is that they are usually reliable partners. When you have a therapist partner, know that you can always have a shoulder on which to cry.
A lack of trust is a significant issue in a relationship; without it, no relationship can last long. Thankfully, therapists often keep to their words as this skill is essential to maintain their professional obligations and patient satisfaction.
2. You can be vulnerable with them
Vulnerability is something many of us fear. The thought that others will know everything about you can make you feel exposed. However, you need not be scared when you are dating a therapist.
A therapist's job is to make their patients feel safe and comfortable while talking. Therefore, you can usually expect the courtesy extended to their partners as well.
Your therapist partner can ensure that discussions on matters are without judgment or criticism. Their goal is usually to understand you better and come up with a solution.
3. They are empathetic
Emotional intelligence is at the core of a therapist's career. Without a high emotional quotient, you can't be a good therapist because the goal is to understand a patient's feelings, and emotions, before helping them.
Also, one of their skills involves putting themselves in a client's shoes to understand their situation better. You may not be a patient, but you hold a crucial position in your partner's life. Therefore, you can be heard and understood better.
Related Reading: 

How to Build Empathy in Relationships
Check out this video to learn more about emotional intelligence:
4. You may be supported
A therapist can offer you proper emotional and psychological support regardless of the relationship stage. They've studied human behavior and know how the brain works. Therefore, they are more likely to be there for you because it's a skill ingrained in their profession.
Whatever problems you may have, whether a family issue or friendship problem, they can back you up by analyzing the situation and help you come up with solutions.
5. They understand your personality easily
Understanding a person's personality is key to getting along with anybody, but it's not always easy. Luckily for you, your relationship can blossom if you are dating a therapist. That's because they understand human psychology and personality.
Even when you don't talk, therapists can tell a lot from your body language. When someone knows what triggers you at a particular time, they can work their way around you without offending you. While this can feel like an invasion of privacy at times, it ultimately helps your partner understand you better.
6. You enjoy great conversations
There is probably no dull moment when you're in love with a therapist. Every discourse can be fun, thought-provoking, and enjoyable. Also, there are usually no limits to the topics you can delve into, and thus, you won't find any conversation boring.
Therapists are skilled in steering discussions in the right direction, in a way that can make you feel safe and comfortable. Besides, they usually also know how to ask the right questions, such that you give answers willingly.
Related Reading: 

12 Ways to Have an Intimate Conversation with Your Partner
7. They give good advice
Another advantage of dating a therapist is that they can help you make an informed decision without forcing their own opinion on you.
Advising people is an intricate part of a therapist's job. But they usually don't feel the need to force their perspective on you.
Usually, a therapist works with you around your current situation by asking you vital questions. They offer their advice based on experiences and your current situation.
8. They teach you patience
Therapists work with different people to solve their emotional, psychological, and physical problems. These are issues that affect people's lives. Therefore, understanding the patients requires a high level of patience before coming up with solutions.
If you are dating a therapist, they can be patient with you. And even if you are may get impatient, your partner won't worry much but focus on getting to the root of the matter. As time passes, you might emulate your therapist partner's behavior.
Related Reading:

 15 Ways to Have More Patience in a Relationship
9. You can be yourself
Therapists deal with different situations regularly, but they don't get moved by them. That doesn't mean they don't empathize with or understand their patients' concerns.
Therapists are trained to allow people to talk freely with them. Therefore, you can be yourself around them without thinking of their opinion or fearing judgment and criticism.
10. They genuinely care about people
Sometimes, it looks like therapists act the way they do because of their education. But the truth is, these people mostly want to help people.
Choosing to be a therapist means that they likely care a lot about the mental and psychological well-being of others. They are probably selfless and learn to put others' needs above their own. If you are in a relationship with a therapist, you may get the best care.
5 cons of dating a therapist
Every situation, including dating a therapist, brings certain drawbacks that can add to your stress. However, if you understand these drawbacks better, you can be prepared for them and find ways to handle them better.
Besides the compelling advantages you may get when dating a therapist, below are the cons you might face:
1. Therapists might lack boundaries
Sometimes, dating a therapist means that you are with someone who is constantly trying to psychoanalyze you, without even realizing it.
When considering the pros and cons of dating a psychologist you must consider the possibility that they may point out things that are wrong in your conduct and the possible reasons behind it. This can get frustrating if it happens too often or if you are not ready to be in an involuntary therapy session with your partner.
2. A therapist isn't perfect
Truly, therapists help others become aware of their problems and help them solve them. However, this doesn't mean they are flawless. In fact, they may be someone in therapy themself.
Therapists are just human like you and will make mistakes here and there. Therefore don't judge them or think they should be able to handle certain situations easily.
Related Reading: 

10 Tips to Creating Your Perfect Relationship
3. They value their time
With the nature of their job – attending to patients and profoundly caring about them – you may realize they spend lots of time with other people. Their patient care might keep them busy and occupied. Ultimately, this might affect your relationship, especially if you always want to be with your partner.
4. They sometimes get too much involved in other people's issues
Remember that therapists care a lot about other people. They can sometimes get buried in work and become emotionally invested in their patients' matters. On rare occasions, this might affect your relationship with them.
For example, a patient might call them in the middle of the night, demanding to talk. While this isn't acceptable professionally, it does happen, and therapists can sometimes get carried away. You might get mad if you are with your partner at this point.
5. They may get too tired
Asking yourself, "I am dating my therapist. What am I in for?" When you are dating a therapist, you might find out they deal with fatigue often. Listening to different stories and coming up with unique solutions daily can be demanding.
When therapists eventually get a break, they may focus on resting and bouncing back. Unfortunately, that might mean not having enough time for their partner.
Related Reading: 

15 Reasons Why Quality Time Is So Important in a Relationship
Final thoughts
There are pros and cons of being a therapist that can affect your relationship with them.
While it feels like a therapist knows the way around your mind, it doesn't mean a relationship with them is a bad idea.
For example, therapists understand you better, and you have someone you can communicate with freely. They can also be supportive and great at giving advice.
Nonetheless, being a therapist comes with baggage that might affect your relationship. It is best to consider your options, in line with the points in this article, before making any decision.
Share this article on
Want to have a happier, healthier marriage?
If you feel disconnected or frustrated about the state of your marriage but want to avoid separation and/or divorce, the marriage.com course meant for married couples is an excellent resource to help you overcome the most challenging aspects of being married.
More On This Topic
You May Also Like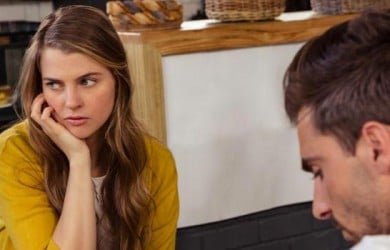 Popular Topics On Married Life