How to Deal With Procrastination in the Relationship-12 Tips
In today's day and age, distractions and noise abound everywhere, pulling us away from our goals and priorities. Many seek helpful advice and solutions on how to deal with procrastination. Couples and individuals alike are looking for ways on how to curb this bad habit and find the motivation they need to get things done.
Being a procrastinator does not necessarily translate to being lazy. Procrastinators often feel profound remorse for the things they haven't done, often leading them to find ways to deal with procrastination.
The effects of procrastination can affect all areas of our lives, including our relationship with ourselves and the people around us.
So how do you deal if you or a partner is a procrastinator?
Let's have an in-depth discussion on the topic of procrastination and learn ways to overcome feeling stuck, unhappy, and unmotivated.
What is procrastination?
The origin of the word comes from "pro" which means forward, and "cras," which means tomorrow. Procrastination is the voluntary act of postponing or delaying a task or an activity, a habit that means putting tasks up to the last minute or past a set deadline.
Humans have the natural tendency to circumvent and avoid feelings of fear and disappointment when faced with overwhelming tasks and responsibilities. However, chronic procrastination can have some profound effects on the life of procrastinators and those around them.
One online study about dealing with procrastination cited that almost 20% of the adult population are chronic procrastinators.
So what is a procrastinator?
A procrastinator is someone who consciously puts off decisions and actions. They can delay doing the action by getting distracted easily, or meaning to avoid completing a task or dealing with a problem or a situation by focusing their time and energy on trivial matters.
Since procrastinating can be detrimental to almost all areas of our lives, and especially with our relationships, many are keen on finding effective ways to deal with procrastination.
What are the types of procrastinators?
Procrastination is a normal human reaction. Even accomplished and highly-driven individuals do procrastinate. A career-oriented person can come up with excuses to delay accomplishing something for whatever reason they can think of.
To better understand and successfully effect procrastination overcome, let's have a look at the 4 types of procrastinators:
1. The delayer
Delayers often put off tasks because they often worry about going out of their comfort zones. This way of doing things may work a few times. However, this habit is not sustainable and can cause a lot of stress.
2. The perfectionist
Fear of failure is often the main reason why perfectionists defer in accomplishing their tasks. They often equate success with how well they performed something. These effects of procrastination paralyzed perfectionists because they wait for everything to be perfect before they started doing something.
3. The easily distracted
People who are easily distracted find it hard to hyper-focus on their tasks. This type of procrastinator is the most common and can be experienced by everyone. Many of us have trouble starting and finishing our work because we often look for ways to get stimulated, which in turn allows us to lose our focus and attention.
4. The performer
This type of procrastinator forces themselves to believe that they are at their best when they work under pressure. They often survive by putting pressure on themselves to deliver at the last minute.
We may feel distracted and unmotivated from time to time. The secret is not to fall into the trap of this common avoidance behavior. When you know what type of procrastinator you and your partner are, you'll know what your challenges are and how to overcome them.
How can procrastination affect your relationship?
One of the main procrastination causes and effects is how damaging it can be to our relationships, most especially to our partners. Couples may struggle if both or any of them avoid doing and talking about issues that affect them.
A couple or a partner who procrastinates can eventually sabotage their relationship. An indirect effect of procrastination involves affecting one's self-esteem, anxiety level, and depression. A procrastinator often feels remorse which can affect their well-being and personality.
Other effects of procrastination include feelings of guilt and mounting frustrations. These negative effects of procrastination can be detrimental to how you deal with those around you, especially your loved ones.
Dealing with procrastination is one of the best ways we can nourish our bond and intimacy with our partners. It affords us the time and freedom to be with the people who matter most.
Related Reading: What Should You Do If Your Wife Is Lazy?
How to deal if you or your partner is a procrastinator?
If you or your partner is a procrastinator, you may be looking for ways on how to deal with procrastination. First and foremost, you must accept and love your partner for who and what they are.
Before you or your partner get annoyed and impatient with your bad habits, here are some helpful strategies for dealing with procrastination:
1.
Have the right mindset
It is advised to go easy on yourself or your partner for having procrastinated. Being too hard on yourself can keep you down and make you feel more stressed.
2.
Get your task done
Staying committed and consistent is one solution to procrastination. Procrastination's worst enemy is your ability to just get things done.
3.
Break down overwhelming tasks
Take one step at a time. Young Scott's advice on how to deal with procrastination is to break up your tasks into small actionable steps. This strategy gives you structure and a sense of accomplishment.
4.
Buddy up on Your accountability
Another thing you and your partner can do is to work together and remind each other. Being each other's accountability partners can be a way for you to bond and strengthen your relationship.
5.
Eliminate distractions
A seemingly simple and innocent distraction can be enough to cause you to lose focus and interest in the task at hand. If you always check your phone, you and your partner can agree to keep it away while working on something so as not to get distracted.
6.
Create a schedule or to-do list
Creating and using a schedule and to-do list is a simple yet effective way of dealing with procrastination. Both of you can create your own set of schedules for individual tasks. Or you can both list tasks you can work on together.
7.
Get excited
One of the facts about procrastination is that the beginning is the most daunting. Set the mood, pump up your adrenaline, and get excited. You can play upbeat music to set the mood before embarking on your, let's say, house cleaning or gardening.
Related Reading: 8 Couple Bonding Activities to Strengthen the Relationship
8.
Set a timer
Setting a timer is one of the ways on how to handle procrastination. This strategy creates a false sense of pressure that you need to finish the task in a specified time. It conditions your brain to get competitive and allows you to finish a task before the set time.
9.
Use rig words
As humans, we don't like it if someone bosses us around and tells us what to do.
Rephrase how you order yourself or your partner when you want something done. Use the words "I choose to" instead of "I need to" or "I have to." Doing so makes you and your partner feel more empowered and inspired.
10.
Apply the 5-minute rule
The 5-minute rule is a popular solution to procrastination. Self-help experts recommend giving yourself 5 minutes of complete uninterrupted work. It usually takes this long to get someone motivated.
Check out this video to know more about the 5-minute rule:

11.
Keep trying
Remember how badly you and your partner want to kick off this bad habit. Just keep trying. There are days when you may feel like it is a big challenge, be patient with yourself and your partner and keep trying.
12.
Reward yourself
As with any endeavor, a reward is sweeter if you accomplished something. It is easier to get things done if you are thinking of a reward if you have accomplished something challenging. When you celebrate small wins, it gives you a sense of motivation and accomplishment.
How to tell if you or your partner is procrastinating?
As mentioned, procrastination is not necessarily bad. However, not knowing how to handle procrastination can cause serious relationship problems.
Below are some common signs if you or your partner is procrastinating:
You don't meet deadlines

You get distracted easily

You feel a strain in your relationship

You make excuses

You become bored

You don't set realistic and achievable goals.

You are always late

You find yourself doing petty and non-essential tasks
Living with a procrastinator can be challenging, and if not addressed, it can be a contributing factor to your mental and emotional distress.
Why do partners procrastinate?
Before you ask yourself the question of how to live with a procrastinator, it is best to dig deeper and find the reason why partners procrastinate.
One of the most common reasons why our partners procrastinate is that they may feel overwhelmed with certain tasks. Sometimes, it is easier for them to avoid or delay facing and doing something they thought to be difficult or unpleasant.
They may also feel insecure about the task given them. They may feel that they do not have enough knowledge or expertise and that they are not good enough.
Another possible reason why your partner lacks the drive and motivation is because they are afraid to fail. They are afraid of disappointing you or making you feel bad.
Lastly, your partner procrastinates because they don't want to be bossed around and told what to do. Your partner might feel that you are being too controlling, and as an act of resistance or defiance, they refuse to follow your orders.
What to do when your partner is procrastinating?
If you notice your partner procrastinating, refrain from being too controlling and trying hard to change his behavior. Take a deep breath and accept your partner's limitations and shortcomings.
Be patient and supportive, then work with them in shedding the habit. Control the urge to push them and tell them what to do. Instead, offer constructive advice and help. If you keep on nagging about their behavior, they'll be more likely to ignore, or worse, resent you.
Sounding too controlling and condescending can be a cause of tension in your relationship.
Help your partner by making a list of what needs to be done and stop verbally reminding them about it. Thank your partner once they have accomplished their tasks and make them feel loved and appreciated.
5 most common reasons why we procrastinate
We know procrastination has dire consequences, yet somehow, we fall into the trap of leaving things until the deadline, or worst, not doing them at all. You may think procrastination is ruining my life.
Here are 5 of the most common reasons why we love to procrastinate.
1.
Unpleasant task
People don't like doing difficult or boring tasks, that's why they wait until the last minute to get on with it.
2.
No define structure
The absence of a defined direction can be a contributing factor to why we procrastinate. When there is no structure in place, we tend to get too easily distracted.
3.
Lack of commitment and interest
We tend to avoid and delay doing something we are not interested in or something that we are not fully committed to.
Related Reading: 15 Signs of Commitment Issues and How to Overcome Them
4.
Resistance
Rebellion and resistance are common factors on why we or our partners procrastinate. Sometimes, a task is easy to accomplish, but we refuse to do it because we want to rebel, especially if we feel mistreated and unloved.
5.
Fear
Fear is a strong drive that can paralyze us into taking action. Most of the time, especially in romantic relationships, when we are not 100% sure of the outcome, we fear that we may fail or get disappointed.
Conclusion
The reasons why you or your partner procrastinates stems from various reasons and influences. Although procrastination at some point is normal, we should not let this unpleasant habit and the effects of procrastination get the best of us and our relationships.
Whether you are a procrastinator or it is your partner who loves to put off things, the key to addressing the problem is to tackle the situation. Procrastination can become a serious issue and can cause problems in your relationship if not promptly mitigated.
Dealing with procrastination means proactively addressing our issues to avoid further problems and complications that can affect our relationships with ourselves and with others, especially our loved ones.
Share this article on
Want to have a happier, healthier marriage?
If you feel disconnected or frustrated about the state of your marriage but want to avoid separation and/or divorce, the marriage.com course meant for married couples is an excellent resource to help you overcome the most challenging aspects of being married.
More On This Topic
You May Also Like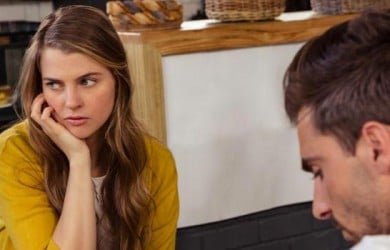 Popular Topics On Married Life