How to Deal With an Alpha Female in a Relationship: 11 Important Tips
Words such as strong, determined, and assertive are some of the traits of an alpha woman. How do you deal with an alpha female in a relationship? Read this article to the end to find out.
What is an alpha female?
What's an alpha female in a relationship? How can you recognize one, and why am I attracted to alpha females?
The above questions and more are on the lips of many people. This isn't unexpected. After all, we have primarily heard about alpha males and their influence on relationships.
Years ago, women were expected to be laid-back individuals. They are expected to take on domestic work or no work at all. In Particular, you aren't likely to have equal opportunities as men. Thanks to education and technology, women are changing the narratives.
Women are now more outspoken and assertive about what they want. They go after what they want without considering others' opinions. Of these women are females who took their self-confidence to a new level.
Alpha women are the go-getters at places of work, the bossy ladies at places of work. They are self-sufficient, confident, and optimistic. They care less about what you think and focus on impacting society. They are called Alpha females.
Alpha females dating don't have time for bickering or petty disputes in relationships. They tell you what they want and keep to their end of the bargain. If it seems like your values and principles don't align with theirs, they leave without holding any grudge.
For some men, this kind of aura and high self-esteem in a relationship isn't always easy to handle. They may be intimidated by an alpha female personality and her frankness.
Men who feel intimidated by alpha female characteristics aren't worth the effort. Nevertheless, you should know the alpha female traits or alpha female traits in bed and why dating an alpha female is the best.
Alpha female traits
When you talk of alpha females in relationships, it is unlikely not to talk about their distinct attitudes. The knowledge might help you identify how to attract an alpha female and handle their personality appropriately in a relationship. Without further ado, let's dive into the unique alpha female characteristics.
1. Alpha females are strong
One of the top alpha female traits is strength. When we talk about strengths, we don't mean physical power (although it can include it). Instead, we are talking about mental and physiological strengths. Most alpha females consider themselves stronger than their mates.
As such, you may see them going after men's everyday activities. They particularly enjoy athletics and physical activities. They don't believe in seclusion and would go against it. Alpha females in relationships think they can take anything life throws at them. And you can see this in their actions and behavior.
2. Alpha females enjoy leadership roles
One of the top alpha female characteristics is the ability to lead. The word alpha comes from a study on the hierarchy of animals.
The male animal who tends to lead his pack is called alpha. This word was then extended to a human male who likes to be in control of situations and in a position to help his loved ones.
As it is for a male animal and a human male, the same trait extends to an alpha female in a relationship. They embrace their leadership role and make it a duty to show others. For example, many women find themselves not worthy of their leadership position.
For the alpha females, it's the opposite. They believe they deserve the position and then continue to show their followers.
3. Alpha females are often sought after
Do people often come to you for their opinion? Do you always advise other women? Then, you might be an alpha female. Being the go-to person in a team or group is one of the signs you're an alpha female.
People will naturally put you in a leadership or mentorship position if you are an alpha female. They will come for advice and opinions on diverse topics. In return, alpha female relationships go out of their way to help others. They have internal satisfaction from making others happy.
4. Alpha females are ambitious
An alpha female in a relationship might appear too focused on her career. If you have seen an alpha female before, then you know their career is of utmost importance to them. More importantly, they believe the sky is their limit, and there is nothing they can't achieve.
Alpha females are usually open to opportunities and challenges in their career paths. They intentionally seek out mentors that can help them achieve their goals. For men who don't understand, it can be intimidating.
5. Alpha females are great learners
Anyone who a to be a leader must be a willing learner. For alpha females in relationships, this quality is non-negotiable. They don't like to be caught unawares, so they invest an incredible amount of time learning and relearning.
An alpha female's time is best invested in reading books, exploring places, seeking advice, learning about new fields and topics, going for professional development, learning from experience, and asking questions.
In addition, alpha females learn from their challenges and failures. They have a growth mindset that there is no skill or ability that they can't understand.
Signs of an alpha female
What are the signs of an alpha female in a relationship, and how do you recognize them? Learn about them below:
1. They know what they want
One of the common signs of an alpha female is that they know exactly what they want and go after it. Alpha females have clear goals and ambitions. They work towards it and don't give up until they achieve it.
It's hardly ever impossible for them to compromise on some of their aspirations in life. That's why some men see that as "stubborn." However, it isn't their fault. Alpha females already have their standards and can't change that because of someone new.
Nevertheless, if a partner can respect his alpha female boundary and support her dreams, he gets to enjoy the relationship. Otherwise, she walks away.
2. Alpha females are self-sufficient
Being alone or doing things alone doesn't scare an alpha female. They are pretty confident in their self-sufficiency. While they seek help when necessary, you can't have a hold against them because they need your help.
If it appears that you don't value them as much as they expect, they walk away without regret. These women believe they will find the right person at the right time.
3. Alpha females set goals for themselves
An alpha female personality revolves around setting significant goals for themselves. If you see a woman following a set of routines and showing strong discipline, chances are she is working towards a goal.
Every aspect of their lives, including relationships, careers, family, health, and growth, is supported by a realistic goal. They continually seek a way to step outside their comfort zone and explore new opportunities.
Alpha females in relationships are intentional and don't sway for any reason. While they face setbacks in their lives, they recharge and get back on track in no time.
4. Alpha females are dependable
How to know if you're an alpha female? Alpha females in relationships are pretty dependable. After expressing what they want in a relationship, they listen to you and keep to it. They value their morals and principles so they wouldn't break any of their promises.
They are committed and loyal to their partners. They support their loved ones and will go to any length for them. If the other person isn't who they are, they walk away.
5. Alpha females adapt to situations quickly
How to be an alpha female? One of the alpha female characteristics is their adaptability spirit. These women grab whatever life throws them and make the best of it. Whichever situation they find themselves in, they assess themselves and roll with it. Nothing can stop them from achieving their goals.
Learn about common behaviors that destroy relationships in this video:
11 Tips on how to deal with an alpha female in a relationship
Many men often wonder how to deal with an alpha female in a relationship. Since these women are different from other women, seeking to know how to handle an alpha female in a relationship is a good move. Here are the best approaches below:
1. Understand an alpha female personality
You can't deal with an alpha female in a relationship without knowing what you are up against. Make it your duty to know how your woman behaves, reacts, and live.
What's an alpha female weakness? What are their strengths? What do they enjoy doing most? You need to know these things in a relationship with an alpha female.
2. Be loyal
Some men ask how to attract an alpha female. It's simple, be loyal and dependable. Alpha females are generally responsible and committed to their loved ones.
They go all out to ensure they are happy while maintaining their personality. The least they request from their partner is reciprocity. Stay committed to them, and you will enjoy an alpha female.
3. Be honest
Alpha women don't have time for mind games. Since they are individuals who know what they want, they are usually open-minded to their partners. They reveal their vulnerability as soon as you meet them.
Therefore, you should be genuine with them. If you act otherwise, rest assured that they smell hypocrisy and lies. Sooner or later, they will walk away.
4. Respect them
Women who have been alpha females most of their lives have experienced disrespect at one point or another. They are accustomed to people looking down on them. So, it's not strange that they are always ready to react to anyone who belittles them.
As their partner, you should treat them with the utmost respect, regardless of their status. Don't be intimidated because of their success and lifestyle. Let her know you believe in her and are ready to support her.
5. Respect her boundaries
Alpha females bask on setting boundaries. It's a means that has been protecting them for a long time. Being the partner doesn't give you the right to cross these boundaries. Know what she likes and dislikes. Ask questions to understand her to stand on some things.
6. Be emotionally available
They may appear strong to everyone, but alpha females sometimes need a shoulder to cry on. Don't let her seek another person when she considers you as her partner. When she feels weak, encourage her and motivate her. Listen to her and support her.
7. Don't compete with her
Alpha females dating are sometimes seen as competition with their partners. However, this doesn't seem right. An alpha female is your lover and spouse, not your rival. She will go to any length to support your dreams. Let her focus on her dreams while you focus on yours.
8. Understand her routine
Your alpha female has a routine she has followed before meeting you. Now that you are together, don't make a fuss about it. Understand her timing and schedule. If you believe her activities affect the relationship, calmly discuss it with her.
9. Listen to her
If an alpha female talks about something, know that she has already thought about it many times. Since she has dealt with people hearing but not listening to her because of her stance, be the only man she can rely on to listen to her concern.
10. Accept her for who she is
Some men are intimidated by alpha females because they can't accept them. Your woman is strong, reliable, assertive, and ambitious. Nothing might change these qualities. Therefore you should embrace her for her personality.
11. Assure her you are the right partner
Alpha females genuinely love their partners and stay committed to the relationship. However, they don't get their hopes high. Try hardly think about having a future or a home with kids and a loving husband because of her personality.
Nonetheless, they can see a true soulmate when they see him. Be that person to her. Assure her you are there for her and ready to build a secure future
FAQs
1. What does an alpha female need in a relationship?
An alpha girlfriend or female in a relationship needs a strong, caring, trustworthy, confident, and ambitious man. She values honesty and vulnerability.
2. How do I keep my alpha woman happy?
You can keep an alpha woman in a relationship happy by respecting her boundaries, showing genuine love, and understanding and listening to her. Treat her with kindness and be there for her at all times.
3. What are alpha females like?
Alpha females are physically attractive, confident, career-oriented, ambitious, strong, and inspiring.
Takeaway
An alpha female in a relationship is a self-confident and ambitious woman. She exhibits impeccable character and believes in her goals and objectives. As such, dating her can be a handful for some men. Therefore, many have asked how to deal with an alpha female in a relationship.
The best way is to understand your alpha female. Love her genuinely, stay loyal, and listen to her. Suppose you need more advice on how to deal with alpha females in relationships. In that case, you may consult a therapist or relationship counselor.
Share this article on
Want to have a happier, healthier marriage?
If you feel disconnected or frustrated about the state of your marriage but want to avoid separation and/or divorce, the marriage.com course meant for married couples is an excellent resource to help you overcome the most challenging aspects of being married.
More On This Topic
You May Also Like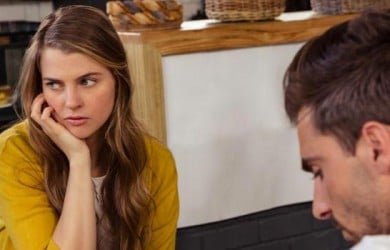 Popular Topics On Married Life