5 Signs of Miserable Husband Syndrome & Tips to Cope
When you married your husband, he was everything you dreamed of. However, you discovered that he was always angry, depressed, sad, moody, and cranky. These behaviors affected the marriage and the flow between the two of you.
Worse still, you noticed that his behavior became his second nature, which made it hard for the two of you to communicate like before. This might be due to miserable husband syndrome. This article will teach you what this irritable male syndrome means and how to manage your marriage.
A study by G. A. Lincoln explains what Irritable Male Syndrome means. It also highlights reasons why men get miserable and possible solutions.
What is miserable husband syndrome?
Miserable husband syndrome is when a man experiences hypersensitivity, anxiety, frustration, and anger due to stress, loss of identity, hormonal fluctuations, etc. These factors make the man exhibit different negative patterns that can affect his marriage or relationship with other people.
What causes miserable husband syndrome?
To make your husband happier, more cheerful, and less depressed, you need to know what causes the miserable husband syndrome. One of the major causes is a decline in his testosterone level as he ages. Another cause might be due to stress- financial, relationship, etc.
Additionally, if a man feels that his role in the family is threatened, he might become miserable. When you identify the causes of a husband not being happy in marriage, you will be able to find a solution.
5 major signs of a miserable husband
If your man is always distant and looking moody, he might be suffering from miserable husband syndrome. Men experience such mental changes because of what is happening around them. If your husband is always irritable, it can sour the marriage, and both partners can become distant.
Here are some of the signs when a husband is miserable:
1. They always find fault in your activities
One of the ways to know when the miserable husband syndrome is at play is when he keeps finding fault in everything you do. You might try to please him but end up being on the receiving side of his complaints.
When a man is miserable, everything might look annoying to him. If you are trying to help him, he does not need it which can make living with a miserable husband rather tricky.
You might hardly get his compliments because he doesn't care about your actions. Hence, when you make mistakes, you will only receive criticism instead of encouragement. It would be strange to hear any positive talk from a husband who is not happy in marriage.
Related Reading: 

15 Ways on How to Stop Finding Fault in Relationship
2. He neglects you
When you live with a miserable husband, you will discover he doesn't have time for you. He might be in the same space with you but not pay attention to anything you're doing. Even though you try to begin a conversation with him, he may respond, but his mind is not there.
Similarly, he might revolt and shut you out when you try to get into his personal space. He is focused on what is keeping him miserable, and if he doesn't find a solution, you might continue to feel neglected because he may not be concerned about you.
Related Reading: 

When a Woman Feels Neglected in a Relationship: Signs & What to Do
3. Most conversations become arguments
Another sign of the miserable husband syndrome is when he turns every conversation into an argument. If you have an important dialogue with him, he might be focused on words that look like an attack.
Even though it's not entirely their fault, many miserable people look for an opportunity to lash out at anyone.
Therefore, do not be surprised when he begins to argue with you at the slightest opportunity. For some, it is also a way to let go of some of the emotions plaguing them. When you notice that he tries to argue over every little thing, he might be miserable at that moment.
4. He doesn't talk about the future
Every marriage needs to be futuristic in its conversations and general activities. This would help both parties know the direction where the marriage is headed. If your husband is not interested in discussing the future, he might be dealing with something that is making him miserable.
On the other hand, when a man is clear-headed and has nothing worrying him, you will discover that he will keep sharing his plans and dreams with you.
However, he will not talk about the future if he is miserable. Anytime you bring up future-related talks, he will find a way to stray or end the conversation because he's not interested.
Related Reading: 

10 Relationship Conversations You Can Have With Your Partner
5. He prefers to spend time with friends instead of you
Another way to know when irritable husband syndrome is at work is when he spends time outside instead of with you. Anytime you bring up suggestions for spending time with him, he will bring up excuses not to. Rather, he prefers to be with his friends.
When such happens, you will know that something is bothering him, and he is looking for an excuse not to talk about it. Similarly, he knows that he might be able to pretend in front of his friends, but he cannot hide it from you.
When he always has other plans, and you're not included, you might be making him miserable.
Most times, when men are miserable, they are depressed. John Ogrodniczuk and John Oliffe discuss this in their study titled Men and Depression. With this study, you can understand what depression in men looks like.
How to deal when you have a miserable husband
Knowing how to handle a miserable husband will prevent conflict in your home because it might be too complicated to manage. If you handle a miserable husband the right way, you can make him become the loving and caring man he was.
1. Give him some space, but not too much
One of the things that miserable people often crave is space. Anytime they are in their moods, they may prefer to be left alone.
If your partner requests space and you keep hovering over him, it might result in a clash. Therefore, learn to respect his opinion when it comes to giving him space.
However, it is important not to leave him for a long time because he might begin to think that you don't find him worth staying around. Instead, try to check on him from time to time and keep it brief.
You can still communicate with him on other matters, but try not to be a burden.
Related Reading: 

Let There Be Some Space in Your Relationship
2. Don't react to everything
When your man has grumpy husband syndrome, you might not like his behavior and are likely to react. However, if you respond the wrong way, you might worsen matters because it would look like you don't understand his situation. Therefore, learn to pick your battles wisely.
You can ignore some of his behaviors for peace to reign. If you want to react to some of them that are overboard, do it with love instead of criticism.
Let him understand that what he did was painful, but you love him for who he is. This strategy might not work every time, but he will understand that you are willing to overlook some things for peace to reign.
3. Don't assume, but ask to know
One of the reasons why conflicts occur in marriages and relationships is because couples assume instead of asking their spouses.
When you keep assuming, you might keep quarreling with your partner because, most times, your thoughts might not be valid. Therefore, when you have some thoughts, reach out to them for clarification.
The average human reaction to assumption is usually to express shock, followed by anger or sadness. Hence, to avoid complicating the situation, it is best to find out for yourself by hearing from them. This action is a practical step in managing the miserable husband syndrome.
4. Don't make the situation about you
When it comes to the miserable husband syndrome, some people try to make the situation about them instead of trying to help their man. You need to know that there are other things your husband is facing apart from the marriage.
Therefore, it would be better to know whatever challenges they are going through instead of thinking they are miserable because of you. When you understand why your partner is miserable, you will realize that you don't have to assume you're the cause of their melancholy.
5. Don't water down their feelings
If your husband is always unhappy, do not wave their feelings off. Even though you don't like how your partner is acting, it is important not to disrespect their feelings. Rather, acknowledge their anger, sadness, etc. This will help you understand what they are facing and know how to help.
You need to know that sometimes, the solution to a miserable spouse is showing love and acknowledging how they feel. When their emotions are not on the bright side, pay attention and don't try to complicate the situation.
Related Reading:

 20 Signs of Disrespect in a Relationship and How to Deal With It
6. Communicate with your husband
One of the ways to restore a relationship that is on the brink of collapse is communication. You might be destroying the relationship if you don't communicate well with your husband when he is miserable.
Is your husband unhappy all the time?
You need to create an atmosphere in your marriage where either of you can talk to the other person about whatever they are facing.
For example, if your husband is miserable, you should be able to motivate him to reveal the reason why, instead of ignoring him. With good communication, it gets better to navigate marriage and relationship problems.
Check out this video if you want to learn how to communicate with your partner effectively:
7. Know more about your husband's personality
When people are miserable, they behave in different ways. For example, some might decide to remain quiet and not speak with anyone. Also, some might try to bury their heads in work to avoid distractions. They use this as a coping mechanism to deal with their situation.
You need to know how your husband behaves when he is miserable. This will prevent you from assuming, and it will also help you to know the right approach to cheer him up.
8. Create a middle ground
If you have asked questions like why is my husband so miserable all the time, you must have thought of the right time to stay close or keep your distance.
Finding a middle ground for you and your husband is important until the situation is solved. This means that you should still do some things together while you work on making your husband feel good again.
If you stop doing everything with your husband, he might think you are not sacrificial and loving.
Finding a middle ground helps your partner understand that you are trying not to understand and respect their space and privacy during hard times.
9. See a professional counselor
When your man is experiencing miserable husband syndrome, and you've applied all the hacks you know, you can consider seeing a professional therapist or counselor.
One of the reasons you need to do this is because these professionals are great at unearthing the root causes of different relationship problems. It may help if your husband is unhappy in the marriage.
In addition, seeing a professional counselor helps to put things in perspective, which will assist you in knowing more about your husband and how to help him.
To learn more about how to help a miserable husband, check out this book by Archibald Hart. This book is titled Unmasking Male Depression, revealing the root cause of several problematic behaviors like anger, silence, resentment, etc.
In a nutshell
After reading this article on the miserable husband syndrome and how to manage it, you now know better how to make your marriage work even when your husband is miserable.
While you apply all the tips in this article, remember that you need to be patient because it might not be easy for your husband to get better instantly. You can also consider going for a relationship course or seeing an expert on more hacks to apply.
Share this article on
Want to have a happier, healthier marriage?
If you feel disconnected or frustrated about the state of your marriage but want to avoid separation and/or divorce, the marriage.com course meant for married couples is an excellent resource to help you overcome the most challenging aspects of being married.
You May Also Like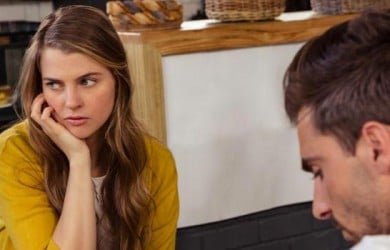 Popular Topics On Married Life