How Social Isolation Can Affect Your Marriage and What Is the Cause of That
There are ups and downs in every marriage. Whether it's your child's first steps, or the moment you realize you can tell your partner all your secrets and always have their support, some parts of a marriage are too beautiful and precious for words.
On the other hand, every relationship can stumble upon some difficulties, which is something you can expect and something that life eventually serves you with.
Certain traumas and stressful events can't really be influenced. Anything from being unsuccessful at work to losing a child can cause pain and sadness, which can lead to isolation from your partner.
Feeling detached from the person closest to you can lead to loneliness, low self-esteem and even some mental health issues.
Social isolation can affect your marriage and your relationship with your loved ones. A mix of marriage and social isolation is a recipe for disaster.
Here are some causes of social isolation in marriage, its effects on a marriage, as well as some suggestions on how to make things better.
Busyness of the partners
When you decide to get married, you do it in order not to be alone or lonely. You promise your partner to always be there for them and they promise you the same.
However, as soon as the wedding guests depart, reality kicks in. The fact is that each of you have your own obligations and tasks, especially if both of you work.
It's not surprising then that one, or even both partners start feeling lonely and isolated in the relationship.
One of you might feel like the other one is excluding them from their life, which is not completely untrue.
You are simply excluded from a part of their life that belongs to their career. And since it's often difficult for a person to admit they feel isolated, it can go unnoticed by their partner.
Inability of couples to communicate their feelings is a major cause of social isolation in marriage.
Even if they realize something is wrong, they may not be able to pinpoint exactly what it is. Most of these issues may be avoided with regular and honest conversations.
If you see that something is bothering your partner, approach them and ask them what it is, but without any judgement and accusation in your voice.
Perhaps if you tell them about your day at work and the situations you find yourself in, and if you ask them for advice on handling those situations, things could get better and they might feel more included and less lonely and isolated.
Lack of understanding
There are million of reasons for a person to feel like their partner doesn't understand them. In some cases, this is true, but in others, it's just the person's subjective feelings and fears that are creating the isolation.
One possible reason is that one of you has gone through some sort of life changing experience.
For instance, if one of the partners has an accident that leaves them disabled in any way, it could leave them battling with more than just the disability.
Even if their spouse does whatever's in their power to help and make things easier. The partner with the disability may still feel like they're alone with their thoughts and emotions.
Despite their loved one's efforts, there is no true understanding on their behalf.
On the other hand, the other partner might feel like they're trying hard to make things work, but are still being shut out.
In such cases, perhaps you could seek some help. Nowadays there are some useful disability courses which could allow you to reconnect, increase your understanding of each other and improve your quality of life.
These courses can also prepare the disabled partner for a career which could make them happier and more fulfilled, which could contribute to a better atmosphere at home, in which some of the problems can be more easily resolved.
A shift of focus
When a couple has a child together, the moment that child is born can overwhelm you both with joy and limitless love.
And even though you both adore your child and will probably work together towards raising them the best way possible, there is something else that could happen.
Even if both of you are employed, you will find the way to adjust your working hours to spend as much time with the child as you can.
This shift of focus from the marriage and each other to the child can take its toll on a marriage and lead to isolation of one or both of you.
Thinking that things will pass or get back to normal on their own once you get used to the new situation can actually make things worse.
It's important to start working on the issues as soon as you notice they exist.
Although this differs from one couple to another, some general advice would be to find activities which you can both do with your child, as well as to make some time to be alone.
Getting a babysitter or have one of your parents take care of the child while you go out and do something enjoyable and meaningful together might help you get closer to each other and feel less isolated in your marriage.
If you are worried that your isolation might ruin your relationship and cost you your marriage, talk to your spouse or seek help from a therapist.
Addressing the problems and dealing with them can make things better and help you cope with whatever's bothering you or your partner.
Share this article on
Want to have a happier, healthier marriage?
If you feel disconnected or frustrated about the state of your marriage but want to avoid separation and/or divorce, the marriage.com course meant for married couples is an excellent resource to help you overcome the most challenging aspects of being married.
More On This Topic
You May Also Like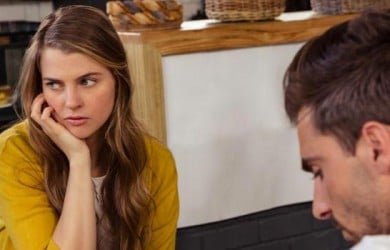 Popular Topics On Married Life