How to Support Your Unhappy Husband
Whether you suspect and feel, or your husband told you directly that he's not that happy with your marriage, that kind of knowledge certainly makes you an unhappy wife.
Instead of falling in the infinite circle of mutual accusations, it would be much more constructive to play maturely, take responsibility and see what is that you could do about it.
Also, look for these warnings signs a married man is unhappy.
They constantly feel like they can never measure up to your expectations.
They give up trying to win or work at setting things right.
They prefer and demand to be left alone and resist the idea of going out.
Every attempt at persuading them for anything is perceived as nagging.
They devote most of their time to work, interests outside of their marriage, and avoid family time.
They distance themselves from any important discussion with you.
If you love your partner and feel your marriage is worth saving, consider the following advice on how to deal with a miserable person in marriage, and help them from being an unhappy husband to a satisfied spouse.
A balance between giving or taking
Sometimes, when it seems to us that we are giving too much of ourselves, what we actually do is asking too much.
If you give all of your time and interest to your husband, you will end up expecting him to give you all the "thrill" that you were once receiving from all sorts of different things.
When we neglect our friends, hobbies, passions, our time alone, and therefore leave ourselves without enjoyment and energy that provides for us, we tend to expect our partner to compensate it all. And that's a heavy burden for anyone.
Happy wife – happy husband
This point is similar to the previous: you cannot give what you don't have.
If you're not happy, it's not very likely that a person by your side will be that way either. Before making your husband happy, you need to prioritize your own well-being and peace of mind.
I'm not saying you should always feel awesome or hide the negative feelings you have. Life can be difficult, and we should express and share all of our feelings. I'm talking about grumpiness and everyday dissatisfaction.
Reminding yourself that you are living with a miserable husband or constantly griping that my husband is unhappy, is not how you can turn an unhappy married man into a cheerful one.
Telling the world, my husband is never happy is not fun, or I am left lonely and miserable with an unhappy husband in marriage won't turn an unhappy marriage into a thriving one.
Instead, we should do our best to save our loved ones and ourselves also from that kind of behavior which is the simple result of one thing only – ungratefulness.
Cultivate gratitude and appreciation
Why is it that in the beginning, we don't get bothered that much about things that later in marriage drive as crazy?
If you think it's because back then you were unrealistically in love, then remember, how many times did you hear people who lost someone saying how they would give anything to be around things that once were so annoying to them.
What is that telling you?
The same thing can feel completely different depending on our point of view. In the beginning and in the end, we are simply much more aware of the blessings we just got, or lost.
So, don't let gifts you have in your hands slip between your fingers.
Practice gratefulness and your whole experience of life will change.
For those looking for advice on how to find happiness in an unhappy marriage that's the best unhappy marriage advice.
You must appreciate everything good about your partner and make him know that. Nothing makes us more willing to be good than a person who sees us that way.
Keep the communication clean and clear
Having a solid communication is the key element of every relationship.
Unfortunately, our true communication is often contained in that which is unspoken.
We change communication for manipulation.
Things like silent treatment or expecting others to read our minds can only be used for the purpose of torturing our partner and ourselves also.
We were given words to communicate with, not crystal balls. And when we say something, we should really mean it and stand behind it.
There's no need for nagging. If you are consistent and keep your words and actions in alignment, if you take your own words seriously, that's the way your unhappy husband's gonna understand them too.
That's also what makes husband happy in marriage.
Accept that your husband is imperfect, just like you
Due to the differences in the upbringing of boys and girls, we tend to see men as less emotional and sensitive.
The truth is, they are not so different than us, they also need love, attention, and understanding, but since they were usually taught that they have to be tough, they might have some difficulties with expressing those needs.
Men have their own insecurities and wounds that need healing.
Even though they're usually much better at hiding such things, we're not the only ones who need approval and encouragement.
On how to deal with a negative husband or unhappy husband, it is crucial to emotionally validate your unhappy husband's feelings, decisions, and choices.
Don't make marriage into a prison
Actually, it can be, if you make it that way. But, if you do so, be sure that the only thing your partner will think about is how to break free and not continue living in an unhappy marriage.
If we want a marriage based on love, not fear, we should leave the space for both of us to breathe and expand. Freedom doesn't mean doing whatever comes to your mind. You two know what is a part of your deal.
But you want your husband to respect the deal because of love, not because he has no other options.
Don't make him choose between you and everything else.
Because, when you do this you will only be left wondering, how to live with a negative husband.
It will be helpful to remember that love gives us wings, fear tides us in chains.
You choose which one you're gonna base your marriage on.
Also watch:

Be careful with sacrificing
If you do or give something to your husband, do it because you love him, not because you believe you have to sacrifice in marriage. That's how to survive in an unhappy marriage and thrive.
Highlighting our sacrifices and dedication often only represents our desperate attempts to control someone by shame or guilt.
On how to make your husband happy and marriage healthy, remember, you don't want to wheedle love and understanding, you want to enjoy it in abundance and count on it in your marriage.
If not happy in marriage or are living with an unhappy husband, be courageous enough to see the truth as it is.
As Maya Angelou advised us: "When someone shows you who they really are – believe them!" Don't waste your time and energy finding excuses.
Share this article on
Want to have a happier, healthier marriage?
If you feel disconnected or frustrated about the state of your marriage but want to avoid separation and/or divorce, the marriage.com course meant for married couples is an excellent resource to help you overcome the most challenging aspects of being married.
Learn More On This Topic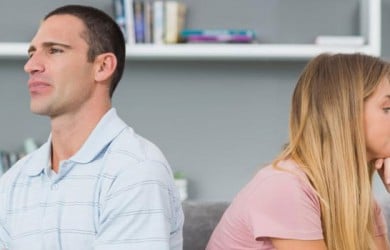 You May Also Like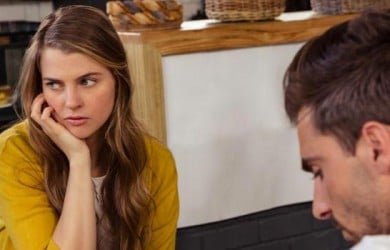 Popular Topics On Married Life