15 Ways to Avoid Marriage Problems After Second Baby
Having a baby is clearly life-changing. For some, it's a blessing, but for others, it's a complete shock to their well-being. In some ways, children give us purpose, but they also deplete our time. So, marriage problems after a second baby are highly likely unless you pre-empt them.
As this study on the subjective well-being following the onset of parenthood details, the likelihood of wanting a second baby depends on a few factors. First, the intensity of the adjustment to parenthood and how it impacts well-being.
Secondly, unpredicted difficulties can occur, such as during birth or within the first few months. These include medical and financial challenges, among others. Moreover, the availability of resources the couple has makes another impact on their decision for baby number two.
Nevertheless, having marriage problems after the second baby is very common. Furthermore, their arrival, especially if they are born too soon after the first baby, can lead to those babies being a tipping point in a relationship that already has cracks.
With the birth of the second child, candlelight dinners and weekend breaks are swapped with sleepless nights and a cash shortage. Fights over whose turn it is to change the diapers become a reality for you.
These things tend to make your relationship less appealing and take the fun out of it, leading you to marriage problems after a second baby.
Instead, follow these marriage tips to help you honor your relationship despite the birth of a second child.
Keep deepening your relationship after baby arrives
No one wants to face a divorce after a second child, yet relationships struggle when there are two young children. Any time you might have had together has vanished, and you're also sleep-deprived. All this leads to stress and conflict.
The foundation to avoid marriage problems after a second baby is to talk about conflict almost before it happens. Have you noticed how we always tend to argue about the same things? Instead, try to pre-empt the argument and problem-solve it when you're calm and focused.
The area that suffers the most is intimacy. Nevertheless, with a little bit of planning, it doesn't have to disappear. Have a look at the 10 tips listed in this article on keeping a relationship strong to reignite your intimacy.
On top of your issues, you sometimes face the second child syndrome in a marriage. It was 19th Century Austrian psychologist Alfred Adler who first came up with the theory. The idea is that where we are born in the hierarchy of siblings impacts our personality development.
For second children, it can go either way. They can either disappear, hidden away by the shadow of the older child. Alternatively, they step up to the challenge and adjust better.
A good way to encourage the latter is to use what psychologist John Gottman calls emotion coaching. Essentially, please help your child get to know their emotions and validate their feelings. Simultaneously, you get more in touch with your emotions and can better relate to your partner.
10 Tips to keep relationship issues away
Marriage issues after a second baby are common, but they don't have to signal the end of your relationship. It means more effort and a lot more communication.
1. Adjust to increased responsibilities
Second child marriage problems often come down to lack of sleep. It's such a fundamental need to keep us healthy and mentally stable that without it, things go wrong, and we neglect our firstborn. Moreover, you have no time left for physical and emotional intimacy.
At the same time, you now have all these extra responsibilities caring for your second child. With more things to do around the house, mothers usually expect fathers to step up.
This can be another source of conflict, even if the father's expectations differ. So, rather than let this turn into an argument, talk about how to split your roles when you're both feeling calm.
Related Reading: 

How Do I Make My Partner Realize Their Responsibilities?
2. Bring back intimacy
Marriage after a second baby can be tough. With the birth of the first child, the intimacy level in the relationship can fall to around 50%. However, with the second child, the intimacy level goes down by a complete 100%.
The reason behind a Mom's zero sex drive is that she is parenting a toddler along with a newborn. She has to feed the toddler early in the morning, whereas the newborn will require constant attention.
Not only will the moms feel fat but nursing the baby can eradicate a woman's sex drive. At times like this, the husbands need to help out as much as they can when they get home and make moves to bring back the intimacy.
These moves include getting a babysitter and going for a romantic dinner or a romantic movie for the night. These things will make her feel better and can also bring back her sex drive.
Related Reading: 

Best Tips For Growing Intimacy In Marriage
3. Keep the novelty alive
Undoubtedly, you love your second baby, but now you have two children needing constant attention. You may also be running low on new-love endorphins and high on exhaustion, guilt, resentment, and fatigue.
It is better to bring back your marriage spark in times like these. Keep in mind that your relationship needs attention as well. So, as soon as the babies are asleep, make sure to connect with your partner, even if only for 10 minutes. A simple hug works too.
Husbands can also help reduce marriage problems after a second baby and keep the novelty alive. Perhaps by taking more baby photos or buying new toys for the first child. Alternatively, if Mom needs a few hours of sleep, can Dad take the baby for a walk?
Marriage problems after the second baby are very common, and almost every couple goes through them. These problems do not mean that your relationship is destined to break. Instead, find small ways to surprise and delight each other.
According to an intriguing research study, it was discovered that after the post-birth adjustment period of the second baby, most couples went back to being happy and as close as they were after the birth of the first baby. Make sure you accept that your life has changed and work together with your spouse as a team to make practical compromises to make your marriage work.
4. No time
Marriage problems after a second baby involve a lack of time. Not only do you have less time for each other but also for friends and family. Of course, in many cases, your parents can help take the baby off your hands to give you a break.
You can still make time for each other by planning a short moment together when the kids are out with their grandparents. Another approach is to plan no-screen time so you're not distracted by phones or laptops.
Let's also remember the fun of watching a newborn make sense of this world. Treasure those small moments as your new baby tries to understand how hands work.
5. Different parenting styles
If the Dad is not parenting according to Mom's standards and gets nagged, the husband might become less enthusiastic about helping.
Instead of arguing over how your husband is parenting the kids, be happy that he is taking care of them and take a nap.
Although, when trying to avoid marriage problems after a second baby, remember emotion-coaching works for adults too.
We've already mentioned Gottman's approach, which you can further explore in this video, where you'll see the 5 steps of emotion coaching:
Another wonderful book that shows you how to work with emotions is Dr. Dan Siegel's The Whole Brain Child.
With his tips on how to validate feelings, you'll get through your issues as well as avoid the downsides of the second child syndrome in a marriage.
Related Reading: 

How to Cope With Different Parenting Styles
Watch this video to learn how to raise kids successfully without over parenting.
6. Father takes a back foot
Sometimes, in a marriage, after a second baby, the father loses interest. If your husband is not connecting with your second child, try to see if you can better integrate both of your schedules with the baby's schedule.
For example, connecting with your husband while you feed the baby can be a bonding moment to reduce marriage problems after a second baby. Another opportunity for shared joy is to watch your baby together as they move and work out their new body.
Be there for each other as a couple and accept that you'll be dealing with difficult emotions. Make sure you talk about them, like in the emotion-coaching video above.
7. Organizational challenges
You must ensure you're organized to avoid divorce after a second baby. The more help you can get, the smoother things will go.
Only some have endless resources, though, so make sure you communicate. It's ok to tell each other that it's hard.
Use those moments as an opportunity to problem-solve rather than blame each other.
Related Reading: 

The 5 Challenges and Solutions of Being a Single Parent
8. Less sleep, more conflict
Marriage problems after a second baby often grow because of mismatched expectations. To get over this, keep reminding each other that this is temporary and won't last forever.
Another way to support each other is to decide one non-negotiable thing you both need in your routine to stay calm. Is it a Saturday morning alone time for an hour or your favorite Wednesday meal?
9. Neglecting your health
No one wants marriage problems after a second baby, but life has challenges. Whatever you do, don't make any rash decisions until things have settled down.
As you get overwhelmed with the new baby, the chances are you're neglecting your self-care. We know it's hard to squeeze any alone time into the new schedule but at least make sure you're eating properly.
Remember also to be kind to yourself if you need help managing to do everything perfectly.
10. Short on funds
Whether you're separating while pregnant with your second child or facing marriage problems after a second baby, the chances are money is involved somehow.
There's no magic wand when it comes to money. Nevertheless, make a proper budget and be creative. For instance, there are more part-time online job opportunities than ever before.
Make sure you also investigate any potential benefits you might get from your employer. Most countries have a long way to go, but you only know what you might get once you ask.
11. Communication gap
Marriage after a second baby becomes stressful as the time is divided into taking care of the babies, and couples don't often get time to communicate enough to understand each other.
It would be better if you could take out 15 minutes every day to talk only about your relationship and connection.
Communicating with each other every day will make you feel more connected to each other. Even after all the stress and exhaustion, you will be on the same page, and it will also give you some clarity about the challenges you both want to overcome together.
Related Reading: 

5 Levels of Communication Your Marriage Needs
12. No sex
Among other marriage issues after a second baby, the most challenging is keeping your sex life alive. With all the sleepless nights, overbearing responsibilities, and exhaustion, couples don't even think about having sex.
Having no sex makes them feel disconnected, and that is common. Make sure that it doesn't harm your relationship and makes you both feel that you are drifting apart. The connection can be reestablished with a plan, not instantly but eventually.
You will have to plan dates where you could take some time out for each other and get into bed without being disturbed by the babies. You will have to plan sex nights according to your and your babies' schedules. Establishing a healthy sex routine will make you feel more relaxed and confident about your relationship.
13. Focus on becoming closer
You might feel disconnected without long deep conversations or date nights, but you can channel all the challenges and stress positively. Instead of thinking about yourselves as individuals, think about being partners in this together.
Most couples forget that it is just a phase and that things will be easier with time. Be supportive and focus on overcoming everything. Instead of being overwhelmed by the responsibilities, focus on constructive solutions that will bring you closer. Hold onto the good for each other.
Related Reading: 

16 Ways to Grow Closer to Your Mate This Year
14. Don't play the blame game
Many people would say that "having a second child ruined my life," or you would hear about people getting divorced after a second baby, but all these negatives will only happen if you forget that it's not a blame game.
At any given point, you need to remember that when you had the first child, you thought that you and your partner should know everything but the reality is that all parents have made mistakes and learned from them.
After a second baby in the marriage, people keep expectations of being a perfect parent because they have already done it. Still, with every baby, the challenges can be different.
Instead of blaming each other for the new mistakes, learn to laugh at them. Be more relaxed as you have many things figured out. Think about it as a second round of the game that you will win by supporting each other.
Marriage problems after a second baby can be crucial, but there is nothing that you can't conquer if you just put the right amount of effort and planning into it.
Related Reading: 

The Blame Game Is Destructive to Your Marriage
15. Try counseling
Most people forget to focus on becoming a family after a second baby is born. If you are struggling to put that perspective into play, it would be better to visit a professional therapist or counselor.
If you can't make enough time and think your marriage is in trouble, you can also look for an online save my marriage course. There are so many options if you want things to work out. Keep a positive approach and focus on building a family rather than giving in to temporary problems and situations.
FAQ
What dissolves most relationships after a baby is born?
According to the book "Unmarried Couples with Children," unmarried couples with marriage problems after a second baby usually break up because of "sexual infidelity or conflict, rather than financial problems."
It's also a problem when a husband is not excited about your second pregnancy. Although interestingly, married couples are more likely to stay together, according to this article on cohabiting parents.
Then, according to these divorce statistics, couples with children are 40% less likely to get divorced than those without. Those that do break up tend to give top reasons such as lack of commitment, arguments, and infidelity.
What proportion of relationships survives after a baby arrives?
According to the studies and statistics mentioned in the previous question, most couples recover from marriage problems after a second baby. The exact proportion is country-specific.
The main point to note is that the first 6 months or so are the toughest.
If you can get through those with some of the above tips, your relationship will end up that much stronger.
How do I salvage my marriage with a new baby?
Don't panic if your husband is not excited after your second pregnancy. It's common for a baby to trigger a deep jealousy that he might not even be aware of.
Again, to avoid such marriage problems after a second baby, make sure you communicate more than ever before. Share your fears to encourage him to open up and discuss his worries.
Why not make a game of it and see how many emotional words you can come up with to describe what's going on with each of you? To recover any relationship, you start by connecting with those emotions.
Then, steering clear of marriage problems after a second baby involves aligning your values and goals while stating your needs. Together you find ways to honor your needs and those of the relationship.
What's next for your relationship now you have a baby?
No one ever said that this human life was easy. Children are a wonderful blessing who give many people purpose. They also come with challenges.
To avoid marriage problems after a second baby, communicate, plan and adapt your new roles. Talk about your emotions and find the best way to collaborate together to problem-solve.
Anything is possible if you stay open-minded, curious, and compassionate. If in doubt, join this marriage course online that you can easily follow from home.
You'll learn to implement teamwork, rituals to bring you closer, and how to resolve conflicts that will keep you away from marital problems after a second baby. You owe it to yourselves and your children to nurture a loving and stable relationship.
Share this article on
Want to have a happier, healthier marriage?
If you feel disconnected or frustrated about the state of your marriage but want to avoid separation and/or divorce, the marriage.com course meant for married couples is an excellent resource to help you overcome the most challenging aspects of being married.
Learn More On This Topic
You May Also Like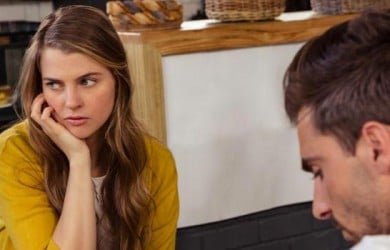 Popular Topics On Married Life