How to Avoid Marriage Problems After Second Baby?
Many married couples agree with the fact that having a baby is truly a blessing and provides you with the most fulfilling experience you can ever have. Apart from the difficulties and the things you need to get used to during the first few months after having a first baby, there are many couples who want to have a second baby right away.
Soon after having the first baby, couples think that they have gotten the hang of it and are ready to jump in and have a second baby. For many couples, having a second child fits the scenario of a happy family portrait.
Even traditionally, a second baby is seen as completing the picture-perfect frame and idea of a happy and contented family.
But contrary to this misconception, even the sturdiest marriages are susceptible to having problems and getting pressurized by the second-child syndrome.
Having marriage problems after the second baby is very common and their arrival, especially if they are born too soon after the first baby, can lead to these babies being a tipping point in a relationship that already has cracks.
With the birth of the second child, candlelight dinners and weekend breaks are swapped with sleepless nights, shortage of cash, and fights over whose turn it is to change the diapers become a reality for you.
These things tend to make your relationship less appealing and take the fun out of it.
Following are some marriage problems that you might face with the birth of a second child and how to deal with them.
1. Adjust to increase in responsibilities
Having a second child not only limits down the lack of sleep you have, but it also escalates your responsibilities; leaving you with no time left for physical and emotional intimacy and also less flexible income.
With the birth of a second child, the dad needs to step up; it is no surprise that dads are not very much into changing diapers and all; however, when the second child is born, mommies may not be able to look after both kids.
So the dad will have to step up and adjust to his new role. This major change may often come with a lot of arguments if the dad is not parenting according to mom's standards and this may make husbands feel less enthusiastic.
Instead of arguing over how your husband is parenting the kids, be happy that he is taking care of the kids and take a nap with your baby.
2. Bring back the intimacy
With the birth of the first child, the intimacy level in the relationship can fall to around 50%; however, with the second child the intimacy level goes down to a complete 100%.
This reason behind a mom's zero sex drive is due to the fact that she is parenting a toddler along with a newborn. She has to feed the toddler early in the morning, whereas, the newborn will require constant attention.
Not only will the moms feel fat, nursing the baby can eradicate a woman's sex drive. In times like this, it is important for the husbands to help out as much as they can when they get home and also make moves to bring back the intimacy.
These moves can include getting a babysitter and going for a romantic dinner or getting a romantic movie for the night. These things will make her feel better and can also bring back her sex drive.
3. The novelty gets worn off
…when the novelty starts wearing off.
Undoubtedly, you love your second baby, but it is not the same as the feeling of honeymoon stage bliss and freshness that you felt at the birth of the first. You may be running low on new-love endorphins and exhaustion, guiltiness, resentment, and fatigue will follow.
In times like these, it is better to bring back your marriage spark. Keep in mind that your husband needs attention as well and as soon as the babies are asleep, make sure to watch something together or have a romantic talk.
Husbands, on the other hand, must come home early and try to book a romantic getaway for their wife such as a spa day to bring back the freshness of the relationship. Give your wife a break from her baby-care day.
Marriage problems after the second baby are very common, and almost every couple goes through them. These problems do not mean that your relationship is destined to break.
According to an intriguing research study, it was discovered that after the post-birth adjustment period of the second baby, most couples went back to being happy and as close as they were after the birth of the first baby. Make sure that you accept that your life has changed and work together with your spouse as a team to make practical compromises that will make your marriage work.
Share this article on
Want to have a happier, healthier marriage?
If you feel disconnected or frustrated about the state of your marriage but want to avoid separation and/or divorce, the marriage.com course meant for married couples is an excellent resource to help you overcome the most challenging aspects of being married.
More On This Topic
You May Also Like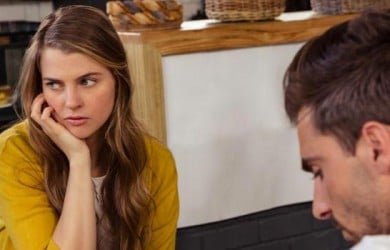 Popular Topics On Married Life