Who Is an Estranged Husband? Meaning, Causes & Ways to React
In the intricate tapestry of human relationships, the bond of marriage stands as a powerful connection, promising love, support, and companionship. However, amid life's challenges, some marriages encounter a disheartening phase of estrangement, where once inseparable partners grow distant emotionally and physically.
Understanding the concept of an estranged husband involves delving into the complexities of marital dynamics, the underlying causes that contribute to this distressing phenomenon, and the ways in which individuals can respond to navigate this delicate chapter.
In this article, we embark on a journey to explore the meaning of an estranged husband, shed light on the common causes that lead to such situations, and unveil valuable insights on how to react and potentially mend a fractured relationship.
What does an estranged husband mean?
By definition, the term estranged husband meaning is when the husband has completely disappeared from one's life. Now if he has done so without signing off the divorce papers, the wife can still get the divorce via the court; however, there will be some complications attached to it.
The partner will need to provide proof to the court that she has tried whatever it was in her power to try and locate her husband.
The partner will need to put advertisements in the local newspaper, send divorce papers to the last known living addresses and work addresses, try to contact friends or family of the said spouse or look through telephone companies or phone books.
After all this is said and done, the court gives a certain number of days after which the divorce is finalized in absentia of the husband.
What are the causes of estrangement in marriage?
The causes of an estranged marriage can be multifaceted. Communication breakdown is a key factor where couples fail to express their feelings, leading to unresolved conflicts.
Trust issues, infidelity, and lack of emotional intimacy can also erode the foundation of a marriage. Financial stress, unbalanced priorities, and divergent life goals can strain relationships.
Moreover, external pressures, such as work-related stress or interference from family members, can contribute to marital distance. Inadequate support and appreciation, as well as differences in values and beliefs, may further exacerbate the situation.
Unaddressed mental health issues can also impact marital dynamics. Ultimately, a combination of these factors can lead to estrangement, underscoring the importance of open communication, mutual respect, and seeking professional help to resolve conflicts and nurture a healthier bond.
What are the legal rights of an estranged husband?
The rights of an estranged husband can vary depending on the jurisdiction and the specific circumstances of the estrangement. However, in many legal systems, some common rights for an estranged husband may include:
1. Property and asset rights
When a marriage ends, assets and property acquired during the marriage are typically subject to division. An estranged husband has the right to claim his fair share of these marital assets, which may include real estate, investments, bank accounts, vehicles, and other possessions.
The division process can be governed by community property laws, equitable distribution, or other legal principles, depending on the jurisdiction.
2. Child custody and visitation
If the estranged couple has children, the husband has the right to seek custody or visitation rights.
Custody determines who will have primary physical and legal responsibility for the children, while visitation allows the non-custodial parent (in this case, the estranged husband) to spend time with the children according to a court-approved schedule.
3. Financial support
In some cases, the husband may be entitled to receive spousal support or alimony. This financial support is designed to help the lower-earning or economically dependent spouse (which can be the husband) maintain a reasonable standard of living after divorce or separation.
The amount and duration of alimony can vary depending on factors such as the length of the marriage and the financial circumstances of both parties.
4. Privacy and personal rights
Regardless of the estrangement, both spouses have the right to privacy and protection from harassment or abuse. If one party engages in stalking, threatening behavior, or violates personal boundaries, legal measures can be taken to protect the other party's rights and safety.
5. Legal representation
During divorce or separation proceedings, an estranged husband has the right to legal representation. An experienced family law attorney can provide guidance, protect the husband's interests, and ensure that his rights are upheld throughout the legal process.
It's essential to understand that family law can be complex, and the specific rights of an estranged husband can vary based on the legal jurisdiction and individual circumstances. For this reason, seeking professional legal advice is crucial to navigate the process effectively and protect an estranged husband's rights.
5 tips for divorcing an estranged husband
Divorcing an estranged husband can be a daunting and emotionally turbulent journey, characterized by a mix of stress, uncertainty, and the need to confront complex legal and personal issues.
Now that we know, "What is an estranged husband," here are five tips to help navigate this difficult situation:
1. Communication and mediation
Try to open lines of communication with your estranged husband, even if it's difficult. If possible, consider engaging in mediation to resolve any issues amicably. This approach can save time, money, and emotional stress compared to a contentious legal battle.
2. Gather essential documents
Collect all necessary financial documents, such as bank statements, tax returns, property deeds, and investment records. Having these documents ready will streamline the divorce process and ensure a fair division of assets.
3. Consult with a divorce attorney
Engage the services of an experienced divorce attorney who specializes in family law. A knowledgeable attorney can provide valuable guidance, protect your rights, and help you understand the legal implications of the divorce.
4. Prioritize self-care and support
Divorce can be emotionally draining, so it's essential to prioritize self-care and seek support from friends, family, or a therapist. Take time to process your feelings and emotions, allowing yourself to heal during this challenging period.
5. Focus on the best interests of children (if applicable)
If you have children, keep their well-being at the forefront. Work together with your estranged husband to establish a co-parenting plan that ensures the children's emotional and physical needs are met.
Remember, every divorce situation is unique, and it's essential to tailor your approach to your specific circumstances. Be patient with yourself and seek professional advice whenever necessary to protect your rights and achieve a fair resolution.
5 strategies to cope with estrangement
Coping with estrangement from a loved one can be emotionally challenging and overwhelming. Here are five strategies to help you navigate having an estranged spouse:
1. Acknowledge your feelings
Allow yourself to feel the full range of emotions that come with estrangement, such as sadness, anger, guilt, or confusion. It's okay to grieve the loss of the relationship and recognize that these feelings are valid and natural.
2. Seek support
Reach out to friends, family members, or a support group to share your feelings and experiences. Talking to others who have gone through similar situations can provide comfort and understanding.
3. Focus on self-care
Take care of your physical and emotional well-being. Engage in activities that bring you joy, practice mindfulness or meditation, exercise regularly, and ensure you are getting enough rest.
4. Set boundaries
If the estrangement is due to toxic or harmful behavior, it's essential to establish and enforce healthy boundaries to protect yourself. This may involve limiting contact or seeking professional help to navigate the situation.
Watch this video to learn more about signs that you struggle with healthy boundaries in relationships:
5. Consider professional help
If you find it challenging to cope with the estrangement on your own, consider seeking therapy or counseling. A mental health professional can provide support, offer coping strategies, and help you gain perspective on the situation.
Remember that healing from estrangement takes time, and it's crucial to be patient and compassionate with yourself throughout the process. Each person's journey is unique, so find what works best for you and focus on building a fulfilling and positive life despite the challenges of estrangement.


Some commonly asked questions
Here are the answers to some questions that can help you if you are estranged and separated from your spouse:
Are estranged people still married?
Yes, estranged people are still legally married until they finalize their divorce or legal separation. Estrangement refers to a state of emotional separation or distance between spouses, but it doesn't legally dissolve the marriage. The legal marital status remains until a court officially grants a divorce or separation decree, which ends the marriage formally. Until that point, both parties continue to be married in the eyes of the law, regardless of their emotional or physical separation.
What is the difference between 'being separated' and 'estranged'?
As explained in a number of dictionaries, the word separated is a coordinate term for estranged. Considering that both words are adjectives, the main difference between the two is that separated means 'detached,' whereas estranged means' someone who was once considered a close friend or family has now become a stranger.'
Legally, these two are not nearly the same thing.
Being estranged means being emotionally or physically unavailable.
When the estranged husband has stopped being a part of the family, he is not aware of any good or bad thing that goes around in the house and has left his family completely high and dry.
As opposed to which a separated couple may share some time together for family gatherings or picking up or dropping off kids at each other's place.
This will not be considered a legal separation, however, during which the couple is supposed to have zero contact with each other even though they are aware of each other's living areas.
How do I reconnect with my estranged husband?
To reconnect with your estranged husband, start with open and honest communication. Initiate a conversation, express your desire to reconcile, and listen to his perspective. Seek professional help if needed, like couples' counseling, to facilitate productive discussions.
If you are estranged from your husband, show understanding, empathy, and a willingness to work through issues together. Rebuilding trust and finding common ground will take time, patience, and effort from both parties.
Final thoughts
An estranged husband refers to a spouse who is no longer emotionally or physically connected to his partner. Understanding the meaning, causes, and ways to react in such situations is crucial for individuals facing the challenges of estrangement. It is a complex emotional process that requires empathy, patience, and open communication to navigate effectively.
By recognizing the causes behind estrangement, whether due to communication breakdowns, unresolved conflicts, or external pressures, individuals can proactively seek solutions and take steps towards reconciliation or making informed decisions about their future.
With a focus on self-care, seeking professional guidance, and prioritizing healthy communication, estranged husbands and their partners can find the path to healing and, in some cases, rebuilding a stronger and more fulfilling relationship.
Remember, each situation is unique, and there is no one-size-fits-all approach, but the key lies in embracing compassion and personal growth throughout the journey.
Share this article on
Want to have a happier, healthier marriage?
If you feel disconnected or frustrated about the state of your marriage but want to avoid separation and/or divorce, the marriage.com course meant for married couples is an excellent resource to help you overcome the most challenging aspects of being married.
You May Also Like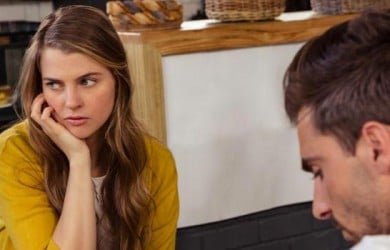 Popular Topics On Married Life