Life With an Estranged Husband; What Does This Relationship Entail?
Marriages are hard work, and at times, as the days turn into months, it takes its toll on the couple. As the initial high of being in love or the attractiveness dies down and the dust settles, several couples realize that they never were a great match, to begin with. It is only now that life has taken over and they are looking at the responsibilities of life and work, in general, that the realization hits that they never had anything in common.
In such cases usually, people file for divorce. It may come due to irreconcilable differences or any fraud; however, they decide to end the relationship.
If the case cannot be decided mutually, and it goes to court, most judges usually enforce the separation period. This period is a necessary step to ensure that the feeling of hatred is not temporary, and the couple is serious about divorcing each other even after six months or a year.
What is legal separation?
During a legal separation, the couple either occupy the same living space but have minimal to zero contact with each other or one of the spouses moves out, and each lives their separate life.
This separation, in a way, legally terminates the marriage in any way or form. This separation goes on for the required period of time (as ordered by the presiding judge) so that the couple can ensure that their anger or resentment is not just an emotional or fleeting issue.
In several states, a legal separation is considered or is also known as a limited divorce. This is not an informal thing as it is initiated by a court of law and is followed up by the lawyers and court.
Legal separation is just like a dry run for the legally permitted divorce. Here the spouses get a taste of what it is like to live completely on their own, without their spouse's support. The household bills are divided, the spousal support is settled, and the children's visitation schedules are finalized.
What does estranged husband mean?
What is estranged husband? Estranged husband definition is not that hard to figure out. As per Merriam Webster dictionary, 'An estranged husband means someone who has not been sharing the living space with their spouse any longer.'
Define estranged husband
The word estranged is an adjective, which suggests a loss of affection, or contact; a turning away point of sorts. This word always has negative connotations attached to it. It suggests alienation between the parties involved, with zero fondness or any emotional relationship.
This further entails that the relationship between the said parties has not only soured over the period of time but has turned somewhat hostile.
Difference between 'being separated' or 'estranged'?
As explained in a number of dictionaries, the word separated is a coordinate term of estranged. Considering that both words are adjectives, the main difference between the two is that, separated means 'detached', whereas, estranged means 'someone who was once considered a close friend or family has now become a stranger.'
Legally, these two are not nearly the same thing.
Being estranged means being emotionally or physically unavailable.
Where the estranged husband has stopped being a part of the family, he is not aware of any good or bad thing that goes around in the house and has left his family completely high and dry.
As opposed to which a separated couple may share some time together for family gatherings or picking up or dropping off kids at each other's place.
This will not be considered a legal separation, however, during which the couple is supposed to have zero contact with each other even though they are aware of each other's living areas.
How to divorce an estranged husband?
Emotional estrangement is generally the first step in a divorce; physical estrangement comes rather later in life. Physical estrangement, as mentioned above, is a necessary step to provide proof of no possible reconciliation further.
What is an estranged husband?
By definition, the term estranged husband meaning is when the husband has completely disappeared from one's life. Now if he has done so without signing off the divorce papers, the wife can still get the divorce via the court; however, there will be some complications attached to it.
The wife will need to provide proof to the court that she has tried whatever it was in her power to try and locate her husband. They will need to put advertisements in the local newspaper, send divorce papers to last known living addresses and work address, try and contact friends or family of the said spouse or looking through telephone companies or phone books.
After all this is said and done, the court gives a certain number of days after which the divorce is finalized in absentia of the husband.
Share this article on
Want to have a happier, healthier marriage?
If you feel disconnected or frustrated about the state of your marriage but want to avoid separation and/or divorce, the marriage.com course meant for married couples is an excellent resource to help you overcome the most challenging aspects of being married.
More On This Topic
You May Also Like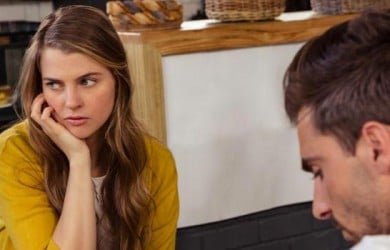 Popular Topics On Married Life