How a Lack of Kissing in a Relationship Affects Your Committed Partnership
Kissing is an ageless emotional act that has helped cement individuals' bonds in their marriage or relationship. So what happens when you notice a lack of kissing in a relationship, and is it cause for concern?
During kissing, your brain releases feel-good chemicals that create a buzz of excitement and affection.
Similarly, the rush of these chemicals, including oxytocin, dopamine, and serotonin, fuels emotional bonding and provides the intimacy that couples require.
Sometimes, a lack of kissing in a relationship could eventually strain the couple's bond.
Is kissing important in a relationship?
Kissing remains the bedrock of physical intimacy in many couples today. For many relationships, kissing expresses passion and romance that bonds couples together.
A kissing relationship evokes an exchange of emotions that may be difficult to express otherwise.
One of the paramount importance of kissing in a relationship is that it helps develop a special kind of emotional attachment for your partner.
Emotionally attached couples show significant levels of trust and can share secrets with their spouses without fear. Having a deep and intimate connection with your spouse helps to keep your relationship healthy and happy.
Do you want to know more about kissing in a relationship? Then watch this video
You aren't the first to ask, is kissing important in a relationship? Sure it is! Kissing helps maintain the spark in an intimate relationship and sustains your spouse's physical attraction and desire.
Kissing in a relationship does not only serve as a bonding agent that strengthens relationships but also keeps couples satisfied. A relationship kiss can also help to sort out issues between couples.
Disagreements and quarrels are regular occurrences in many relationships. However, managing these issues would determine how far the relationship will last.
A passionate kiss can help any relationship heading for the rocks. Kissing helps to boost the love in a relationship as it serves as a medium in which you show your partner how much you love and care for them. To read more about the importance of kissing read this article.
Related Reading: 

Top 7 Reasons Why Kissing Is Super Important in a Relationship
When in a relationship should you start kissing?
There are different stages of kissing in a relationship and the right time to start kissing in a relationship is still a highly debated subject for many. Simply put, a relationship has no specific time to start kissing. What matters is the connection and tension at the moment.
The first kiss can happen on the first date, or second or third, so long as both parties share the desire to have it. No manual answers the question, when should you start kissing in a relationship?
In some other cases, communication is key to deciding when to start kissing in the relationship.
Also, watch out for nonverbal cues that your partner is longing for a kiss from you. While no one can tell you exactly when to start kissing in a relationship, you should wait for a perfect romantic moment to lock lips.
Related Reading: 

Kissing Techniques – How to Kiss Better
What happens after kissing in a relationship?
For many individuals, the first kiss determines if they are ready to take the relationship a notch further.
Generally, after the first kiss, the expectation is that both parties become emotionally attached and committed to the beginning or maintaining an intimate relationship.
However, you must note that some people may lose interest after having their first relationship kiss. So you might want to make the most of that opportunity as it may make or mar your relationship.
Can a relationship survive without kissing?
Kissing is essential in a relationship; however, a lack of kissing shouldn't lead to restless nights. People in new relationships or newlyweds tend to find kissing more thrilling, and they could go for minutes or even hours without parting lips.
However, as the relationship lasts, kisses may become shorter and less frequent. While some relationships can survive in the short term without kissing, it is extremely hard in the long term.
Sure some relationships have lasted without it, but they are the exception and not the standard.
Humans are both social and physical beings. We have five senses; in most cases, kissing establishes a romantic and emotional connection with the spouse. Many people express love through kissing and may become emotionally empty without it.
So can a relationship thrive without kissing? Well, the chances are very slim.
Reasons why couples may stop kissing
Kissing at the start of many relationships is like a burning flame that sees couples frequently locking lips at every chance. However, this electrifying moment of deep passionate kiss may fade as the relationship progresses.
This relationship stage is widespread with couples in long-term relationships for years. The halt of kissing each other on the lips in many long-term relationships does not necessarily indicate a problem in the relationship.
It might just be a normal phase experienced in most long-term relationships. One other reason couples may stop kissing could be lifestyle habits and health.
For example, a non smoking or non drinking individual may avoid kissing their partner if they detest the smell of alcohol or cigarettes.
Similarly, bad breath and infectious diseases could halt kissing in a relationship. Lastly, a lack of kissing in many relationships could signify that the union may fall apart.
Couples are likely to stop any form of physical intimacy, including kissing, once communication is shut down.
Every aspect of a relationship is connected, and a problem in one part can automatically cause kissing issues in most relationships.
When does your partner stop kissing you?
You might wonder why and what it means if your partner stops kissing you. There could be several reasons why they may have stopped kissing you.
It would be best if you considered the context of how they avoid kissing you and the body language displayed.
Some reasons they may have stopped kissing include infidelity if they do not enjoy kissing, are preoccupied with work or are expecting you to make the first move.
To make sense of the situation, you may have to consider how old the relationship is. If your relationship is new, then it is possible they either want you to initiate kissing.
If the relationship is older, they are likely seeing someone else or experiencing some personal issues. It would help if you always looked for his body language signals to accurately judge when your partner is longing to lock lips with you.
Is it normal not to kiss much in a long-term relationship?
Different phases often characterize a long-term relationship. Reduced kissing in long-term relationships is pretty regular than what many people think.
It is common for couples to continue to have at least cursory sex and not kiss deeply for years. While this situation might be prevalent in many relationships, it isn't a good sign for a healthy relationship.
Couples need to be more expressive to improve the lack of kissing in their relationship. A partner who has lost interest in kissing due to their spouse's poor kissing style or oral hygiene should be more open to their partner.
There is nothing wrong if you tell your partner how you want to be kissed. It would be best if you also told your partner about your concerns regarding their oral health so they can improve.
Couples who are still together but intimately disconnected should ask pertinent questions that could help save their union. Kissing is a love language; it could be heartbreaking when your partner refuses to kiss you.
Couples need to remain physically intimate with each other to maintain a lasting long-term relationship.
How does a lack of kissing in a relationship affect you in the long run?
Kissing is an integral aspect of emotional intimacy that strengthens the bond couples share. A lack of kissing in a relationship might destroy a couple's bond, making it difficult to have a long-lasting relationship.
The physical and emotional bond that holds couples together has become nonexistent.
Without kissing, the security of knowing that your partner loves you may start to wane. In the long term, couples may struggle to keep the relationship together.
Once physical intimacy, including kissing, is lost in a relationship, then the basis of the relationship becomes complicated.
The lack of kissing in a relationship in the long term may cause depression, loneliness, and anger issues between couples.
Conclusion
Kissing is a vital part of any intimate relationship. Kisses are usually frequent and electrifying at the early stage of most relationships.
Most couples could kiss for hours at the onset of their relationship as the excitement level is pretty high.
However, the kisses become less frequent as the relationship spirals into a new phase, and couples may begin to deal with personal issues that affect their intimacy. Your partner may become very used to how you kiss and may start to feel less thrilled about kissing.
While this may be normal in many relationships, it may be worrying when your partner becomes uninterested in any form of intimacy.
The lack of kissing in a relationship may significantly impact a couple's bond and ultimately weaken their union. Bringing back your kissing game would help fan the flames of desire in your relationship.
Couples experiencing kissing issues in their relationship due to a lack of communication can seek counseling to find support.
Share this article on
Want to have a happier, healthier marriage?
If you feel disconnected or frustrated about the state of your marriage but want to avoid separation and/or divorce, the marriage.com course meant for married couples is an excellent resource to help you overcome the most challenging aspects of being married.
Learn More On This Topic
You May Also Like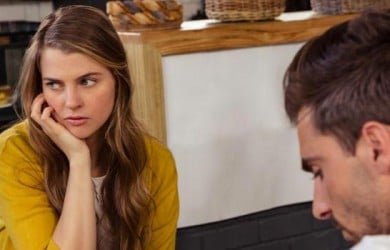 Popular Topics On Married Life