15 Boundaries for Being Friends With an Ex
There could be many complications in a relationship. But, breaking up is terrible, and it hurts. You should not blame yourself when this happens. Sadly, you must go through the pain of parting ways before seeing each other again.
By having boundaries for being friends with an ex, this is possible. Continue reading to understand better how to be friends with exes and boundaries.
How do you set friendship boundaries with an ex?
A person who's going through a breakup, especially if the relationship was long-term, struggles with many issues. One of them is not having closure. Can exes be friends? Watch this video to know more.
This is why some people say it's not a good idea to spend time with an ex since it can bring up many feelings and memories. But, before you figure out how to be friends with an ex, you need to consider these:
1. Deal with lingering feelings
When trying to recover from a breakup, most people have lingering feelings such as anger. So, one of the rules for being friends with an ex is to make sure you don't have any lingering feelings of pain and anger. You shouldn't vent out these feelings when you meet them.
2. Work on your self-confidence
Your confidence is affected when a breakup occurs since you begin to question yourself. You might have thoughts that you're not beautiful or smart enough. These questions come from trying to know why the breakup occurred. By doing this, your self-esteem gets affected.
If you were the one who broke up, you could also question yourself if what you did was right or if there was something wrong with you for doing it. When you establish boundaries for being friends with an ex, you have to work on your confidence.
Related Reading: 

How to Improve Your Self-Confidence in the Relationships?
3. Have closure
Closure can be in different forms, such as screaming at your ex, breaking their possessions, or physically hurting them. But, the healthiest form is having a conversation with your ex, which is rare.
When setting boundaries with an ex, you must remember to remove your feelings to have closure.
Related Reading: 

How to Get Closure After a Breakup
15 unspoken boundaries for being friends with an ex
What are some ways to establish boundaries with an ex while maintaining a friendship with them? Learn more about it here.
1. Don't publish posts about your ex on social media
One of the boundaries for being friends with an ex is you shouldn't post about them on your social media accounts. Others could misinterpret this.
This can also cause a trigger for your ex. If they see you posting about them, making it more difficult to become friends. It's better to tell them directly what you want to say instead of posting on social media platforms.
2. Don't stalk them online
Most people are active on social media. But, you must keep creating healthy boundaries in friendships with exes to resist stalking their social media. That's because you can feel worse when you see your ex doing things you never did together. You can feel hate and jealousy. So, it's better to resist to have peace of mind.
3. Respect each other's privacy
You don't have the right to know what happens in your ex's life once you break up. You shouldn't be updated on who they're dating or what they're doing.
It can be difficult, but giving each other privacy and space is crucial for you to be friends.
4. Don't compare your previous relationship to your future relationships
What happened between you and your ex is all in the past. That means it's finished. You have to accept it because this is one of the important relationship rules about exes.
Aside from not showing respect to your ex, you also feel disappointed when you compare your past relationship with the future ones. Remember that your past relationship won't be the same with your future partner.
Healing from a past relationship is important if you want to have healthy relationships in the future. This book, Whole Again by Jackson MacKenzie talks about how you can rediscover yourself after a bad relationship or even abuse.
5. Show respect to their new partner
When you want to be friends with your ex, you must consider their new partner. This can be challenging, especially if you still feel something for them. You have to accept that they're moving on when you establish boundaries for being friends with an ex.
6. Don't try to bring up the past
This means the past should stay in the past. You lose the chance to be friends with your ex when trying to relive it. This can result in feeling bitterness and hatred. If you become nostalgic about your past, you should contemplate why you want to be friends with your ex.
Related Reading: 

How to Let Go of the Past: 15 Simple Steps
7. Talk about positive and light topics
A good friendship with your ex means you have to keep your conversations positive and light. You shouldn't try to talk about previous fights, sensitive topics, or anything about the past.
This doesn't mean you can't talk about serious stuff. If you do so, you have to be careful not to make your ex feel uncomfortable or hurt their feelings.
8. Don't talk about your past relationship with their new partner
You should stop yourself when you feel tempted to talk about your ex to their current partner. You have established a new relationship as friends, so allow their new relationship to develop.
You have to allow them to discover what works and doesn't work in their relationship.
9. Don't give unsolicited love advice
Receiving unsolicited advice isn't fun. To have healthy boundaries with your ex, you should only advise about love when you're directly asked. Their new relationship is none of your business, and you could hurt or offend your ex.
10. Don't share private details about your life after the breakup
Though you're friends now, you should keep in mind not to share private details of your life after breaking up. You don't need to share every detail with them even though your friends already.
Your ex doesn't need to know who you're sleeping with or dating. This can result in making them feel uncomfortable.
11. Avoid contacting each other unless needed
Even if you've become best friends with your ex, it doesn't mean you should unnecessarily contact each other. When you discuss random things with your ex, you might cross the boundaries for being friends with an ex.
They might get the idea that you want to be together again. So, except during an emergency, avoid reaching out to your ex.
12. It's best to hang out with others
The best way to hang out is with a group of friends. You might feel awkward when you haven't fully established a friendship if you and your ex hang out alone. When you're in a group, there's less pressure to talk, and you prevent feeling awkward with each other.
13. Throw out your ex's possessions
You likely still have some of your ex's things after you break up. It's recommended to throw these things away or keep them away somewhere. Seeing these will only remind you of the past, which is not a good idea when trying to be friends with them.
Related Reading: 

How to Forget Someone You Love: 25 Ways
14. Don't flirt or touch
It's a bad idea to touch or flirt with your ex since this might be misinterpreted. Your ex might think you want to reconcile. Also, flirting can lead to something more intimate.
This could make your friendship awkward, mainly if one of you develops feelings.
15. Talk about your new partners at the right moment
You can freely talk about your new relationships when you and your ex have established a comfortable relationship. When you do this, you might also get the closure you need. Because you're friends now, the most important thing is for both of you to be happy.
How to be friends with your ex
What are some ways in which you can be friends with your ex? Read on to know more.
1. Have good intentions
If you truly care about your ex and want to see them happy, you should become friends with them. You can't establish good boundaries for being friends with an ex if you have a hidden agenda. That's because it will make things hard and complicated.
2. Be honest
If there are topics you don't feel comfortable discussing, you can communicate with your ex. This is especially helpful when making boundaries with an ex when in a new relationship. You both have to listen to each other and respect what you both want.
3. Have patience
You have to give yourself time when developing any kind of relationship, such as friendships. That means you shouldn't expect things to go well overnight. You have to give it time; eventually, you'll have that kind of relationship.
4. Let go of your part
Being friends with ex means not talking about fights or arguments in the past. You have to move forward and concentrate on the present. By doing this, you make your friendship less complicated and easy.
5. Have respect
All kinds of relationships need respect. That's where these start and end. If you want boundaries for being friends with an ex, you have to understand that you have to show the respect that you want for yourself.
6. Enjoy
Friendships are meant to be enjoyable. You shouldn't be too serious when trying to be friends with your ex. Having a good time is what creating friendships means.
The takeaway
Finally, you understand the boundaries for being friends with an ex and how to be friends with them. This may seem scary, but it's possible as long as you are on the same page. You just need to be honest and open when communicating friendship boundaries with them.
You've got nothing to lose when you become friends with your ex. You might be surprised at how things will work out for you when this happens.
If it doesn't work out, the most important thing is you try. If you need advice or someone to talk to about this situation.
Share this article on
Want to have a happier, healthier marriage?
If you feel disconnected or frustrated about the state of your marriage but want to avoid separation and/or divorce, the marriage.com course meant for married couples is an excellent resource to help you overcome the most challenging aspects of being married.
You May Also Like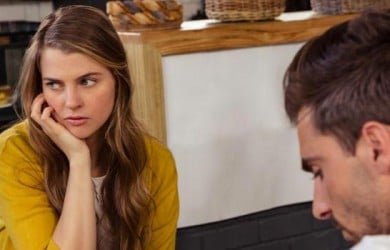 Popular Topics On Married Life