What Is Flirting? 10 Surprising Signs Someone Is Into You
If you're looking up the query 'what is flirting,' odds are you think somebody is flirting with you. Or it could be that you have a crazy crush on someone special, and you're trying to get their attention.
Simply put, flirting is trying to get someone to notice you. From genuine interest to just being playful, people flirt for all different reasons. This can make it hard to know what their actual intentions are.
Are you a natural flirt and want to reign in your mixed signals, or do you think that someone's flirting with you, but you can't read their signals?
We have the answers no matter which side of the fence you're on. We're giving you the top examples of flirting and why people do it.
What is flirting?
Wikipedia defines flirting as a social and sexual behavior involving spoken or written communication, as well as body language, by one person to another, either to suggest interest in a deeper relationship with the other person or, if done playfully, for amusement.
The way someone flirts, however, can be subjective. Sometimes, people are good at flirting over text or the phone, but when you meet them in person, they are relatively shy or coy. Similarly, some people may be natural flirts in person.
It is common for someone to misunderstand that you are flirting with them or that they are flirting with you when they are just being nice.
Sometimes, people have a naturally flirty aura, so even as they compliment you or say something nice, you might think they are flirting with you.
How to know if they are just being nice or flirting with you? Watch this video.
What are the examples of flirting?
So, how do you know someone is flirting with you or just being nice? Here are some examples of flirting that might give you more clarity.
1. Prolonged eye contact
Is this person always making eye contact with you?
Do they look you in the eye even when you are in a group?
Do they prolong this eye contact for no reason?
Eye contact has a major role when it comes to flirting. Eye contact establishes a great interest in someone. If someone maintains prolonged eye contact with you, chances are they are flirting with you.
Related Reading: 

10 Powers of Eye Contact in a Relationship
2. They look at you even in a room full of people
It is a psychologically proven fact that when someone is interested in you and you are in a group of people, they will look at you first, especially when something funny or interesting happens.
Have you seen them look at you even in a crowded room? This is an example of flirting.
3. Playing with hair, or clothing
Can they not stop fidgeting with their clothes or hair when talking to you? Toying with a sleeve or button or just flicking their hair is an example of someone flirting with you, especially when they do this with a smile.
Ten signs that someone is flirting with you
What are some signs they are flirting with you? Check these tell-tale signs here.
1. High compliments
If someone is trying to flirt with you, one of the first things they will do is pay you a compliment. This is great because it offers the recipient an ego boost while letting them know they're desired. Common avenues of flirty compliments include:
Complimenting your behavior: "You are so funny! You always know how to make me laugh."

Complimenting your dress and grooming: "I love your shirt; it looks great on you."

Complimenting talents/hobbies: "You have the best taste in music."

General compliments: "You are so sweet," "I always know I can count on you; you're the best!"
Related Reading: 

30 Compliments for Men That They Love to Hear More Often
2. Bringing attention to themselves
One big aspect of flirting has to do with body language.
Many people will use many methods, from dressing differently to talking with their hands, to be noticed.
Common methods of body language flirting include:
Touching/playing with their hair. This is an interesting way that flirts, consciously or subconsciously, try and draw their crush's attention to their face.

Biting/licking lips. Is there anything sexier than a pouty pair of lips? Big flirts will use these facial assets to draw your attention to their mouth and make you wonder what it would be like to give them a smooch.

Drinking from your glass. When someone has a crush on you, proximity is everything. They want to be where you are and drink from what you're drinking. This is just a cute and sweet way to get closer to you.

Wearing something suggestive. This doesn't mean that everything they have will be out on display, but if someone wants to get your attention, they will dress in a way you like to feel noticed.
3. Physical contact
When you like someone, you want to be closer to them. Studies show that the oxytocin released during physical forms of affection, such as holding hands or caressing, has been proven to lower stress.
It's thrilling and somehow naughty all at the same time. It's why the first kiss (and many other first times!) in a new relationship feels so electric.
Examples of flirtatious touching include:
Hugging

Rubbing your shoulders

Giving a high-five

Kissing hello/goodbye

Winking

Touching someone's shoulder/slapping it when they make you laugh

Tickling

Suggestive dancing
If someone you know keeps finding excuses to make physical contact with you, you can just bet that they are flirting.
4. It's all about eye-contact
Some people have trouble making eye contact with others. They may hold your gaze for a moment but will quickly look away. This is the exact opposite of someone who is flirting with you!
If you've ever wondered what flirting is and whether someone's flirting with you, remember these five words: it's all in the eyes!
One major sign of flirting is sexy eye contact.
Studies show that eye contact not only creates self-awareness but also heightens emotional intimacy.
5. Witty banter
Is banter flirting?
One of the biggest ways someone will flirt with you is witty banter flirting – verbal. For example, you had to rush to work in a hurry and didn't have time to do your hair, so you threw it up into a messy bun.
"Don't mind me," you say, "I'm a mess today." In an attempt to flirt with you, your co-worker says, "I think messy hair is so sexy," or "What are you talking about? You look amazing!"
Charming and even sarcastic banter is another way that people flirt.
If you find yourself constantly drawn to the same person in conversation, you already know that your chemistry is out of this world. If this person is flirting with you, they may strive to make you laugh or always come up with something witty to say to you.
6. Schoolyard flirting
Part of the reason why flirting can be so confusing is because sometimes, like a child poking fun at their crush on the schoolyard, flirting isn't always sweet.
If someone you know loves to tease and poke fun at you but still wants to be around you all the time, odds are they are flirting with you.
Research shows that shared activities and hobbies promote relationship satisfaction, so it's natural that your crush gets a dopamine boost by spending time with you. But they aren't sure how to get your romantic attention, so they make jokes at your expense.
Related Reading: 

30 Romantic Ways To Express Your Love Through Words & Actions
7. They change when you're in the room
Do your friends tell you that this person you suspect is flirting with you changes when you're around?
Do they light up when you enter a room?
If someone becomes more attentive, tries hard to be funny, or acts completely different when you're around, they're probably trying to flirt with you and get your attention.
Flirting is fun and exciting to let someone know you like them. You can even flirt with a long-time spouse to spice up your relationship.
Giving compliments, using suggestive body language, maintaining eye contact, and perking up when you are around this person are all subtle signs of flirting.
8. They tease you
One of the kiddish signs of flirting is when they tease you. Do they pull your leg in front of your friends? Do they mock you jokingly? Teasing someone to get a reaction is a sign of flirting with someone. It also shows that they notice the little things about you.
9. They let you catch them looking at you
Do you feel their eyes on you when you are together, at a party, or group setting?
This could be a sign that they like you. However, a clear sign that they are flirting with you is when they let you catch them looking at you.
When you look over and see that they are staring at you, do they shy away and look the other way, or do they hold your gaze? If it is the latter, they are flirting with you.
10. They hint at doing things with you
If some activity or hang-out plan casually comes up, do they hint that you should join them, or do they make excuses to see you? Then it is a clear sign that they are flirting with you.
Related Reading: 

Is Your Husband Hinting About a Break-Up?
FAQs
Here are some frequently asked questions about flirting.
1. What is flirty behavior?
Flirty or flirting behavior is when someone, through their words, actions, or body language, tries to express that they are interested in you romantically or sexually, either for a long-term relationship or just casually.
The takeaway
Flirting is a very natural human behavior. Sometimes, you may not even realize you are flirting with someone because you naturally tend to exhibit such behavior when you like someone or are attracted to them.
If you feel someone is flirting with you, and you like them back, you should give it a shot. However, if you are unclear, asking a clear question would not hurt anyone. Flirting can be unclear and gray, so treading the line carefully is a good idea.
If the flirting goes well and you end up benign together forever, do take an online marriage course to make your journey easier.
Share this article on
Want to have a happier, healthier marriage?
If you feel disconnected or frustrated about the state of your marriage but want to avoid separation and/or divorce, the marriage.com course meant for married couples is an excellent resource to help you overcome the most challenging aspects of being married.
More On This Topic
You May Also Like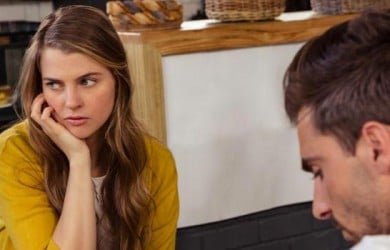 Popular Topics On Married Life