How to Ask for Support From Your Partner When You Need It
Love them or hate them, emotions make us human. You can't wish them away, but you can manage them. In a mature relationship, you have the added advantage that your partner can be attentive and emotionally supportive. How do you get there? How to ask for support from your partner?
Understanding emotional support in relationships
Relationships can be a beautiful balance between individuals honoring their individuality and their needs as a couple. This balance can quickly be offset by focusing too much on individuality, so both partners start feeling alone. Conversely, the couple can overpower the needs of each person.
The key to all this is constant communication along with small moments of attachment and intimacy is where emotional support in a relationship comes into play. Now, the question is how to ask for support from your partner.
First, let's look at the question: "what is emotional support in a relationship?"
Emotional support sometimes gets confused with other types of social support. Simply put, emotional support is validating someone's feelings and emotions. It's about listening and showing compassion.
It isn't about fixing or problem-solving. Sometimes, how to ask for support from your partner means specifying you don't want a fix.
There are, in fact, 4 different types of social support. It's important to note the difference that the University of Penn states between instrumental and informational support. Essentially, many fall into the trap of providing solutions and advice when someone simply wants emotional support.
Another aspect of emotional support is the physical side. All our nonverbal communication, such as eye contact, hugs, and physical touch, are critical. From a neuroscience point of view, that's how we get a boost of oxytocin hormones.
As this article on hugs and good health shows, oxytocin can help regulate emotions and generates trust and feelings of being safe. Overall, we feel heard and valued. Moreover, we feel more prepared to face whatever triggered the emotions in the first place.
Why does emotional support make a difference?
Emotional support in a relationship helps us deal with the stressors of life. It reminds us that we're not alone and have people around us to be there for us in life.
As this psychological review on managing stress states, having a strong supportive network can stave off health problems, including heart disease.
Regardless, many of us struggle to ask for help when needed. Most Western societies tend to reward independence and individuality. While both are important, we shouldn't forget the need for belonging.
We also should spend time understanding our needs. With many of us suffering from low self-esteem, it's hard to ask for help because we feel selfish or inadequate. So, how to ask for support from your partner means building up your self-confidence.
Sometimes you also need to know how to support your partner. These things work both ways, and people respond to how we act. So, if you never provide emotional support, the chances are that you won't get any yourself.
In those cases, how to ask for support from your partner can sometimes mean offering emotional support up first. Ask them how their day was and what they're feeling. Truly listen to the answers and simply be present.
Being heard in a relationship deepens the bond and increases intimacy. Listen to understand and not to solve the problem, and you'll see the difference.
Getting the support you need
It isn't always easy to ask for support, especially if your partner is emotionally unavailable. In those cases, how to ask for support from your partner means being open about your feelings.
First, if you want support from your spouse, you have to connect with your feelings. They can't mind-read you. A great tool to help you start connecting is the wheel of emotions.
Most of us are never taught to experience our emotions completely, so we struggle to define them. Practice naming your emotions with the wheel of emotions to articulate them to your partner better. Please start with the good emotions because it's always easier working with those initially.
Secondly, if you want support in a relationship, you need to be assertive. Another very helpful tool is the non-violent communication framework. You can also think of it as an I-statement tool. The idea is that you talk about how you feel and what you need without blaming.
How to ask for support from your partner is also about letting go of feeling selfish. We all deserve our time with each other. Moreover, if you ask for support when you're down, you'll recover more quickly so that you can later also give support.
What to do when you don't get emotional support?
Emotional support in a relationship doesn't just happen. Sometimes people need to overcome years of building up protective inner walls. You might need to support your partner to heal and open up to their feelings.
In that case, how to ask for support from your partner revolves around developing the right language. For example, they'll gradually relax and shift as you become more open about your feelings and needs.
You can also connect with them through your feelings when you see them stressed or closing up. Tell them you can see their pain and encourage them to name it. Once the emotions are named, it becomes much easier to find a solution.
Neuropsychiatrist Dr. Siegal defines the process as "connect to redirect and then name it to tame it." As he explains in his video, our emotional and logical reasoning centers in the brain are connected.
When someone is stressed or having a meltdown, you help them connect emotionally and then name the emotion. This allows the emotion to lose its grip, making it easier to move to the next step.
So, how to ask for support from your partner means not being afraid to talk about feelings. It means being in tune with your and your partner's emotions.
Of course, sometimes we also need professional help. We are social beings designed to need help, so it's perfectly normal to get external help.
5 ways to ask for emotional support
How to ask for support from your partner takes patience. This isn't about demanding or waiting until things break. It's about choosing the right timing and being attentive to your needs. Follow these 5 steps to get you started.
1. Be vulnerable
When you want support from your spouse, try not to ask for it as an ultimatum. Sometimes when we're already stressed, we can say things that sound like we're blaming our partner. The more you bring out your human side, the more likely you'll trigger empathy.
Of course, you might now be thinking that they should know. They should be empathic already. Don't forget though that they have their own issues and insecurities blinding them. No one is perfect, and they might also be having a hard day.
As this article on mind reading explains, it's a cognitive distortion that leads to endless misunderstandings. Instead, let go of your fears and discuss your feelings and what you need. Write it down first if it helps you sort through your thoughts.
The greatest part of being vulnerable is letting go of being perfect. Be kind to yourself as you reflect on what it means to be human and the beauty of our imperfections. What does being good enough look like for you?
2. Use I statements
As mentioned, how to ask for support works best with I-statements. Rather than saying, "you should do this or that," you flip it around to say, "I feel tired and overwhelmed, and I need to share my day with you."
Changing our language can be a journey of self-discovery in itself. Our inner beliefs dictate so much of our behaviors and how we communicate that sometimes we need to work with a therapist.
Regardless, you can start the work yourself by checking in with yourself. What stops you from using I statements? Are you feeling guilty, anxious, or helpless? Whatever the emotion, you can use journal prompts to help you process it and release your inner strength.
Once you've processed your emotions, it becomes much easier to prepare yourself for how to ask for support from your partner. You'll be tapping into your inner core without being blinded by fear.
At this point, it's also worth noting that getting emotional support doesn't mean your partner will fix things for you. You still have to process the emotions yourself. All a partner does is provide the protective space for you to do that freely, without judgment.
3. Share your story
How to ask for support from your partner means being personal. The less you play games, no matter how unintentionally, the less likely you'll trigger a reaction in your partner. So, simply tell your story.
What happened at work today? Why do you feel drained or empty? One word of caution, though. Make sure you time things right.
That means paying attention when your partner is perhaps also feeling drained. Be aware of how much time alone they might need after coming back from work.
Asking for support is a two-way process. It's just as important to be in touch with your partner's feelings and needs as it is your own. Then, state the facts of your story.
If you don't know what you need, that's ok too. It's perfectly normal to state how you feel and then explain you're not sure what to do next. Our partners can become sounding boards so that we can solve our issues.
It all comes down to stating the facts of your situation and feelings and then being open to exploring options with your partner.
4. Talk about each other's feelings
How to ask for support from your partner is a process. The more you create the habit and language around mutual support, the more natural it will become. For example, brief daily check-ins about each other's feelings are a great start.
How to support your partner also means understanding that when we speak, there are usually several sub-conversations going on. For example, the authors of the Harvard Negotiation Project and the book Difficult Conversations define 3 sub conversations.
The first one is the "what happened" sub-conversation, where we cling to the concept of being right with the other person being wrong. The next is the feelings sub-conversation because we rarely discuss them openly.
Finally, the identity sub-conversation is about the self-image that we're trying to protect. For example, do you have a perfect spouse self-image or a perfect parent image?
If yes, this can cause you to be reactive in certain ways. Sometimes, it can mask your feelings, making you more distant.
All of this is to raise awareness. Be conscious of your inner world and that sometimes our subconscious tries to hide things from us. By being aware, you can make an effort to open things up. Your partner will also change as you change, and you'll find yourselves exploring together.
5. Express gratitude
You create a deeper bond when you support your partner by being grateful for their help. In the process, you both feel valued and connected.
As this article on how to say thank you describes, the more you thank your partner, the more they appreciate the relationship. Naturally, you might be too lost in your problem when you ask for help to remember to say thank you initially.
Nevertheless, you can follow up several days later with a special thank you note or a small surprise. Perhaps bring their favorite dessert or just a simple kiss, hello, and goodbye. Gratitude doesn't have to be complicated.
In summary, how to ask for support from your partner means knowing how to say thank you. That's how you show that you understand what they did for you. By saying thank you, you also highlight that this is a two-way process and that both your needs are important.
Moving forward in your relationship with emotional support
What is emotional support in a relationship? It's when your partner listens to you fully, without judgment, and with kindness and patience. It isn't about fixing problems, but it's about working together to find your own solution.
How to ask for support takes self-awareness; otherwise, your fears and anxieties can stop you from asking for help. Without fear, you can tap into your grounded self and clearly state your feelings along with what you need.
How to ask for support from your partner means being vulnerable. It also means being grateful while also supporting your partner emotionally. If you're battling with inner walls, you might prefer to work with a therapist.
A therapist can guide you so you can free yourself from your burdens. Without emotional burdens, you can feel secure in believing you have the right to get emotional support. Moreover, you can build a stable relationship based on open communication and mutual understanding.
Share this article on
Want to have a happier, healthier marriage?
If you feel disconnected or frustrated about the state of your marriage but want to avoid separation and/or divorce, the marriage.com course meant for married couples is an excellent resource to help you overcome the most challenging aspects of being married.
More On This Topic
You May Also Like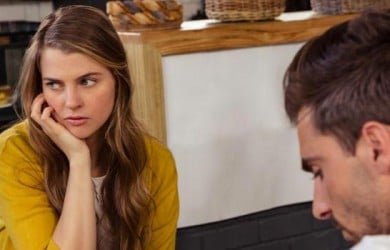 Popular Topics On Married Life